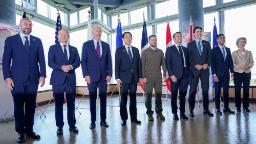 CNN
 — 

Moscow and Beijing lashed out against the Group of Seven (G7) summit in Hiroshima, where leaders of major democracies pledged new measures targeting Russia and spoke in one voice on their growing concerns over China.
Russian Foreign Minister Sergey Lavrov on Saturday slammed the G7 for indulging in their "own greatness" with an agenda that aimed to "deter" Russia and China.
Meanwhile China's Foreign Ministry accused G7 leaders of "hindering international peace" and said the group needed to "reflect on its behavior and change course."
Beijing had made "serious démarches" to host country Japan and "other parties" over their decision to "smear and attack" China, it said.
Both Russia's brutal assault on Ukraine and how to handle an increasingly assertive Beijing have loomed over the three-day gathering of the world's leading industrialized democracies taking place in Japan – just across regional seas from both countries – where Ukrainian leader Volodymyr Zelensky made a surprise, in-person appearance.
G7 member countries made the group's most detailed articulation of a shared position on China to date – stressing the need to cooperate with the world's second-largest economy, but also to counter its "malign practices" and "coercion" in a landmark joint communique Saturday.
Leaders also pledged new steps to choke off Russia's ability to finance and fuel its war, and vowed in a dedicated statement to ramp up coordination on their economic security – a thinly veiled warning from members against what they see as the weaponization of trade from China, and also Russia.
The G7 agreements follow a hardening of attitudes on China in some European capitals, despite differing views on how to handle relations with the key economic partner, deemed by the US as "the most serious long-term challenge to the international order."
Beijing's retort later Saturday urged the G7 "not to become an accomplice" in American "economic coercion."
"The massive unilateral sanctions and acts of 'decoupling' and disrupting industrial and supply chains make the US the real coercer that politicizes and weaponizes economic and trade relations," the Foreign Ministry said in its statement.
"The international community does not and will not accept the G7-dominated Western rules that seek to divide the world based on ideologies and values," it continued.
A number of non-G7 countries also attended the summit, including Indian Prime Minister Narendra Modi, Indonesian President Joko Widodo, and Australian Prime Minister Anthony Albanese.
Albanese on Sunday said he has been concerned "for some time" over China's activity, including its military activities in the South China Sea, and called for "transparency" by Beijing over the detention of Australian journalist Cheng Lei.
China's image in Europe has taken a severe hit over the past 15 months as leaders there have watched China's Xi Jinping tighten ties with fellow authoritarian Russian President Vladimir Putin, even as Moscow's invasion sparked a massive humanitarian crisis and Moscow's leader was accused of war crimes by an international court.
Beijing's increased military aggression toward Taiwan – the self-ruling democracy the Chinese Communist Party claims as its territory but has never ruled – and economic penalties against Lithuania following a disagreement over Taiwan have also played a role in shifting sentiment.
Concern about such incidents was reflected in the G7 statement on ensuring economic security and countering economic coercion, which did not explicitly mention China.
The G7 leaders' ability to sign on a statement "so specifically directed at Beijing" would have been "hard to believe" two years ago, according to Josh Lipsky, senior director of the Washington-based think tank Atlantic Council's GeoEconomics Center.
"The bottom line is that the G7 has shown it will increasingly focus on China and will try to maintain a coordinated policy approach. That's a major development," he said.
The G7 agreements land as China has been marshaling its diplomats in a concerted attempt to repair ties with Europe, largely by recasting itself as a potential agent of peace in the war in Ukraine, even if that claim has been met with widespread skepticism among Western nations.
Last week as European leaders headed to Asia, Chinese special envoy Li Hui began his own European tour billed by Beijing as a means to promote peace talks.
Li, who was dispatched after Xi late last month made his first call to Zelensky since the Russian invasion, visited Ukraine on Tuesday and Wednesday, where he fronted China's vision of a "political settlement."
That calls for a ceasefire but not for the withdrawal of Russian troops from Ukrainian territory first – a scenario which critics say could serve to cement Russia's illegal land grab in the country and runs counter to Ukraine's own peace plan.
Zelensky's travel to the G7 in Asia is also "a way of putting pressure on China," according to Jean-Pierre Cabestan, an emeritus professor of political science at Hong Kong Baptist University.
The message to China is for it "to be more more outgoing in its support for a solution" that aligns with Kyiv's interests in terms of its territorial integrity and Russian troops pulling out from Ukraine, he said.
When asked about the possibility of China playing a role in ending Russia's war, a senior White House official on Saturday said the US hopes that Xi views this week's summit as a signal of "resolve."
"We would hope that what President Xi and the (People's Republic of China) extract from what they've been seeing here … is that there's an awful lot of resolve to continue to support Ukraine … and that China could have a meaningful role in helping end this war," the official said.