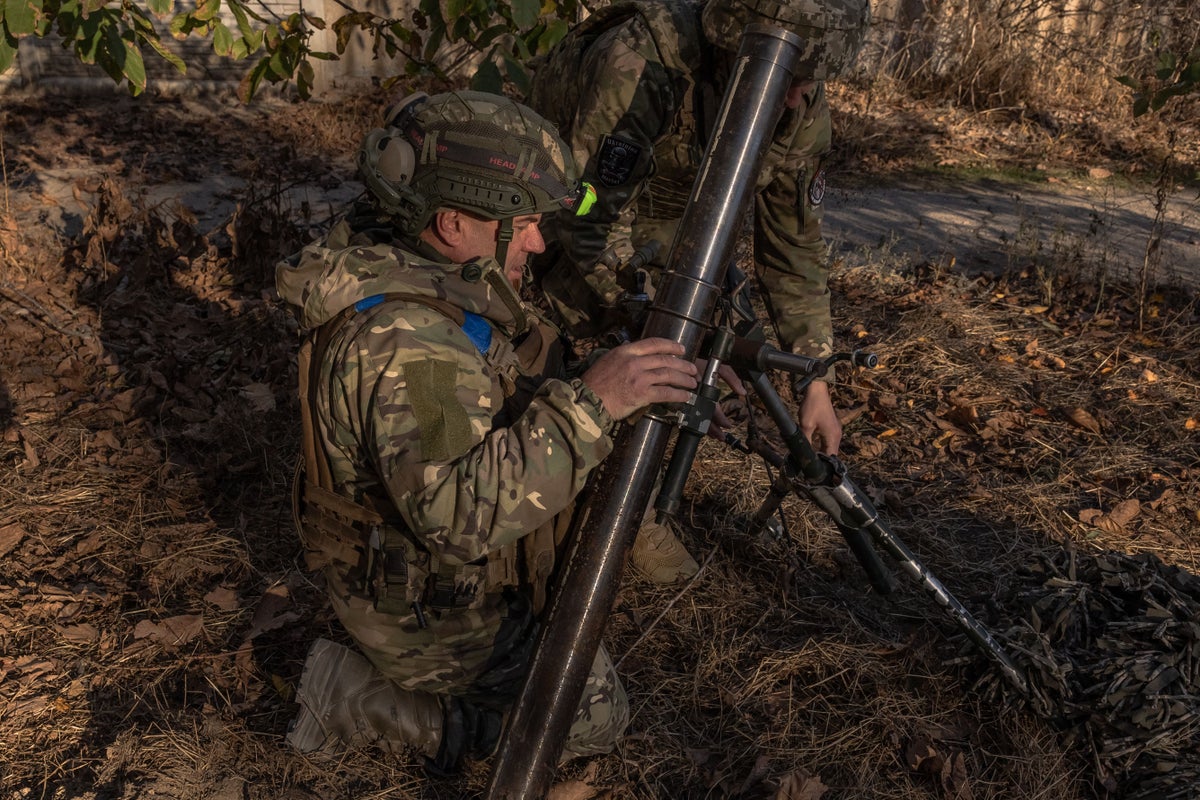 Russia has admitted to losing occupied territory on the eastern bank of the Dnipro river in a significant victory for Ukraine, but has warned "a fiery hell" awaited Kyiv's troops.
War-time president Volodymyr Zelensky's chief of staff had earlier said Kyiv had "gained a foothold" in the Kherson region "against all odds", in a fresh blow to Vladimir Putin's troops, who have been facing a gradual counteroffensive since the spring.
A Ukrainian breakthrough across the Dnipro could open up a new line to attack Crimea, which Russia illegally annexed in 2014.
Ukraine's forces have crossed the river, said Vladimir Saldo, the Russian-installed governor of Kherson under Moscow's control. He, however, said Ukrainian troops were taking heavy losses as more of Mr Putin's soldiers were being poured into the battlefield to stop Kyiv's advance.
Mr Saldo said Ukrainian forces were seen operating in small groups spread over a distance of around 20km, covering an area from a railway bridge to the village of Krynky.
"Our additional forces have now been brought in," he said.
"The enemy is trapped in Krynky and a fiery hell has been arranged for him: bombs, rockets, heavy flamethrower systems, artillery shells and drones."
Mr Saldo, citing Russia's "Dnepr" military grouping, said Ukrainian troops were pinned down in basements during the day.
Kyiv said its troops were moving forward to push Russian forces back from the eastern bank of the river.
The frontline is "fairly fluid", said Natalia Humeniuk, spokesperson for Ukraine's southern military command. She said Kyiv's forces had been putting pressure on Russian troops.
"The pushback from our side is taking place on a line from 3-8km along the entire bank from the water's edge," she said.
"For now, we will ask for informational silence … which would allow us to report later on great successes."
Both the accounts could not be immediately verified.
Kyiv has frequently resorted to informational clampdown on its military moves along the 1,000km long frontline and asked spectators to await news of breakthroughs. Kyiv's counteroffensive that was launched months ago has yielded incremental results.
Moscow has maintained a consistent silence on the number of casualties its troops have faced during the war.
The growing area of contested control on the eastern bank of the Dnipro "significantly reduces the mobility and capability of the Russian occupiers", military expert Oleksandr Kovalenko said.
Mr Zelensky's chief of staff Andriy Yermak had, in remarks published on Tuesday, said Kyiv's counteroffensive was "developing".
He also said Ukraine knew "how to achieve victory".
In the eastern theatre of the war, Ukrainian officials said the city of Avdiivka was "being wiped out" because of a month of continuous Russian bombardment. The pre-war population there of 32,000 people has come down to fewer than 1,500 residents.
The Institute for the Study of War cited Russian sources on unconfirmed claims that Russian forces continued advancing around Avdiivka on Wednesday.
"A Russian milblogger claimed that Russian forces pushed Ukrainian forces from their positions near the waste heap north of Avdiivka and that Russian forces seized at least 60 per cent of the industrial area south of Avdiivka," said the US-based think-tank that is monitoring the war.
It cited a Russian source as saying that the Ukrainian forces counterattacked in the Avdiivka direction on Wednesday, but did not advance.