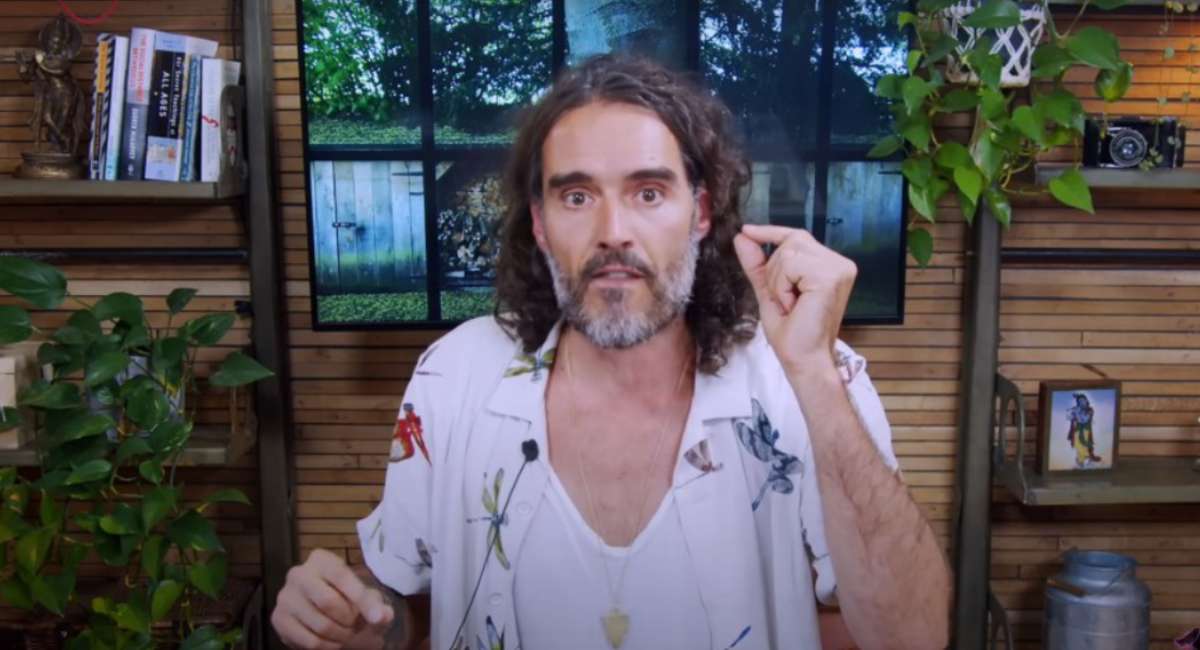 Hours before a string of explosive allegations were made about Russell Brand's alleged behaviour towards women, the comedian had already set the conspiracy theory wheel turning by releasing his own video, in which he "absolutely refutes" claims of sexual wrongdoing.
With an audience of 6.5 million subscribers, many attracted to his YouTube channel due to its alignment with the anti-vaccine movement and Covid denialism, Brand has spent years repeatedly lashing out at the "mainstream media".
It was no surprise therefore that his two-minute long denial accused the Sunday Times and Channel 4 of a "co-ordinated attack" against him, as he questioned: "Is there another agenda at play?"
The clip was posted late on Friday evening, nearly a day before the Dispatches programme was broadcast or the Times published its story, so at the time it was not clear what allegations he was denying.
If you have information in relation to the allegations against Russell Brand which you would like to share with The Independent's reporting team, please email [email protected]
When the allegations were made public on Saturday, it was claimed that the former presenter had sexually abused four women between 2006 and 2013, and that his behaviour was an "open secret" within the TV industry. Accusations include Brand raping a woman against a wall at his Los Angeles home, pinning another woman to his bed and conducting an abusive three-month relationship with a 16-year-old girl.
Within seconds of posting his denial video on Friday, titled 'So, This Is Happening' and filmed from his garage in Henley-on-Thames, Brand's social media feeds were flooded with messages of "Team Russell" and "stay strong, we are with you".
As well as his millions of fans, other prominent controversial figures were quick to throw support his way, including Andrew Tate and his brother Tate, Tucker Carlson, Laurence Fox and Elon Musk.
Shortly after Brand's video was posted online, the influencer Tate, himself facing rape and human trafficking charges in Romania, tweeted "Welcome to the club" and held an "emergency meeting" to discuss "what's happening to Russell Brand".
Former Fox News host Tucker Carlson suggested on X that Brand's views on topics such as "drug companies" were linked to the allegations, while right-wing conspiracy theorist Alex Jones said the comedian is being targeted because he's "come out against globalists" and "Big Pharma".
In a video recorded at an airport, Mr Jones said he'd been friends with Brand for six years and said: "I've never seen women throw themselves at anyone like with him."
Last year, Mr Jones was ordered to pay nearly $1.5bn in damages to the families of the victims of the Sandy Hook school shooting after suggesting it was a hoax.
Other figures to throw support behind Brand include former Mayor of London candidate Mr Fox, who tweeted: "Any trial by media is a lie. Especially a media which wantonly, consistently and deliberately covered up the most heinous of crimes their own chums committed over many decades.
"If these allegations are based in fact, then they should be taken to the police, thoroughly investigated and charges brought. Not put out on some end of days, lying establishment mouthpiece to try and drag some viewers back, like a Christine Blasey Ford tribute act."
From drug addict to Big Brother, MTV and radio presenter to children's author, Brand has repositioned himself in recent years as a YouTuber and podcaster whose aim is to "stay free" and "say the unsayable".
With topics ranging from the Ukraine war to Covid vaccines, he has cultivated a strong following of like-minded "awakened beings", with clickbait captions such as 'Hang on, Biden 9/11 speech Was A Lie?' and 'The FBI Have Been Harvesting Your DNA?!' attracting millions of views.
Despite initially advocating for a non-violent social revolution, Brand's politics have become increasingly radical and conspiracy-based in recent years, with frequent attacks on Ukraine president Volodomyr Zelensky and vaccine policies.
He received criticism in September 2021 for advising people attending his tour how to bypass Covid-19 measures and in September 2022, one of his videos was removed from YouTube for medical misinformation.
In his video statement addressing the allegations, Brand questioned if an "agenda" was at play and claimed that he had always been "transparent" about his promiscuity
Drawing on popular conspiracy theories, he said: "Particularly when we've seen coordinated media attacks before, like with Joe Rogan, when he dared to take a medicine that the mainstream media didn't approve of, and we saw a spate of headlines from media outlets across the world using the same language. "
He continued: "I'm aware of news media making phone calls, sending letters to people I know for ages and ages. It's being clear to me, or at least it feels to me like there's a serious and concerted agenda to control these kind of spaces and these kind of voices. And I mean, my voice along with your voice."
On Monday, the Met Police announced it had received a report from a woman alleging a sexual assault in Soho in 2003, and have urged other women to come forward.
Both the BBC and Channel 4 have announced "urgent" internal investigations while Downing Street called the allegations "concerning" amid reports that an inquiry could be launched to investigate the culture within the TV industry.