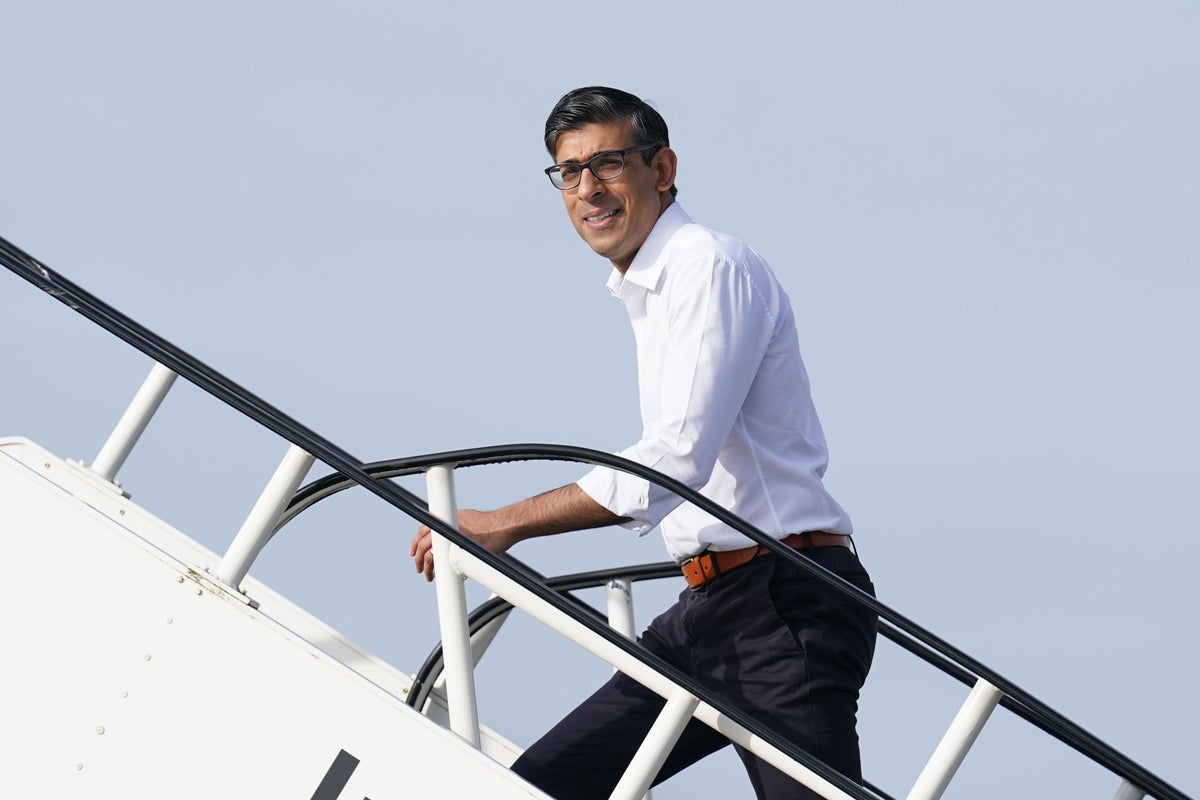 Rishi Sunak has revealed an extra £5bn will be added to Britain's military budget over the next year two years, as the government sets out the latest defence and foreign policy review.
The prime minister has also pledged to boost defence spending to 2.5 per cent of GDP in the long-term term, ducking his predecessor Liz Truss's more ambitious 3 per cent target.
Mr Sunak said he wanted to "fortify" Britain's defences in an increasingly "volatile" world – as he vowed to make the country less vulnerable to threats from Russia.
The government launches an updated Integrated Review on Monday, while the PM meets the US president Joe Biden and Australian counterpart Anthony Albanese in California to discuss the expansion of nuclear-powered submarines under the Aukus pact.
The review – to be presented to parliament by foreign secretary James Cleverly – will set out how "robust" plans to tackle new threats from Russia and China.
It will see the creation of a new National Protective Security Authority within MI5 to provide a wide range of UK businesses and other organisations with immediate access to expert security advice.
Funding for the China capabilities programme – including Mandarin language training and diplomatic China expertise – will be doubled. And the BBC World Service will get £20m to combat misinformation.
Defence Secretary Ben Wallace had reportedly argued for a hike to his department's budget of more than double the sum announced by No 10, of around £11bn.
Junior defence minister James Heappey admitted there has been "robust" private clashes between the Ministry of Defence (MoD) and Treasury over funding levels.
Ms Truss had promised to boost defence spending from its current level of 2 per cent to 3 per cent of GDP by the end of the decade at the estimated cost of £157bn. But Mr Sunak has stuck to the 2.5 per cent commitment made by Boris Johnson last year.
"As the world becomes more volatile and competition between states becomes more intense, the UK must be ready to stand our ground," said Mr Sunak as he travelled to the US.
The prime minister added: "We have seen all too clearly in the last year how global crises impact us at home, with Russia's appalling invasion of Ukraine driving up energy and food prices.
"We will fortify our national defences, from economic security to technology supply chains and intelligence expertise, to ensure we are never again vulnerable to the actions of a hostile power."
The government said it is providing £1.98bn this year and £2.97bn next year for defence. Some £3bn will be invested across nuclear defence, supporting areas such as the construction of new infrastructure, enhanced support to in-service submarines and the delivery of the Aukus pact.
The remaining £1.9bn will bolster Britain's munitions stockpiles to replace items donated to Ukraine, and invest in munitions infrastructure.
The PM also hailed the UK's global alliances as its "greatest source of strength and security" as he prepared to meet Mr Biden and Mr Albanese to flesh out a major defence deal.
He flew to San Diego on Sunday to discuss the procurement of nuclear-powered submarines under the Aukus pact between the UK, US and Australia.
UK minister have hopes high that the Australian premier will announce the purchase of a British-designed fleet. Negotiations over the last 18 months have presented the Canberra government with a choice between a British or US design.
Reports suggest Australia could opt for a modified version of the British Astute-class submarine, plugging the gap until it enters into service in the 2040s with up to five American Virginia boats.
The UK hopes that Aukus will result in work for British shipyards such as BAE Systems' facility in Barrow-in-Furness, Cumbria.