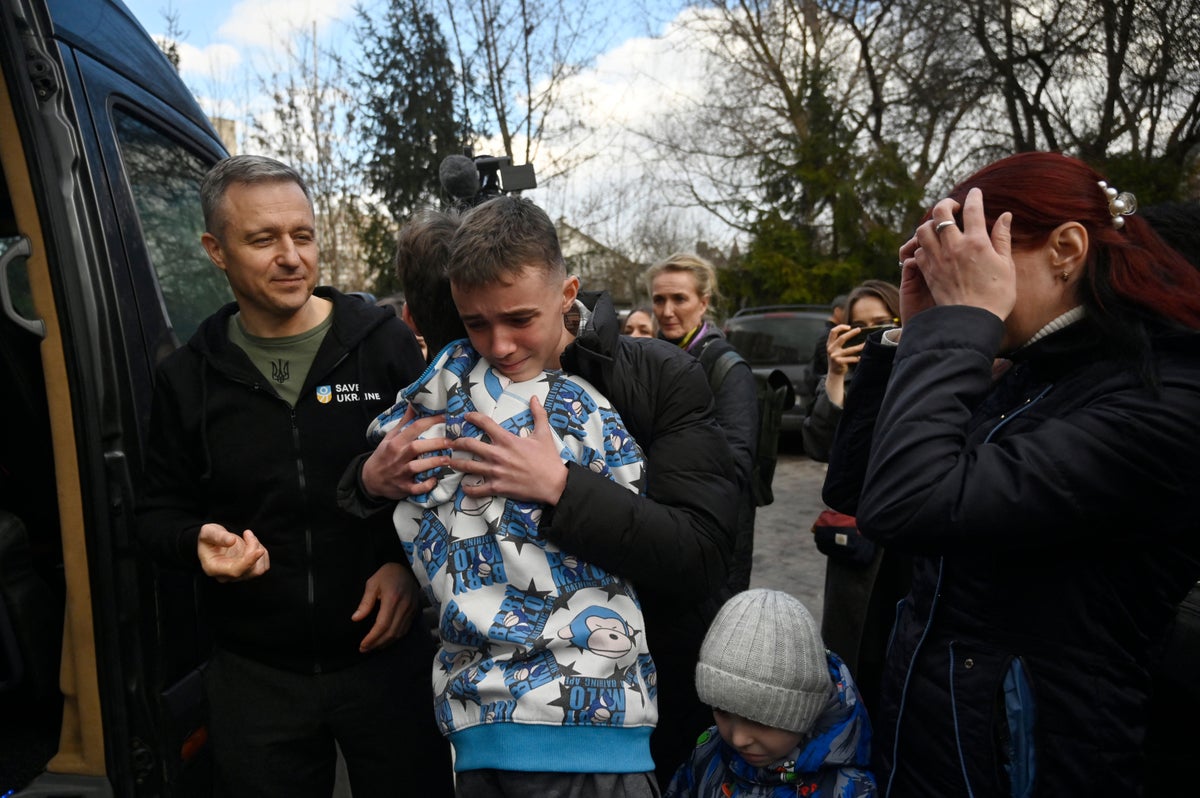 Ukrainian children who returned from Russia after months of being deported have recounted the political indoctrination and mental trauma they endured during their detention.
At least 17 children, residents of besieged Kharkiv and Kherson, came back to Ukraine this week, non-profit Save Ukraine said in a release on Thursday.
An emotional video of their return to Ukraine from Crimea showed at least eight children, including teenagers, being reunited with their families after stepping out of a minivan.
Another social media post by Save Ukraine shows the children with their belongings at an undisclosed location in Ukraine.
"Children from Kherson and Kharkiv regions are finally in Ukraine. They and their moms happily crossed the border and are currently safe. We were able to reunite families together after a long gap and staying in the occupied Crimea camps for re-education," the organisation said.
Officials in Ukraine have accused Russia of deporting more than 16,000 Ukrainian children after launching a full-scale invasion in February last year.
Russian president Vladimir Putin was recently slapped with an arrest warrant by the International Criminal Court.
The children who returned said they were made to watch Mr Putin's New Year speech, a 15-year-old told AFP.
If they did not sing the Russian national anthem, the children were asked to write an explanatory note, the teenager said.
The mother of one of the children taken said her son became "more serious" upon separation. "He looks at me and says 'Mom, I do not want to tell you about it, you wouldn't sleep at night'," the woman said.
Another preteen said that while the camps seemed normal, the children were made to sing and dance when officials from Moscow visited.
Parents have maintained that their children were taken away from them after "blackmail, manipulation and intimidation" by Russian authorities.
For many, they last saw their offsprings in October last year in Kherson, where the children were sent to a so-called Russian summer camp. It is not immediately clear who was organising the logistics for the camp as the city was under Russian control in that period.
The parents made the choice to send their children to Crimea at the time because of the raging battle in Kherson, as a way of opting for a less problematic solution.
They were told by Russian officials that the children were being sent to these camps for "a week or two," a parent told AFP.
But by the time they realised that the children should not have been sent at all, it was already too late, the parent said.
"These are children from the Kherson and Kharkiv regions, who during the occupation were moved further into the occupied territories or to the territory of Russia. But after the de-occupation, the Russians refused to organise the children's return, and the parents were left with this problem alone," the NGO said in its release.
"They are tired of the road and prolonged stress, but glad that they are now at home, in the Motherland."
The NGO said "difficult logistics, constant danger, the line of fire, or multiple borders have turned the return of children into an over-task for many of them (sic)".
The children will be provided with psychological support and Save Ukraine is "doing everything" possible to prevent them and their parents from returning to "dangerous territories", Myroslava Kharchenko, said a lawyer working with the non-profit.