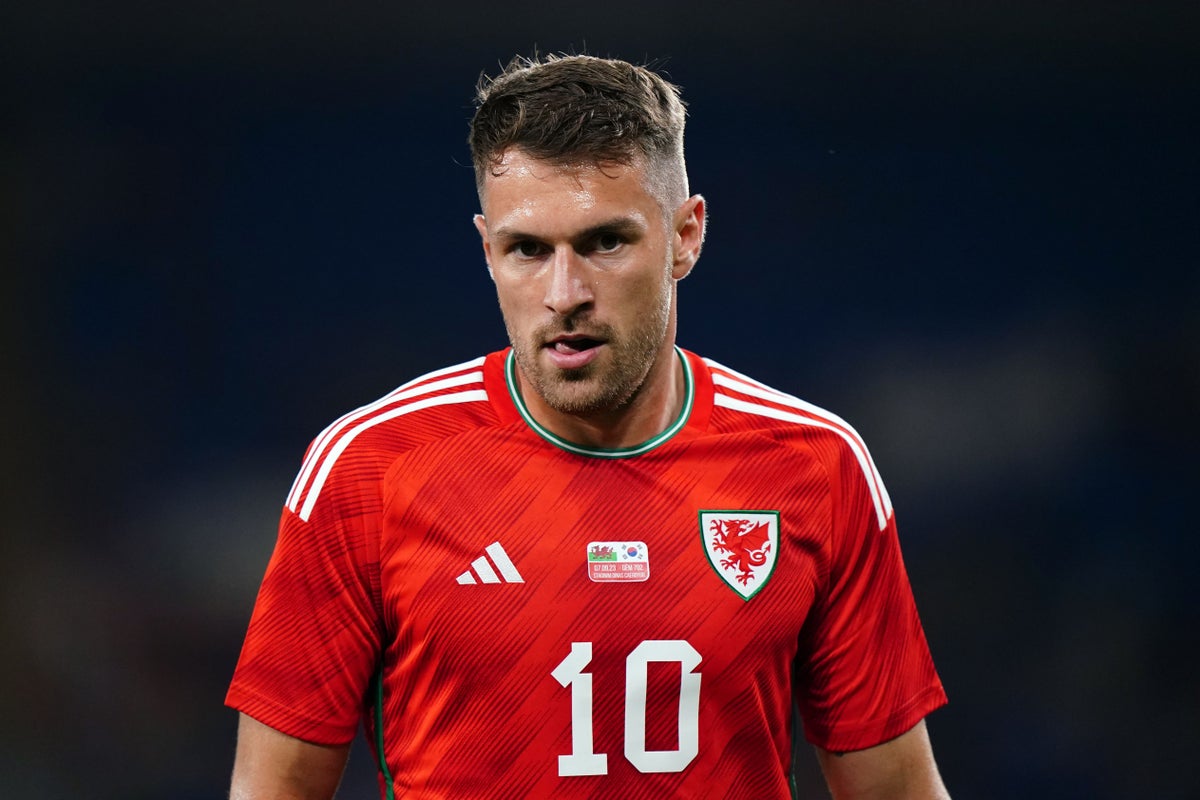 Rob Page hopes the presence of Aaron Ramsey can help Wales realise their Euro 2024 dream after the injured captain joined them on their long trek to Armenia.
Midfielder Ramsey has not played since mid-September after damaging a knee tendon, missing last month's stunning victory over World Cup semi-finalists Croatia that has left automatic qualification in Wales' own hands entering the final two games.
The 32-year-old, however, has taken the unusual step of an injured player being present for Wales' 4,600-round mile trip to Yerevan, one of European football's most remote outposts.
"Rambo's travelled with the lads, which is brilliant," Page said ahead of Saturday's penultimate qualifier at the Republican Stadium, scene of their only previous visit to this corner of Eastern Europe in 2001 – a game the manager played in.
"It's the presence around the changing room. I used to say it with Gareth Bale. Aaron falls into the same category for me.
"The wealth of experience he's got. Just being around young JJ (Jordan James), who can pick his brains on just about anything. He's the captain and he's been wanting to travel. He's been with the group all week.
"He's done his little bits of work that he's needed to for Cardiff. He's got a plan and gone off and done his own bits.
"We've had to find a training ground for him, but he wants to be around the boys and I think that speaks volumes about what we've got as a group."
Wales know two closing victories – already-qualified Turkey are the visitors to Cardiff on Tuesday – will see them secure qualification for a fourth tournament out of five.
Dropped points will need them relying on favourable results elsewhere and the prospect of avoiding the play-offs in March where the likes of Norway, Poland and Ukraine could be lurking.
"The camp has been great all week. The positivity has been incredible," said Page, who has a difficult selection call to make with Tottenham forward Brennan Johnson available after missing the Croatia win through injury.
"There's enough experience in that changing room of big games, when you need big players to step up for big games – and this is a big game for us.
"Our full focus is on this game. We're not even talking about Tuesday's game. We've got enough experience to cope with this.
"We haven't got anything where you need that siege mentality (like Wales did in October) but we're coming off the back of one of the best performances we've ever had, certainly of my tenure.
"We can't be complacent, we need consistency when it comes to that level of performance. If we do that the result will look after itself."
Ben Davies, as he did against Croatia, will lead Wales in the absence of Ramsey and playing at Euro 2024 would represent the Tottenham defender's fourth major tournament – three European Championships and the 2022 World Cup.
Davies said: "This is the dream for us and it doesn't matter if you've done it once or three or four times.
"We're confident as a group that on the day we can beat anybody. We've done that in the last two and we want to show that again.
"We're a good group, a tight-knit group, and it's nice to see the same faces every time you come.
"You end up playing as a family and I think that where our success has been gained, being a band of brothers out there."