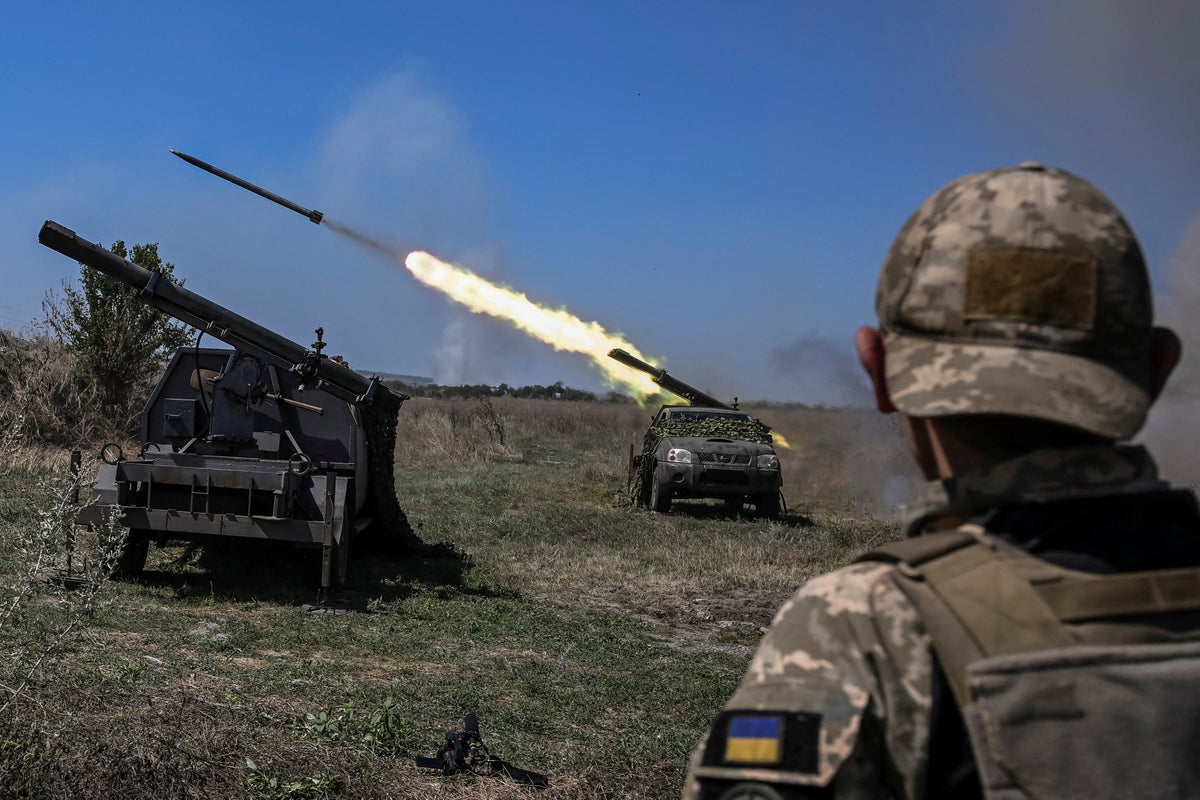 Ukraine's counter-offensive breakthrough will come as a "shock" to Russian President Vladimir Putin, an expert has said.
Mark Galeotti, professor of Slavonic studies at UCL, said Russians had become "complacent" and believed their defence to be more effective than Kyiv's progress would suggest.
It comes after Ukrainian generals claimed troops had breached Russia's first line near Zaporizhzhia and were gathering momentum in an offensive many observers claimed had failed.
Professor Galeotti explained there were three aspects to Ukraine's counteroffensive gains that would particularly concern the Russian leadership.
"One is on the battlefield," he told The Independent. "It demonstrates their slow, methodical bite and hold strategy is in fact working and has the chance to hammer the second line of Russian defences."
"The second is political," he continued. "It is also a response to critics in the West who suggested it is time for Ukraine to negotiate because it wasn't going to make any move.
"And thirdly, in terms of the Russians. I think they had started to get a little bit complacent as autumnal rains got closer. I think they thought they had pulled the defence off.
"It will come as a shock, but we have seen on the whole the Russians are quite effective in the defence. So I think they'll be doing what they can to shore up that second line."
Brig Gen Oleksandr Tarnavisky, who leads Ukraine's southern offensive, claimed Russian troops had devoted 60 per cent of their time to its first defence, and only 20 per cent each into its second and third.
He claimed Russia would soon run out of its "best" soldiers, giving Ukraine an advantage to attack "more and faster".
However, Chatham House consulting fellow Keir Giles, who researches Russian security, said there was no sign of "imminent collapse" among Russian forces despite Kyiv's latest breakthrough.
He told The Independent: "There are optimistic noises from Ukraine about whether the offensive might progress a little faster now because they have broken through the first and strongest Russian defensive line.
"But that of course does not mean that things are going to collapse imminently on the Russian side, as some have suggested.
"The resilience of Russia and its forces remains imponderable. There is no sign of imminent collapse of the Russian economy or society."
Mr Giles added there were signs Russia feels it is in a position to "drag the conflict out" and wait for the Western coalition to collapse.
Ukrainian deputy defence minister Hanna Maliar said their forces had retaken about 1.16 square miles of land in the past week around the eastern city of Bakhmut, which was captured by Russian troops in May after months of heavy fighting.
Moscow has continued to carry out drone attacks on Ukrainian targets including port infrastructure. Last night, 32 Russian kamikaze drones struck the Ukrainian port city of Odesa, damaging civilian and industrial buildings.
At least 23 of the Iranian-made Shahed drones were shot down by the Ukrainian military, the country's Air Force said.
Soon after, Ukraine's defence spokesman claimed some of the drones exploded on Romanian territory.
Romania's Ministry of Defence said it "firmly" denied the claim but reiterated its support for Ukraine and said Russian attacks on the country break "all international humanitarian rules".
General Tarnavisky told the Guardian: "When we started the counter-offensive we spent more time than we expected on de-mining the territories.
"Unfortunately, the evacuation of the wounded was difficult for us. And this also complicated our advance.
"In my opinion, the Russians believed the Ukrainians would not get through this line of defence. They had been preparing for over one year. They did everything to make sure that this area was prepared well."
On Sunday, Ukraine President Volodymyr Zelensky said he had decided to dismiss Defence Minister Oleksii Reznikov from his post and would ask parliament this week to replace him with Rustem Umerov, head of Ukraine's main privatisation fund.
The announcement, made in his nightly video address to the nation, sets the stage for the biggest shakeup of Ukraine's defence establishment during the war launched by Russia in February 2022.