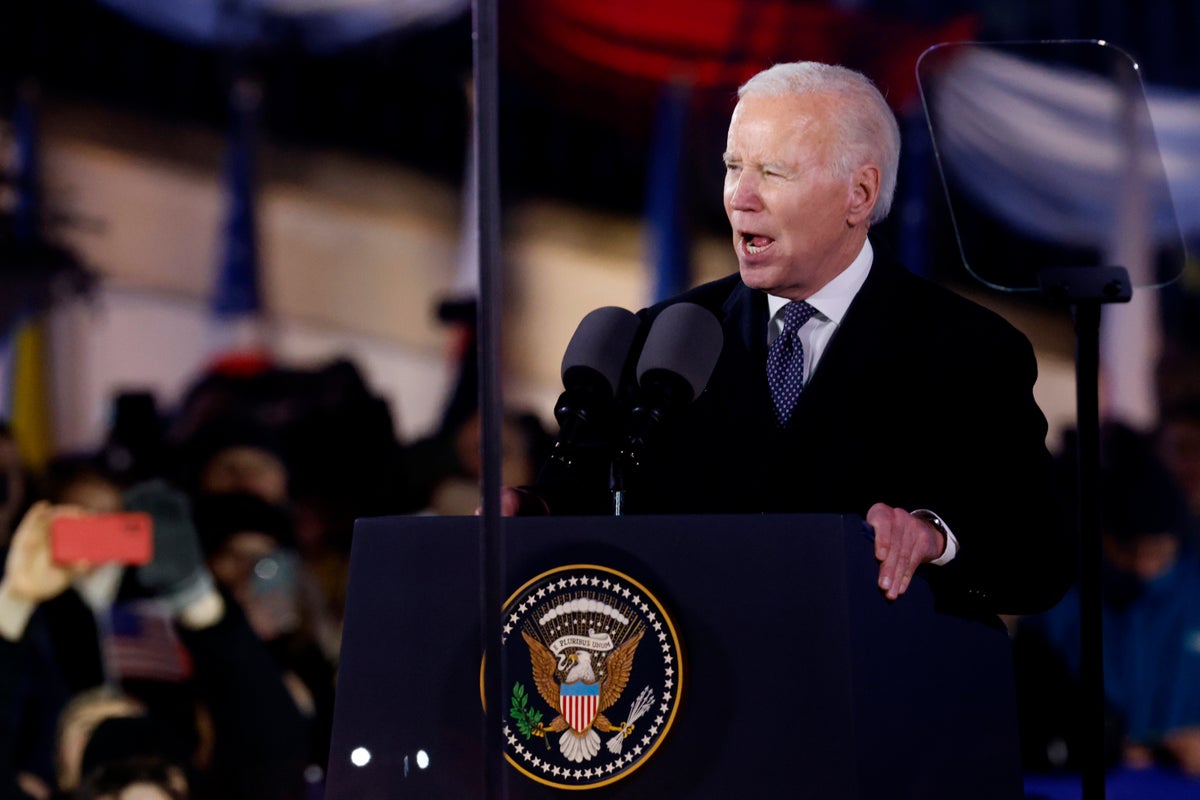 President Joe Biden proclaimed "unwavering" support for the defence of Ukraine and Nato's eastern flank as he hailed the steely resolve of Kyiv's defenders less than 24 hours after paying a surprise visit to the Ukrainian capital.
Speaking from the Royal Castle in Warsaw, Poland, Mr Biden noted that a year ago the world was "bracing" for Ukraine's fall in the face of an imminent invasion by Russian forces.
"I can report: Kyiv stands strong, Kyiv stands proud, it stands tall and, most important, it stands free," he said, drawing applause from the thousand-strong crowd, which included multiple Polish leaders, including President Andrzej Duda and several of his predecessors.
Mr Biden said Russian President Vladimir Putin's decision to order his forces over the border nearly one year ago was a "test" of not just Ukraine, but of the world's democracies, and of the Nato alliance.
"The questions we face are as simple as they were profound: Would we respond or would we look the other way? Would it be strong? Would you be weak? Would … all of our allies would be united or divided? One year later, we know the answer — we did respond, we would be strong , we would be united, and the world would not look the other way," he said.
The American president also noted that Mr Putin had thought the west would "roll over" while his tanks rolled easily into Kyiv.
"He was wrong," he said. "The Ukrainian people are too brave. America, Europe, a coalition of nations from the Atlantic to the Pacific, we were too unified. Democracy was too strong".
Instead, Mr Biden said the Russian leader got "burned-out tanks" and forces left "in disarray," as well as a Nato alliance that is more unified and growing strong with the imminent addition of two long-neutral powers, Sweden and Finland.
"He thought he'd get the Finlandisation of Nato. Instead, he got the Natoisation of Finland — and Sweden. He thought Nato would fracture and divide, instead Nato was more united and more unified than ever before," Mr Biden said.
He also returned to a theme he'd touched on in the speech he delivered from the same castle grounds 11 months ago, when he cast Russia's war against Ukraine as just one battle in a war of autocracies against the forces of the west's democracies, and said Mr Putin had wrongly believed that the leaders of the world's democratic governments were "soft" compared to "tough" autocrats like himself.
Instead, he said Mr Putin had "met the iron will of America and nations everywhere that refuse to accept a world governed by fear and force".
"President Putin is confronted with something today that he didn't think was possible a year ago. The democracies of the world have grown stronger, not weaker, but the autocrats of the world have grown weaker, not stronger," he said.
Continuing, the president said Mr Putin "no longer doubts" the strength of the western coalition at the war's one-year mark. But he warned that the Russian leader "still doubts our conviction" and "doubts our staying power".
Mr Putin, he said, will be wrong to do so.
"He doubts our continued support for Ukraine. He doubts whether Nato can remain unified. But there should be no doubt our support for Ukraine will not waver, Nato will not be divided, and we will not tire," he said, adding that Mr Putin's "craven lust for land and power will fail" while Ukrainians' "love for their country will prevail" as the world's democracies "stand guard over freedom today, tomorrow and forever".
The American leader's remarks came just hours after the Russian dictator repeated his oft-told — and false — claim that the West provoked his invasion of Ukraine during a speech to the Russian parliament.
Mr Biden reiterated yet another point he'd made in his speech 11 months ago when he said the Russian people were still not an enemy of the west, and stressed that the United States and its' European allies "do not seek to control or destroy Russia".
"This war is never a necessity. It's a tragedy. President Putin chose this war — every day the war continues is his choice. He could end the war with a word," he said.
"It's simple: If Russia stopped invading Ukraine, it would end the war. If Ukraine stopped defending itself against Russia, would be the end of Ukraine. That's why together we're making sure Ukraine can defend itself".