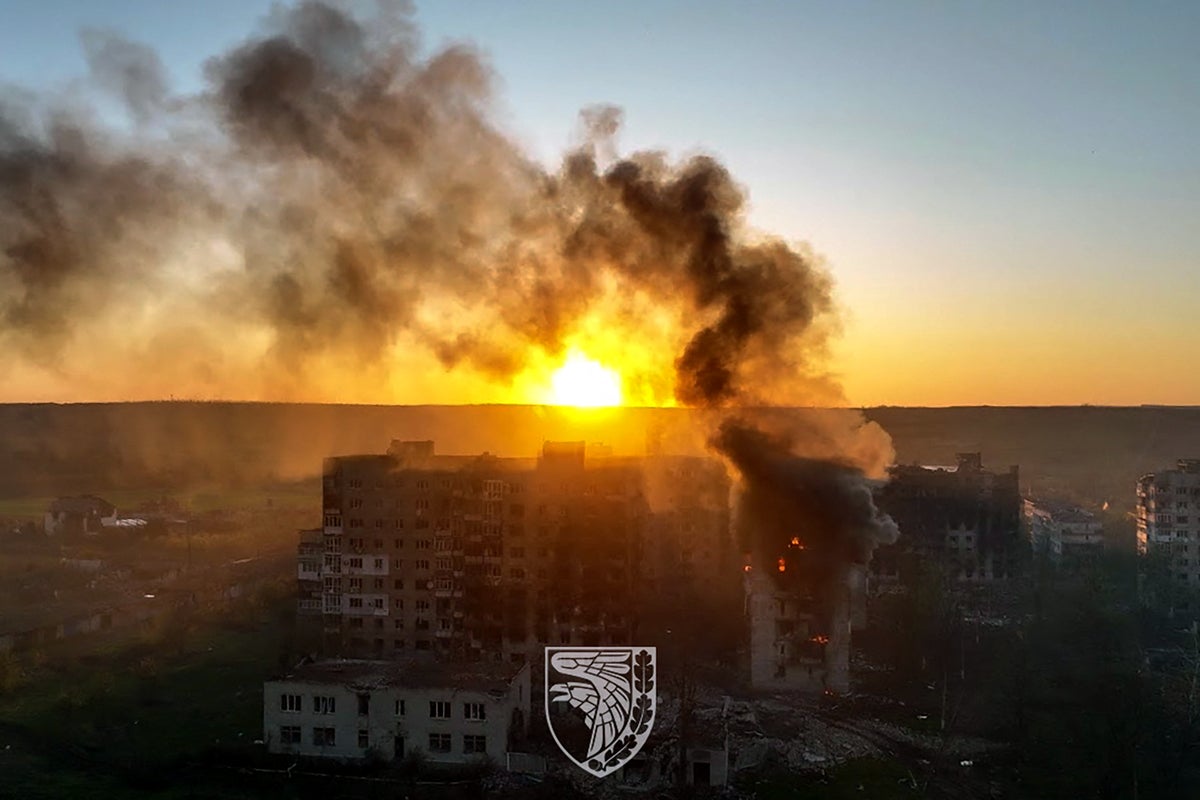 Just over a year ago the final Ukrainian soldiers left the Azovstal steelworks in Mariupol, ending a nearly three-month siege of the city by Russian forces. The Ukrainian troops' mission – to tie Russian forces up in the city for as long as possible and kill as many of them as possible in the process – was complete. Ukraine pulled off a similar trick in Severodonetsk and Lysychansk, twin cities on either side of the Donets River, during May and June 2022.
Now, perhaps the perfect realisation of these tactics has either just ended, is ongoing but close to ending, or is about to take a new twist. Over the weekend Russia claimed it had fully "liberated" Bakhmut, a town with little practical importance that has been fought over by Ukrainian forces and the pro-Moscow Wagner mercenary group for a staggering 10 months. The US estimates 100,000 Russian soldiers and mercenaries have been killed or injured in the battle for the town. Wagner's oligarch leader Yevgeny Prigozhin, a man of such moral and physical ugliness that you suspect dairy products spontaneously sour in his presence, posted a video on Saturday claiming to have taken full control of the town. He said Wagner would "completely inspect Bakhmut, create the necessary defence lines" and then leave the city to the Russian military by 25 May.
After initial confusion about the Ukrainian government's official position, Kyiv denied (and continues to deny) that Bakhmut is fully in Russia's hands, and on Sunday came news that Ukrainian troops were advancing around the edges of the town, with the aim of tactically encircling and then attacking the Wagner mercenaries now controlling the bulk of the city. Regardless of the uncertainty, online cheerleaders for Vladimir Putin's regime seized on the "news" with wild abandon, while last night state TV propagandist Vladimir Solovyov began his nightly programme by showing off the emblem of Bakhmut, which he had apparently stolen from one of the roads leading into the town.
Putin's former puppet president and current liquid refreshments enthusiast Dmitry Medvedev, meanwhile, contributed Twitter's most hilariously embarrassing celebratory take. Clearly still a very busy and important man, Dmitry spent part of his Sunday digging back through seven months of replies to 20 October last year, when Elon Musk (yes, there really was nobody to root for in this exchange) complimented him on a lettuce-related dig at the departing Liz Truss, before hedging his bets by adding: "Btw, how's it going in Bakhmut?"
"@elonmusk," Medvedev triumphantly, if a little belatedly, frothed, "you've asked me about Bakhmut… Come and see for yourself!"
So why all this ballyhoo over the possible capture of a town with a pre-war population similar to that of Barnsley, located just 22km from territory that Russia has held since 2015? Despite what sources sympathetic to Moscow will claim, the town is not an important transport and logistics hub, particularly now that all infrastructure in the city has been destroyed. Ukraine also still controls high ground just to the west, making all Russian activity in Bakhmut, including its hypothetical use as a hub for troops and equipment, vulnerable to attack.
The loss of Bakhmut would also not, as some will claim, deal a significant blow to Ukrainian military or civic morale. The value of attriting Russia's forces for as long as possible in one place before finally withdrawing from it to save Ukrainian lives is well understood by the Ukrainian population by now. The losses of Mariupol, Severodonetsk and Lysychansk were deeply felt in Ukraine, but the country's determination to defeat Russia and its belief in that outcome is rock solid, and the loss of Bakhmut would do nothing to erode that.
Prigozhin and Putin are so desperate to declare the capture of Bakhmut simply because both are desperate for some sort of "victory" to point to, for slightly different reasons. For Prigozhin it's about business and his exhausted and heavily depleted mercenary group's future credibility as a fighting force. Moscow's angle, as the Institute for the Study of War said in its latest assessment yesterday, will be that taking Bakhmut is "an opening step towards Sloviansk, Kramatorsk, and Dnipro" – cities Russia can only dream of occupying at this point. In reality the most significant lasting consequence of Prigozhin and Putin capturing the ruins of Bakhmut (if it ever really happens) may well be the passing into obsolescence of the term "Pyrrhic victory" – a victory that inflicts such a devastating toll on the victor that it is tantamount to defeat – in favour of "Bakhmut victory".