London
CNN
 — 

Protests erupted in Tbilisi on Tuesday after Georgia's parliament passed the first reading of a controversial draft law that would require some organizations receiving foreign funding to register as "foreign agents." Rights groups have criticized the law as curtailing basic freedoms in the country.
The court session was broadcast live on the legislature's website.
"76 votes for, 13 against. The bill was adopted in the first reading," said Speaker of the Parliament Shalva Papuashvili.
The bill must pass further readings in parliament to become law, but so far appears to have broad support among Georgian lawmakers despite criticism domestically and abroad.
Protesters could be seen throwing stones and petrol bombs, and some waving the European Union flag on Tuesday night, as security forces responded with tear gas and water cannon.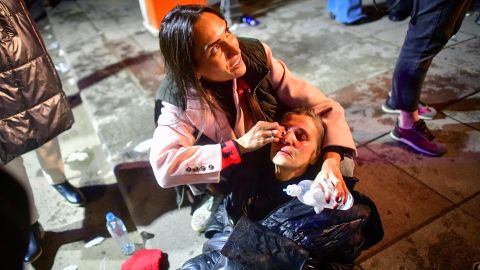 Georgia's Interior Ministry asked protesters to disperse and warned that "legal measures" would be taken against protesters. "The protest action near the parliament building on Rustaveli Avenue in Tbilisi has become violent. The protesters tried to block one of the entrances to the parliament, and there are facts of violence against the employees of the ministry," read an Interior Ministry statement.
The bill has been widely criticized as posing a potential chilling effect for Georgian civil society, and particularly NGOs and news organizations with links to Europe.
Human Rights Watch and Amnesty International have said that the bill would impede rights to freedom of expression and association in the country with onerous financial reporting requirements.
An EU statement Tuesday warned that the law would be "incompatible with EU values and standards" and could have "serious repercussions on our relations."
In February, US State Department spokesperson Ned Price also said that "anyone voting for this draft legislation" could also imperil Georgia's relationship with Europe and the West.
The bill has been often compared to a foreign agents law that came into force in neighboring Russia late last year.
Widely seen as a crackdown on free speech and civil society in the country, the expanded Russian law imposes strict restrictions not just on organizations and individuals receiving funding from abroad, but also on those who have previously "received support and (or) is under foreign influence."