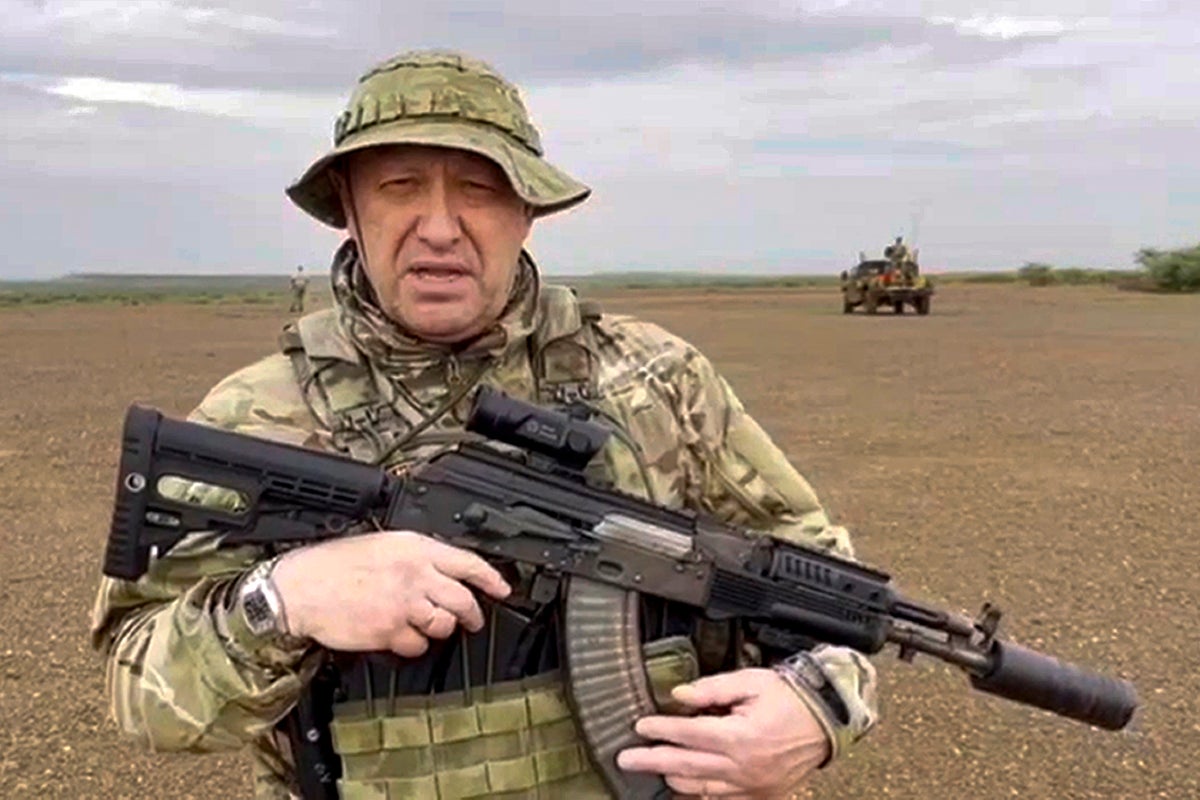 Yevgeny Prigozhin smiled as a crowd of adoring fans surrounded his black SUV on June 24 in Russia's southern city of Rostov-on-Don and cheered him on.
"You rock!" fans shouted while taking selfies with the chief of the Wagner mercenary group, who was sitting in the vehicle after nightfall. "You're a lion! Hang in there!"
Prigozhin and his masked, camouflage-clad fighters were leaving the city after a daylong mutiny against the country's military leadership. President Vladimir Putin decried it as "treason" and vowed punishment, but then cut a deal not to prosecute Prigozhin. Beyond that, his fate looked uncertain.
Two months later, on Aug. 23, Prigozhin's business jet plummeted from the sky and crashed in a field halfway between Moscow and St. Petersburg. Everyone aboard was killed, presumably including Prigozhin and some of his top lieutenants.
The two scenes, which unfolded just two months apart, provide bookends to the mystery-shrouded final days of the outspoken, brutal mercenary leader who initially appeared to have escaped any retribution for the rebellion that posed the greatest challenge to Putin's authority in his 23-year rule.
Suspicions immediately arose that the Kremlin was behind the crash and that it was vengeance. The Kremlin denied it.
In on-camera remarks eulogizing Prigozhin, the Russian president sought to show that there was no bad blood between them. He described the head of Wagner as "a talented man" whom he had known for a long time and who made "serious mistakes" but was still apparently doing business with the government.
The last weeks of Prigozhin's life were overshadowed by questions about what the Kremlin really had in store for him. Had he already dodged a bullet? Or was his comeuppance just further down the road?
Shortly before footage emerged of Prigozhin driving off into the night in Rostov-on-Don, the Kremlin announced a deal to end the mutiny. Prigozhin would "retreat to Belarus," Kremlin spokesperson Dmitry Peskov said, without elaborating on whether that meant a permanent exile.
Prigozhin himself went silent, which was unusual for a man who used to release multiple written and spoken statements every day. Responding to an email from The Associated Press on June 25, the day after the mutiny, Prigozhin's press service said only that he "says hi to everyone" and would respond to all questions once he gets "proper connection."
An elaborate 11-minute statement from Prigozhin appeared the next day, but it contained nothing about where he was or what was next for him and his forces. Instead, he defended himself and the mutiny in his usual defiant and bullish manner.
He said his march on Moscow started because of an injustice — an alleged attack on his fighters in Ukraine by the Russian military. He taunted the military, calling Wagner's march a "master class" in how government soldiers should have carried out the February 2022 invasion of Ukraine. He pointed out security breaches that allowed Wagner to advance 780 kilometers (500 miles) without resistance and to block all military units on its way.
The following morning, on June 27, Russian authorities announced they were dropping the criminal investigation into the revolt, with no charges for the Wagner leader nor any other participants — even though about a dozen Russian troops were killed in clashes and several military aircraft were shot down.
Later in the day, Putin hinted that there might be a new probe — this time into Prigozhin's finances. The Russian leader told a military gathering that the state paid Wagner almost $1 billion in just one year, while Prigozhin's other company earned about the same from government contracts. Putin wondered aloud whether any of it was stolen and promised to "figure it out."
On the day the charges were dropped, Prigozhin's plane was spotted in Belarus, and Belarus' authoritarian President Alexander Lukashenko, who helped broker the deal to end the mutiny, said the Wagner chief had arrived. Belarusian activists soon reported that a camp was being erected there for fighters who decided to follow him.
In Russia, Prigozhin's major business asset — a media company called Patriot — shut down, and many of the news outlets it owned were blocked by authorities. Prigozhin's media operations included the infamous "troll factory" that led to his indictment in the U.S. for meddling in the 2016 presidential election.
Wagner also announced a halt to recruitment of new mercenaries "due to the move to Belarus."
On July 6, however, Lukashenko told reporters that Prigozhin was in St. Petersburg — or "maybe he went to Moscow, or maybe somewhere else, but he is not in Belarus." The remarks came amid media reports that cash and equipment seized during police searches of Prigozhin's property were returned to him.
"What will happen to him next? Well, anything can happen in a lifetime. But if you think that Putin is so malicious and vindictive that he will be offed somewhere tomorrow. … No, this will not happen," Lukashenko assured.
As it turned out, Putin met with Prigozhin several days after the revolt.
Peskov, Putin's spokesperson, told reporters on July 10 that the meeting took place in the Kremlin and involved more than 30 Wagner commanders in addition to Prigozhin. The revelation came after Peskov repeatedly said the Kremlin knew nothing about Prigozhin's whereabouts — including on the day of the meeting with Putin, June 29.
Putin's spokesperson wouldn't offer any details about the meeting, saying only that the commanders pledged their loyalty to the Russian president.
Putin later echoed that idea, saying in a July 13 interview that "many were nodding" when he offered to let them continue serving under one of the Wagner commanders. But a defiant Prigozhin spoke for them and said they didn't like the proposal, according to the Russian president.
Comments from the Wagner chief himself became rare. Nothing more was posted by his spokespeople beyond the 11-minute audio message issued two days after the mutiny.
Words or visuals of Prigozhin instead appeared in one of several Telegram channels believed to be linked to Wagner. The relative quiet raised questions over whether keeping a low public profile was part of his deal with the Kremlin.
One such video on July 19 reportedly came from Belarus. Blurry footage showed a silhouette of a man looking like Prigozhin against the sky at dusk, and his distinctive gravelly voice was heard addressing rows of men in fatigues.
"Welcome guys! I am happy to greet you all. Welcome to Belarusian land!" he said.
Prigozhin repeated his criticism of the conduct of the fighting in Ukraine. "What is going on the frontline today is a shame in which we shouldn't take part," he said, adding that Wagner forces could return to Ukraine in the future.
In the meantime, Prigozhin said, Wagner would train in Belarus and then set off on a new journey to Africa, where his mercenaries have been active in several countries.
Another video, posted on Aug. 21 in a different Telegram channel, showed a close-up of Prigozhin toting a rifle while standing on a dusty plain. Prigozhin didn't say where the video was recorded, but he referenced the temperature being 50 degrees Celsius (122 degrees Fahrenheit).
"Just the way we like it," he boasted. He said Wagner was "making Russia even greater on all continents and Africa even more free."
Two days later came the plane crash — exactly two months after Priogzhin first announced his revolt.
Although the Kremlin rejected allegations that it was behind the crash, the reality of those two months likely didn't sit well with Putin, political analyst Abbas Gallyamov said.
The mutiny "showcased Putin's weakness to everyone," said Gallyamov, who once worked as a Kremlin speechwriter. After that, Prigozhin "was feeling normal." He was working on projects in Belarus and in Africa, and the case against him was closed.
That reality "completely dissatisfied Putin because it was an open invitation for potential mutineers," Gallyamov said.