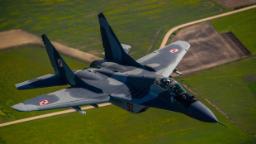 CNN
 — 

Poland is set to provide Ukraine with four MiG-29 fighter jets in the coming days, Polish President Andrzej Duda said on Thursday, becoming the first NATO country to do so.
"When it comes to the MI-29 aircraft, which are still operating in the defense of Polish airspace, a decision has been taken at the highest levels, we can say confidently that we are sending MIGs to Ukraine," Duda said.
"We have a dozen or so MIGS that we got in the 90s handed down from the German Democratic Republic and they are functional and play a part in the defense of our airspace. They are at the end of their operational life but are still functional," Duda added.
"In the coming days we will hand over four planes to the Ukraine, remaining machines are being serviced and prepared for handover. We will replace them with deliveries of South Korean FA-50s and American F-35s," the Polish president said.
Speaking at a press conference in Warsaw, along with his new Czech counterpart Petr Pavel, the Polish president expressed their joint backing for Kyiv.
"The Czech Republic and Poland are countries that are in the absolute vanguard when it comes to supporting Ukraine, both at humanitarian and military levels," President Duda said.