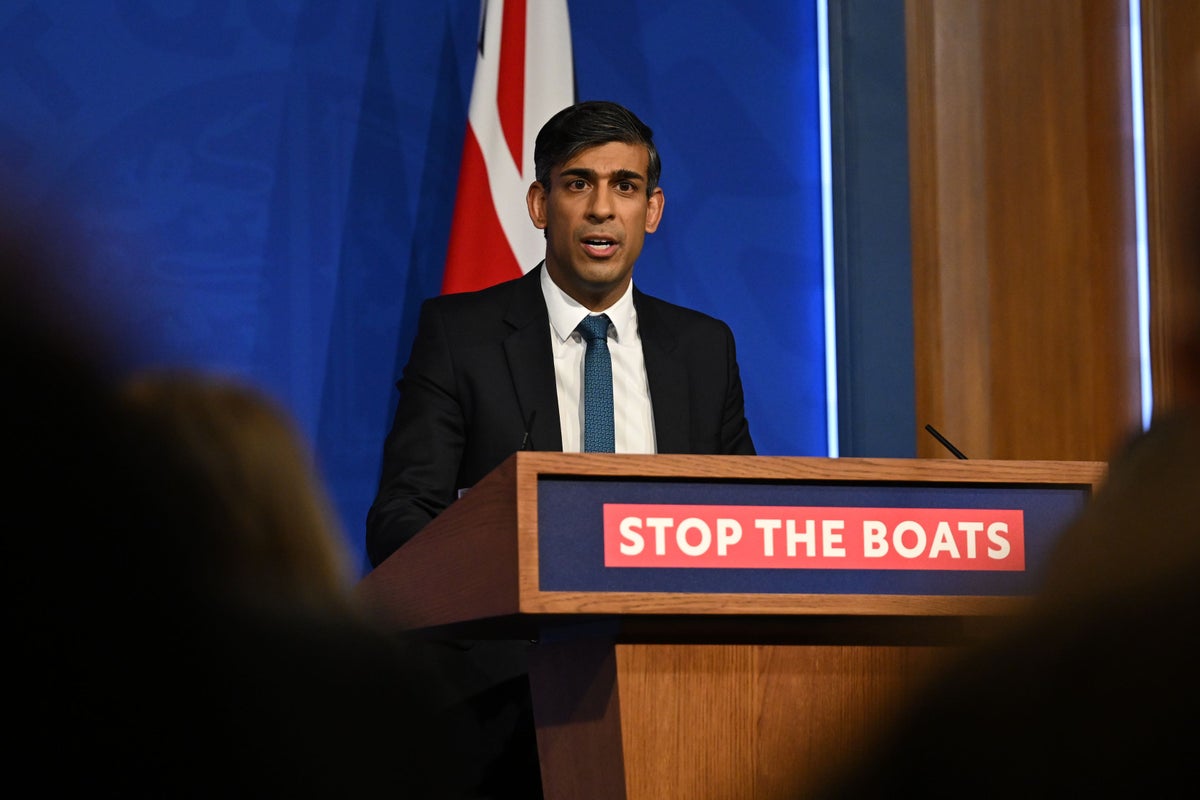 Rishi Sunak has denied "tinkering" with the Rwanda policy after his sacked former home secretary suggested his plan to save the scheme would fail without more radical measures.
The Prime Minister defended his announcement of emergency legislation and a new treaty with Kigali in a bid to address issues that led the UK's highest court to rule the deal was unlawful.
Speaking to broadcasters during a visit to a school in Bolsover, Mr Sunak insisted he will "work night and day" to ensure domestic courts cannot "systemically" block flights to the east African nation.
Asked whether his rescue plan amounted to "tinkering with plan A… (without) a serious alternative", he said: "No, as I said, the progress we've made this year on tackling this issue is meaningful.
"The number of crossings are down by a third this year, because we're co-operating with other countries to crack down on the criminal gangs."
He added: "We can pass these laws in Parliament that will give us the powers and the tools we need. Then we can get the flights off and whether it's the House of Lords or the Labour Party standing in our way I will take them on because I want to get this thing done and I want to stop the boats."
Mr Sunak declined to say whether he would call a general election if the upper chamber blocked the new law, instead insisting it was up to Labour to help it reach the statute books.
"The real question is: is the Labour Party going to stand in the way and stop this from happening, or are they going to work with us and support this Bill so we can get it through as quickly as possible?" he said.
It comes after Suella Braverman, who was ousted in a reshuffle earlier this week, wrote a scathing article in which she claimed a solution to the challenge of stopping migrants "demands of the Government an end to self-deception and spin".
"Tinkering with a failed plan will not stop the boats," she wrote in the Daily Telegraph.
Mr Sunak is facing concerns over the dilemma from both sides of his party, with one-nation Tory Damian Green defending the PM against Mrs Braverman's attack but stressing the importance of observing the rule of law.
"It's not just all our own laws passed by Parliament, and all international treaties that we have signed, that Suella wants to sweep away," Mr Green told BBC Radio 4's Today programme.
"Conservatives believe in a democratic country run by the rule of law. And dictators, Xi and Putin, would prefer to have the state completely untrammelled by any law. And so, as a democrat I oppose it.
"But quite specifically as a Conservative, because if we Conservatives don't believe that the state should be controlled by the law, that the Government has to obey the law as much as you or I have to obey the law, then that seems to me to be very profoundly unconservative."
Meanwhile, Lord Sumption, a former Supreme Court judge, told the BBC the plan to use a law to declare Rwanda as safe was "profoundly discreditable", "constitutionally really quite extraordinary", and would "effectively overrule" a decision by the UK's highest court.
Mr Sunak's two-pronged strategy to dealing with the Supreme Court judgment is to announce an emergency law that he says will enable Parliament to "unequivocally" declare Rwanda a safe destination for asylum seekers.
He will also publish an upgraded agreement with the country which is expected to attempt to address the court's concerns around refoulement – the potential for refugees whose applications for asylum are rejected by Kigali to be sent back to the country they are fleeing.
A Government source said the treaty with Rwanda would be published "shortly" but perhaps not as soon as Monday, as reports earlier suggested.