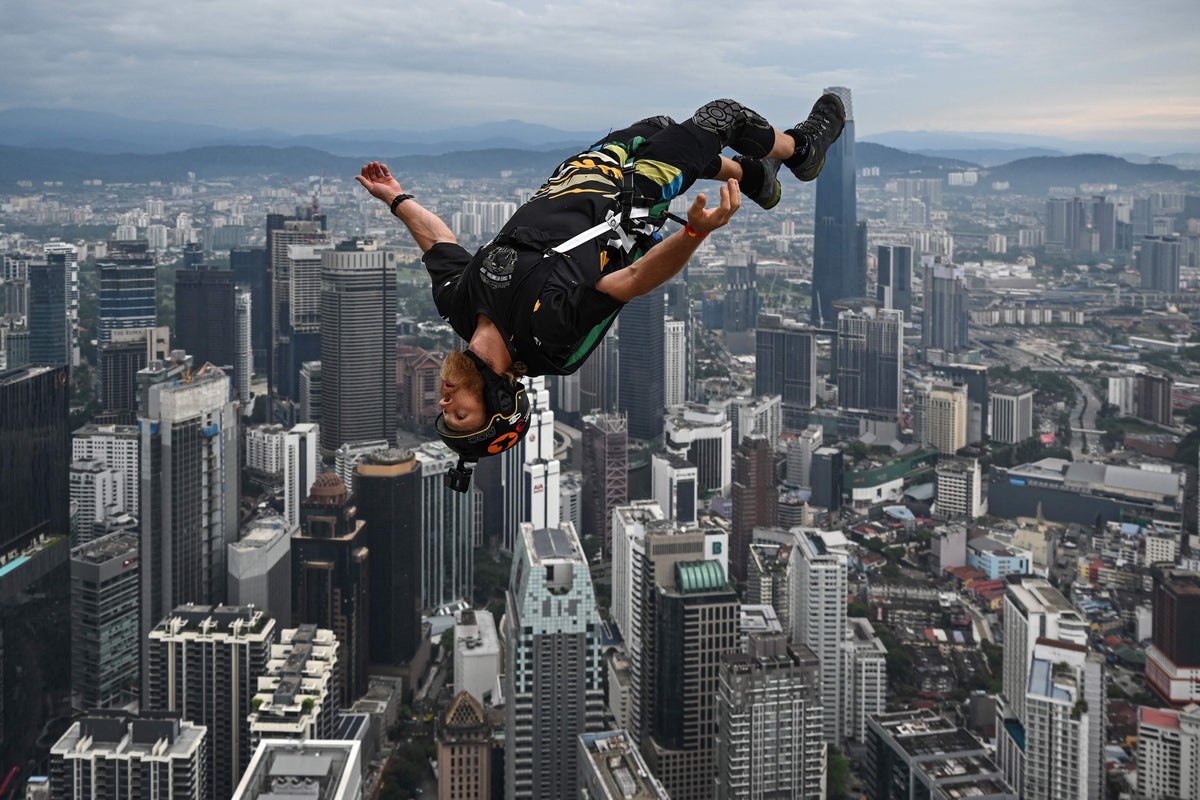 Each week the picture editors at The Independent sort through hundreds of thousands images sent into us by photography agencies from all around the world.
These are some of the most eye-catching and the most striking images from culture, news, politics, sport and lifestyle.
You can also keep up with the latest photography making headlines via our Instagram.
The pack rides during the second stage of 2023 Saudi Tour, from Winter Park to Shalal Sijlyat Rocks.
Serbia's Novak Djokovic gets selfies with his supporters outside the Government House in Melbourne after winning the Australian Open tennis tournament's mens' singles final against Greece's Stefanos Tsitsipas.
A potter sorts clay flower pots inside a kiln at a factory in Jalalabad.
Bonji, a 5 year-old poodle, poses for a portrait in a photo studio booth at the Pet Show at the Convention Centre in Hong Kong China.
Activists from Greenpeace set up a mock-petrol station price board displaying the company's net profit for 2022, as they demonstrate outside the headquarters of Shell, in London.
Performers with the United Ukrainian Ballet dance during their opening performance at the Kennedy Center in Washington, DC.
Australian surfer Liam O'Brien rides a wave during the first day of the Billabong Pipeline Pro at Banzai Pipeline on the north shore of Oahu, Hawaii.
School students scatter flowers on the statue of Mahatma Gandhi on his death anniversary in Hyderabad.
First Minister Nicola Sturgeon using a camera during her visit to BBC Studioworks in Glasgow.
France's Kevin Aymoz performs during the exhibition gala at the ISU European Figure Skating Championships in Finland.
Members of the Up Helly Aa 'Jarl Squad' parade through the streets in Lerwick, Shetland Islands.
US actor and Wrexham owner Ryan Reynolds reacts during the English FA Cup fourth round football match between Wrexham and Sheffield United at the Racecourse Ground Stadium in Wrexham, north Wales.
US President Joe Biden boards Marine One as he departs from the Wall Street landing zone on lower Manhattan in New York, New York.
AJ Dereume holds up Phil the groundhog as he is to make his prediction on how long winter will last during the Groundhog Day Festivities, at Gobblers Knob in Punxsutawney, Pennsylvania, U.S.
Kindergarten students look at a performer wearing a demon-like mask and costume during a bean-throwing ceremony to drive away evil spirits and bring good luck at the annual Setsubun Festival at Sensoji Temple in Tokyo.
People fish on the frozen Gull Lake during the 2023 Brainerd Jaycees Ice Fishing Extravaganza near Brainerd, Minnesota, U.S.
French actress Eva Green arrives at The Rolls Building courthouse in London.
Yedam Kim and Chaewon Kim, both of South Korea, look at a smartphone backstage after performing on stage during the first day of the 51st Prix de Lausanne at the Theatre de Beaulieu, in Lausanne, Switzerland.
A Red Cross member feeds a baby with a bottle at Gran Carajal port after the arrival of some migrants on board a Spanish Sea Rescue Unit's ship in Gran Canaria island, southwestern Spain.
A suspected Chinese spy balloon in the sky over Billings, Montana.
Restorer from Appia Antica archaeological park Sara Iovine cleans a life-sized statue of a Roman emperor posing as the classical hero Hercules after it was discovered during sewer repair works near the old Appian Way, ancient Rome's first highway, in Rome, Italy.
Worshippers take part in the traditional ceremony of Iemanja, the Goddess of the Sea of the syncretic Afro-Brazilian religion Umbanda at the Arpoador beach in Rio de Janeiro, Brazil.
An aerial picture shows competitors running on salty soil during the Dead Sea Marathon, in the Israeli resort of Ein Bokek.
Dog Lily sits in front of dog paintings during a Christie's pre auction photo call on English country House contents in London.
Protestors hold union flags and smoke flares during a demonstration as part of a nationwide day of strikes and rallies for the second time in a month, to protest a planned reform to boost the age of retirement from 62 to 64, in Nice, southeastern France.
A pedestrian passing by a mural of Italian urban artist Tvboy on a wall in Bucha, amid the Russian invasion of Ukraine.
Flamingos are seen at the Vjosa-Narte Protected area in Vlora, Albania.
Participants with demon masks brandish torches and sticks with fireworks among revellers during the traditional Correfoc (fire-run) festival in Palma de Mallorca.
Tourists visit a frozen waterfall in the Drang area of Tangmarh.
Men rest near a burned area caused by a wildfire that burns parts of rural areas in Quillon, Chile.