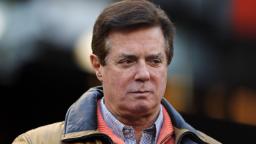 CNN
 — 

Paul Manafort has agreed to pay $3.15 million he owes to the US government over misrepresentations he made on his tax returns almost a decade ago, bringing to a close the former Trump campaign chairman's financial tangles in court.
Manafort hadn't disclosed to the Treasury Department nearly two dozen bank accounts in Cyprus, St. Vincent and the Grenadines and the UK that he used for political consulting business he did in Ukraine in 2013 and 2014, according to court filings.
The offshore accounts had tens of thousands of dollars in them, making it necessary for him to report them to the IRS. But on his tax returns, Manafort said he had no foreign bank accounts.
Manafort later admitted to failing to disclose the accounts as part of his guilty plea on a host of financial and tax crimes in the Mueller investigation. He was pardoned by then-President Trump in late 2020, again skirting some of the payback requirements.
The Justice Department sued Manafort in April last year "to collect outstanding civil penalties … for his willful failure to timely report his financial interest in foreign bank accounts," court filings said. The DOJ also sought interest and late payment fees from Manafort.
"As part of the settlement, Mr. Manafort has consented to an entry of judgment in full in this case, with interest accruing," his lawyers and the Justice Department told the court in late February. Judge Rodolfo Ruiz II of the federal court in the Southern District of Florida approved the settlement the next day.
Still, the amount only represents a sliver of Manafort's financial crimes.
The Associated Press first reported the settlement.