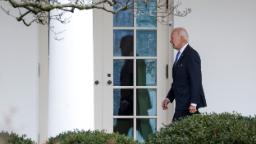 Editor's Note: Julian Zelizer, a CNN political analyst, is a professor of history and public affairs at Princeton University. He is the author and editor of 25 books, including the New York Times best-seller, "Myth America: Historians Take on the Biggest Lies and Legends About Our Past" (Basic Books). Follow him on Twitter @julianzelizer. The views expressed in this commentary are his own. View more opinion on CNN.


CNN
 — 

President Joe Biden, who has struggled for weeks to contain the fallout surrounding the discovery of classified documents at his home and former office, must have sighed with relief when former Vice President Mike Pence announced classified documents were also found at his home in Indiana.
Both of these incidents come on the heels of the documents saga surrounding former President Donald Trump, who – like Biden – is now under a special counsel investigation. In August, the FBI seized more than 100 classified documents from Trump's Mar-a-Lago home during a court-approved search.
News reports have emphasized the way the Biden and Pence responded differently than Trump. For one, lawyers working for Biden and Pence notified authorities shortly after the classified documents were first discovered and made an effort to return them, while Trump's team resisted efforts by the Department of Justice to retrieve all the documents at Mar-a-Lago.
But, as evidenced by the latest revelations, this is not simply an inside Washington story. Nor is it one that it will go away anytime soon. While Pence's disclosure certainly takes the heat off Biden, this scandal is bad news for Biden's brand name.
And new polling makes this clear. More than eight out of 10 Americans approve of the appointment of a special counsel to investigate the handling of classified documents found at Biden's home and office. However, according to the same CNN poll, it seems Americans understand the differences between the two cases involving Biden and Trump. While a majority of Americans disapprove of the way Biden has handled the issue and consider it a serious or "somewhat serious" problem, it's telling that only 37% of Americans believe he has done something illegal. Yet, when it comes to Trump's case, 52% of Americans believe he has done something illegal.
Biden, who established himself as the responsible foil to Trump in 2020, has now squandered the political high ground on this issue. And with Pence thrown into the mix, Trump's team believes the latest developments could help support their argument that this should be treated as an administrative issue, rather than a criminal one.
Biden also has more to lose when it comes to the issue of reputation. One of Biden's greatest assets has been his image as a regular Joe – a straight shooter who can be trusted. Like former President Jimmy Carter, who cast himself as an upstanding candidate after Watergate, Biden ran for president in 2020 as the seasoned "adult in the room" after the tumult of the Trump years.
We're now seeing the first major blow to that image, with more attacks sure to come now that the Republicans who have gained control of the House are vowing to investigate everything from Hunter Biden to the president's border policies.
Regardless of what House Republicans will find, if anything, they are capable of redirecting our attention to negative attacks on Biden and further damaging his reputation. If Democrats don't think these sorts of stories can have legs, they should just ask Hillary Clinton's emails, which the GOP famously used to bludgeon her reputation right through the 2016 election.
Biden might have a stronger reputation than Clinton, which will help. But that certainly won't insulate him from an onslaught of attacks in the next two years.
The turmoil will also renew talks within the Democratic Party about whether Biden should run for reelection or who might challenge him in the primaries — two conversations that had largely abated after the party's stunning performance in the midterms.
All of these controversies can easily distract both the public and the media from the issues Biden would rather focus on, such as the slowing of inflation or military support for Ukraine.
And, of course, there are plenty of ways this could continue going south for Biden, especially if there are fresh revelations surrounding his handling of classified documents.
But all of this is surmountable. While there are constraints on what Biden can say in the midst of an ongoing investigation, he should be as direct with the public as possible and make every effort to turn over whatever material he has. He must also be proactive in pushing forward conversations about his domestic agenda and keeping the public eye focused on the chaos and division House Republicans are sowing.
But he and his supporters shouldn't discount the significant political impact this story can have. It has already opened the door to questions about his prospects in 2024 and given a laggard Trump campaign something to crow about.