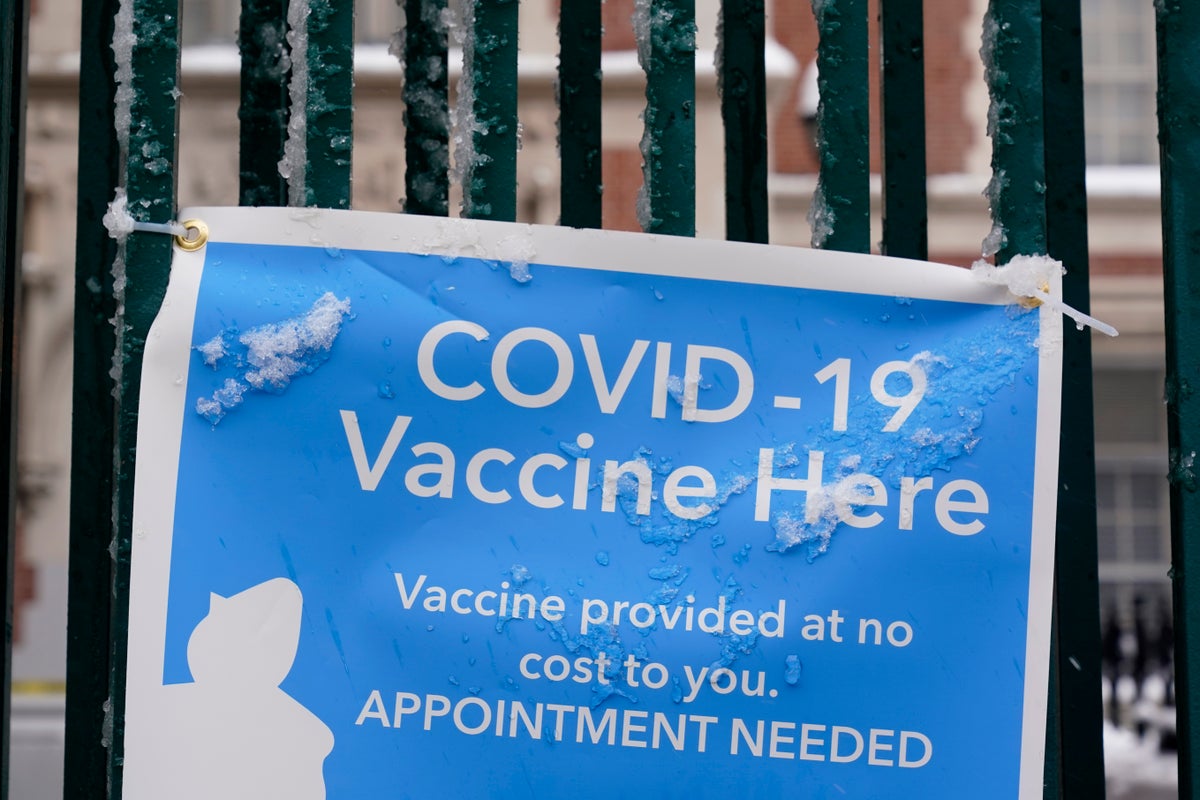 A roundup of some of the most popular but completely untrue stories and visuals of the week. None of these are legit, even though they were shared widely on social media. The Associated Press checked them out. Here are the facts:
___
Voluntary removal of popular cold-and-cough medications from store shelves fuels conspiracy theories
CLAIM: Over-the-counter cold and cough medications are being pulled from drugstore shelves in an effort to start the "next plandemic" or force people to get the COVID-19 vaccine.
THE FACTS: Not all cold medications are being removed from all store shelves, nor are removals happening for nefarious reasons. Some over-the-counter cold and cough medicines that contain phenylephrine as a single ingredient are being voluntarily removed at CVS stores after a U.S. Food and Drug Administration advisory committee found the ingredient to be ineffective in September. But with the flu season off to an early start, posts on social media are raising suspicions around the removals. "Dayquil, Mucinex, Sudafed, Theraflu, and many others are being pulled off the shelves," reads one post shared on X, formerly known as Twitter. "Just in time for the next plandemic. Just in time for the next election. But no….Nothing to see here," it continues, referencing a video that promoted baseless allegations around COVID-19. But this latest move is grounded in recent findings by experts assembled by the FDA that found phenylephrine taken orally was no more effective as a decongestant than taking a dummy pill. Medical experts tell the AP that the FDA's ruling on the drug's efficacy was not surprising. FDA advisers voted against the drug's effectiveness in September. The agency first asked outside experts to take another look at phenylephrine in 2007, after it became the main drug used in over-the-counter decongestants when pseudoephedrine was moved behind pharmacy counters. CVS Health announced in October it would remove a small number of oral decongestants that contain phenylephrine as the only active ingredient. Phenylephrine is found in popular versions of Sudafed, Dayquil and other medications. Other national chain drug stores have not pulled any products. The FDA told the AP in a statement it has not asked manufacturers or retail pharmacies to remove products containing the drug. Dr. Lauren Eggert, a clinical assistant professor at the division of pulmonary, allergy, and critical care medicine at Stanford University School of Medicine, noted the FDA's advisory only helps push patients toward using medications that are more effective. Eggert stressed that there have been no safety concerns around phenylephrine's use at prescribed levels, just questions of efficacy. Experts told the AP that other versions of Sudafed and cold medications that do not use phenylephrine are still available. Sudafed with pseudoephedrine, for example, relieves cold symptoms, but it is stocked behind the pharmacy counter. "My recommendation for the common cold is supportive care," said Eggert, who recommends people who are ill stay rested and hydrated. She added that getting the necessary vaccines, such as the flu shot, is key to prevention.
— Associated Press writer Karena Phan in Los Angeles contributed this report.
___
No, video doesn't show a Palestinian 'crisis actor' admitting to his mother his injuries are fake
CLAIM: A video shows a Palestinian "crisis actor" removing his bandages to show his worried mother that his injuries aren't real.
THE FACTS: The man's injuries are real. Arabic-language experts and the Palestinian journalist who captured the emotional exchange on video say the injured man and others surrounding him were trying to calm the woman, who believed her son had been mortally wounded in an attack during the Israel-Hamas war. The video shows a man sitting on a hospital bed with a large, bloodied bandage wrapped around his head while wearing a blood-soaked t-shirt and tattered pants. He and the men around him speak animatedly to the visibly emotional woman, and at one point, one of the men unwraps the bandage to show the woman the extent of injuries underneath. "This is gold. A Palestinian mother sees images online showing her son injured. She races to the hospital only to find it's all fake," one Instagram user who shared the brief clip wrote in a post that's been liked more than 11,000 times . "He is fine, it's just an act mommy. It's called Pallywood. Sad so many are being manipulated." But the unidentified man's injuries are real. Taoufik Ben-Amor, a senior lecturer in Arabic studies at Columbia University in New York, confirmed the men are trying to assure the woman that the injuries are not that serious and that her son will be fine. Nasr Abdo, who is also a lecturer at Columbia University, agreed, after reviewing the video. "This is a very cultural thing, people and the injured patient are trying to calm the mother down by saying that he is fine and not badly injured," he wrote in an email. "But there is no indication at all that this is acting. It's just the way in Arabic saying he is going to be fine." Mohmmed Awad, a Palestinian journalist who filmed the video, didn't respond to messages seeking comment this week, but he conveyed to Kashif, a Palestinian fact checking website, a similar explanation. Awad, who shared a snippet of the fact check story on Instagram, said the incident happened last week at the Nasser Medical Hospital in Khan Yunis, a city in southern Gaza. He said the woman came into the hospital screaming, so he followed her to the intensive care unit where her son was being treated for a head injury. "She thought he was martyred," Awad told the organization in Arabic. "In the video, they were just reassuring her that her son is okay. Even the injured young man sat up and took the bandage off his head to tell her he was okay."
— Associated Press writer Philip Marcelo in New York and editor Nadia Ahmed in London contributed this report.
___
NATO has not urged Ukraine to surrender, despite what social media posts claim
CLAIM: The North Atlantic Treaty Organization has called on Ukraine to surrender to Russia.
THE FACTS: The 31-nation alliance has made no such call, and its secretary general this week stressed that NATO remains committed to supporting Ukraine and that any decision to negotiate peace would be up to the Eastern European nation. The claim was made in a video circulating online, which said U.S. and European officials are calling on Ukrainian President Volodymyr Zelenskyy to negotiate peace with Russia and bring an end to the war. "NATO calls on Ukraine to SURRENDER & GAME OVER," reads the text over the video, which includes snippets of war footage interspersed with Zelenskyy's public appearances and screenshots of various news stories about the ongoing conflict. But the military alliance, which includes the U.S., Canada and much of western Europe, has made no such statement. "This is a bogus claim," the organization stressed in an emailed reply to The Associated Press this week. "NATO's position on this matter has been clear and consistent throughout." The organization's statement pointed to NATO Secretary-General Jens Stoltenberg 's comments Tuesday reaffirming that the alliance remains committed to supporting Ukraine militarily. "We cannot allow President Putin to win," he said ahead of a meeting of the Foreign Affairs Council of the European Union, according to a transcript of the remarks. Stoltenberg added that any negotiations with Russia are ultimately up to Ukraine. "It is for Ukraine to decide on what are acceptable conditions for negotiations and, even more important, what are acceptable conditions for any agreement," he said. The widely shared video cites an NBC News story from earlier this month reporting that U.S. and European officials are privately talking with their Ukrainian counterparts about what peace with Russia might entail, including what Ukraine might need to give up in such a deal. But the Biden administration, in a statement to NBC News, reiterated that "any decisions about negotiations are up to Ukraine."
— Philip Marcelo.
___
Find AP Fact Checks here: https://apnews.com/APFactCheck
___
Follow @APFactCheck on Twitter: https://twitter.com/APFactCheck