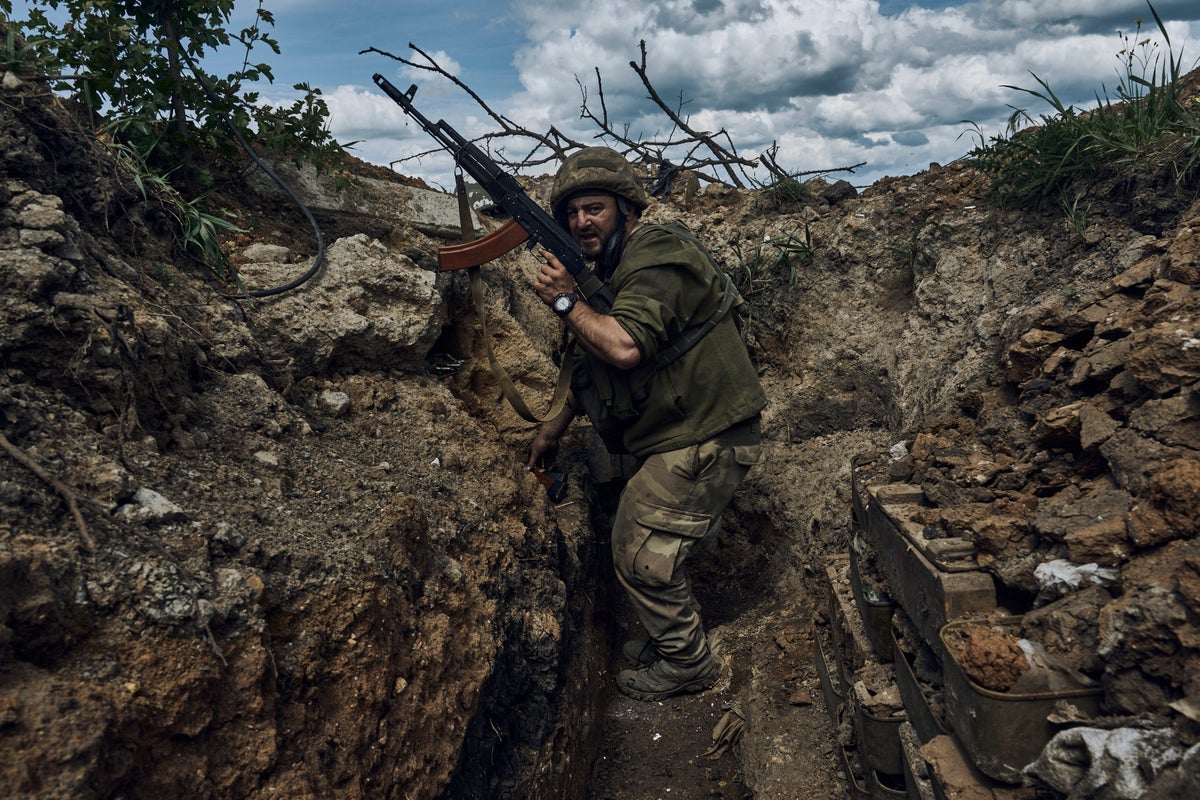 Ukraine will not be able to join Nato as long as Russia's invasion rages on, head of the alliance has said.
"To become a member in the midst of a war is not on the agenda," Jens Stoltenberg said. "The issue is what happens when the war ends."
Last September, Ukrainian President Volodymyr Zelensky announced a bid for fast-track membership of Nato after Russia's President Vladimir Putin proclaimed four partially-occupied regions of Ukraine as annexed Russian land as part of Moscow's invasion. Since then, there have been plenty of platitudes from Nato members about how Ukraine belongs in the alliance, but little concrete action, with some Western allies of Kyiv wary of moves that could push Nato towards an active war with Russia.
At an event organised by German Marshall Fund of The United States think tank in Brussels, Mr Stoltenberg acknowledged there were differences among the alliance over how to address Kyiv's membership ambitions.
"There are different views in the alliance and, of course, the only way to make decisions in Nato is by consensus. There are consultations going on now," he said – with the alliance set to hold a summit in the Lithuanian capital of Vilnius in July.
"No one is able to tell you exactly what will be the final decision of the Vilnius summit on this issue," Mr Stoltenberg said.
Mr Zelsnsky and some of Ukraine's closest allies in eastern Europe have been pushing Nato to lay out the concrete steps towards accepting Kyiv into the fold. The Latvian prime minister, Krisjanis Karins, said after meeting with Mr Stoltenberg that Russia would start a conflict all over again unless Ukraine was allowed to join Nato after the end of the war.
"To have … lasting peace, we will need Ukraine, [an] independent, free and liberated Ukraine, as a part of the Nato alliance," he said.
In April, Mr Stoltenberg made a visit to Kyiv to reiterate that the alliance stands with Kyiv. "Ukraine's rightful place is in Nato," the alliance's secretary-general said, "and over time, our support will help you make this possible." However, he did not give a timeframe. Later the same month, the Ukrainian foreign minister, Dmytro Kuleba, wrote in an op-ed for Foreign Affairs: "It is time for the alliance to stop making excuses and start the process that leads to Ukraine's eventual accession… What we need is a clear written statement from the allies laying out a path to accession."
Nato agreed at its 2008 summit in Bucharest that Ukraine will eventually become a member of the alliance.
Mr Stoltenberg's remarks came as Washington said it is looking into reports that American vehicles were used during a cross-border inside Russia, while the head of one of the anti-Putin militias who have claimed the assault said Moscow should expect more such incursions.
Denis Kapustin, who described himself as the commander of the Russian Volunteer Corps (RVC), spoke on the Ukrainian side of the border with Russia a day after Moscow said it had repelled the raid on the Belgorod region.Two groups operating in Ukraine – the Russian Volunteer Corps (RVC) and Freedom of Russia Legion – have claimed responsibility. Kyiv has said that it was not involved in the raid and said it was thanks to internal Russian strife.
"I think you will see us again on that side," said Mr Kapustin, who introduced himself by his call-sign White Rex. "I cannot reveal those upcoming things, I cannot even reveal the direction. The … border is pretty long. Yet again there will be a spot where things will get hot."
When asked about the reports that the raid had involved US-made military vehicles, Mr Kapustin said: "I know exactly where I got my weapons from. Unfortunately not from the Western partners"
White House spokesman John Kirby told reporters that while the US was looking into the reports, it has been clear with Kiev that it does not support any use of US-made equipment outside Ukraine.
remlin spokesman Dmitry Peskov said durig a briefing in Moscow that "it is no secret for us that the direct and indirect involvement of Western countries in this conflict is growing by the day."
Russian Defence Minister Sergei Shoigu promised on Wednesday that Moscow would respond to any more cross-border raids by Ukrainian militants swiftly and "extremely harshly."
Elsewhere, Russia and China have agreed to deepen investment and boost cooperation in a number of trade areas, with Russia's prime minister, Mikhail Mishustin, signing a set of bilateral agreements on a visit to Beijing. China has sought to portray itself as a neutral mediator seeking to end the war in Ukraine, refusing to condemn Moscow over their invasion. But this visit is the latest sign of the deepening diplomatic relations between the two nations.
Reuters and Associated Press contributed to this report