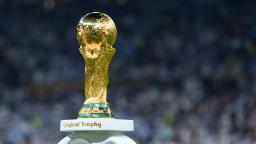 CNN
 — 

Morocco is set to join Spain and Portugal in a bid to host the FIFA 2030 Men's World Cup, apparently replacing Ukraine in a three-way alliance with the two European nations.
Ukraine said it would team up with Spain and Portugal in a joint bid last October, but Morocco's announcement suggests it will no longer be part of the process. CNN has reached out to all the nations involved.
Morocco's sport minister Chakib Benmoussa unveiled details of the North African nation's bid Tuesday, citing a letter from Morocco's King Mohammed VI.
"I would like to announce that the Kingdom of Morocco has decided, together with Spain and Portugal, to present a joint bid to host the 2030 World Cup," he read from the letter, according to Reuters.
Speaking at the Confederation of African Football President's Outstanding Achievement Awards in Kigali, Rwanda, Benmoussa called the bid "unprecedented in football history."
It will "bring together Africa and Europe, the northern and southern Mediterranean, and the African, Arab and Euro-Mediterranean worlds," he said. "It will also bring out the best in all of us – in effect a combination of genius, creativity, experience and means."
The new alliance adds another transcontinental bid to the process, alongside a three-way deal between Greece, Saudi Arabia and Egypt and a separate joint bid from Uruguay, Argentina, Paraguay and Chile.
Countries teaming up to hold the World Cup is not unprecedented, with Canada, America and Mexico due to co-host the World Cup in 2026. Japan also collaborated with South Korea in staging the 2002 chapter.
Morocco's announcement comes on the heels of its historic performance at the 2022 World Cup.
The Atlas Lions, the nickname of Morocco's national team, defeated both Spain and Portugal in the knockout stages in Qatar on their way to becoming the first African and first Arab country to ever reach a World Cup semifinal.