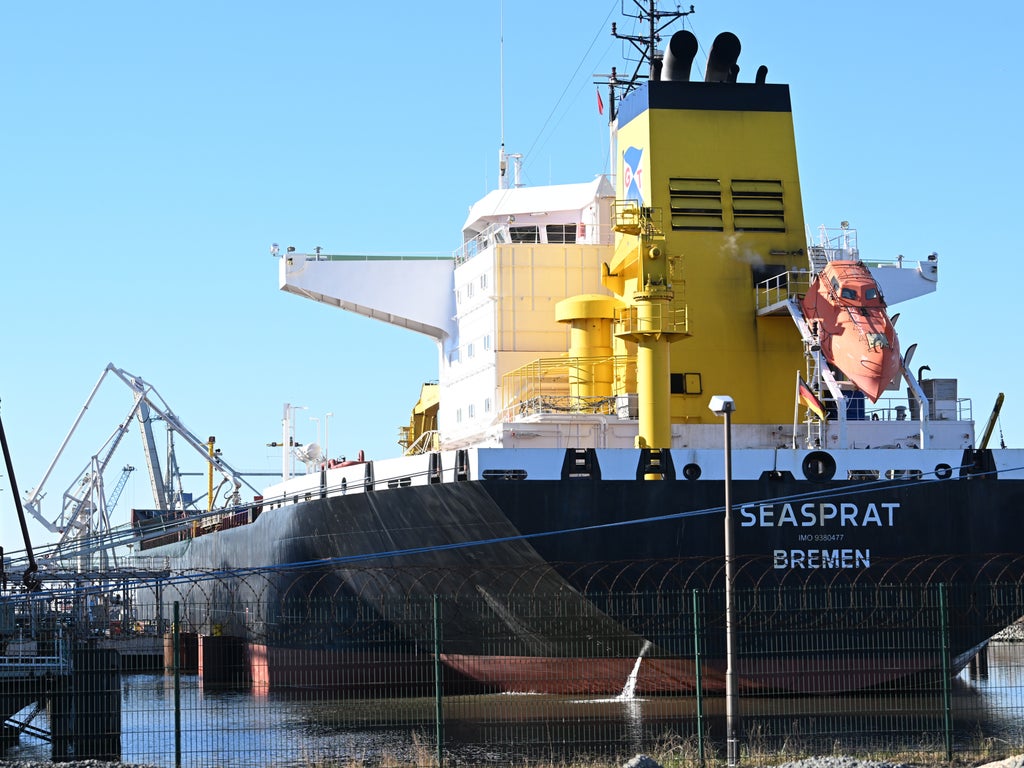 More than 200 oil tankers have left Russian ports to travel around the world since the invasion of Ukraine began, despite concerns fossil fuel activities are helping to fund a "war machine".
While some countries and companies have vowed to phase out Russian oil, many have stopped short of an immediate ban as the war in eastern Europe rages on.
Data seen exclusively by The Independent shows at least 236 oil vessels have left Russia in the first month of the war in Ukraine, which is believed to have killed hundreds of civilians and displaced millions more.
This includes Sea Dragon, which docked at a Southampton port this week, according to the marine tracking research.
Another three, Sea Lion, Green Warrior and Hafnia Torres are expected to dock within days. While the UK has blocked Russian ships from landing at its ports, all four sail under other countries' flags.
The British government has vowed to phase out oil imports from Russia – which brings the country much of its income – by the end of the year in response to the war being waged in eastern Europe. The EU, where many of the ships are headed, have vowed to cut energy ties with Russia by 2027.
Energy companies have also moved to distance themselves from Russian links.
The data seen by The Independent – shared by human rights group Global Witness and collected by analytics firm Refinitiv Eikon – shows industry leaders have chartered oil vessels coming out of Russia since the invasion.
This includes Shell, who said earlier this month they would withdraw from Russian hydrocarbons in a "phased manner". It has chartered four oil tankers that left Russian ports since the invasion.
ExxonMobil, which has vowed to stop making new investments in Russia and shut down its production in the country, has chartered two vessels, according to the Refinitiv Eikon data.
Chevron – which says it does not have exploration or production activities in Russia – has chartered more than a dozen, the research suggests.
The company has a stake in a pipeline transporting Kazak oil – which is shipped to Russian ports and understood to get blended with Russian grades – different viscosities of oil – in the pipeline.
Sam Leon from Global Witness said: "Despite pledges from governments and fossil fuel companies to get off Russian oil, despite the atrocities committed by Putin's troops in Ukraine, hundreds of ships laden with oil have left Russia bound for Europe since the invasion began."
The human rights organisation's chief executive accused companies such as ExxonMobil and Shell of "hiding behind vague statements and weak excuses".
The war in Ukraine has sparked even more alarm over the world's reliance on fossil fuels As well as its impact on the climate crisis, there have been concerns over how this money ends up being spent in the Russian context.
A Greenpeace UK spokesperson told The Independent: "This swarm of tankers leaving Russian ports loaded with oil and gas is the tangible sign of how fossil fuels are funding Putin's war.
"A whole month after the invasion, thanks to our energy-wasting homes and oil-guzzling cars and planes, countries like the UK are still bankrolling the very war they're trying to stop."
Last week, a European Union environment chief said the bloc's dependence on Russian fossil fuels was financing a "war chest".
US president Joe Biden also said America's ban on Russian oil and gas imports would serve a blow to Mr Putin's "war machine".
In an interview with The Independent, the founder of Extinction Rebellion's Ukraine branch said he believed disrupting the operations of Gazprom, a Russian energy giant, would help to end the war in Ukraine.
Dr Adnan Vatansever, the acting director of the Russia Institute at Kings' College London, told The Independent dealings with Russian oil and ports provided the state with a "very large amount" of money.
"The main point to remember is Russia's tax regime is built in such a way that it taxes the oil sector very, very heavily. It actually has one of the highest taxes of any oil-producing country," he said.
The senior lecturer, who is an expert in the Russian energy sector, added: "Companies almost don't feel increased oil prices in Russia because that extra revenue is taken by the state."
Shell says it has not made any new spot purchases – ones made on a short-term basis – of Russian crude oil since announcing an end to purchases on 8 March. "Those that were purchased before that date have been delivered and we will not be taking delivery of more spot crude cargoes," the company says on its website.
A Chevron spokesperson: "Tengizchevroil (TCO) crude enters the Caspian Pipeline in Kazakhstan and is exported to the Black Sea. Every parcel lifted by TCO is accompanied by a Republic of Kazakhstan Certificate of Origin."
A UK government spokesperson said: "Our phase-out of Russian oil imports will give the UK more than enough time to adjust supply chains, supporting industry and consumers over the course of 2022. This is just one part of a wide ranging and crippling set of sanctions we have imposed on Putin's regime."
ExxonMobil has also been approached for comment.