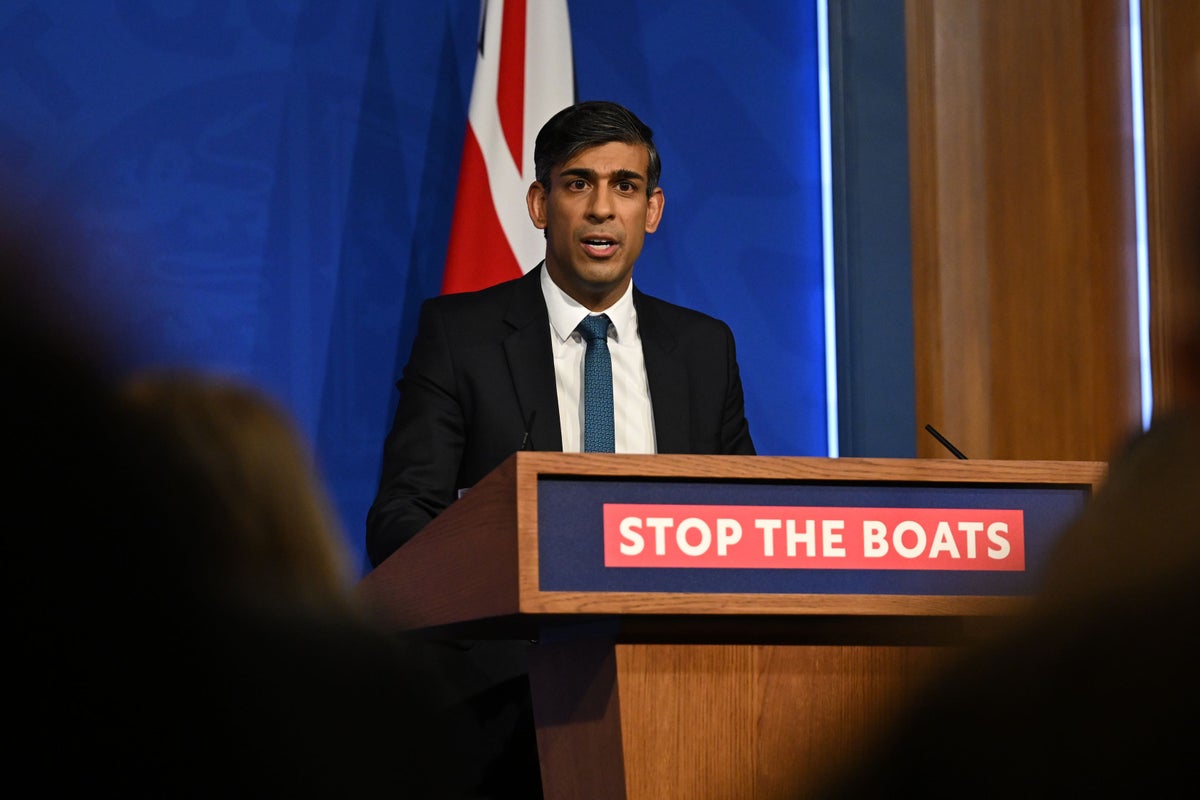 A Cabinet minister has insisted he is "confident" that Rishi Sunak's plan to save the Rwanda scheme will work despite criticism from his sacked home secretary and a former Supreme Court judge.
Mark Harper was unable to say whether the UK should be prepared to leave the European Convention on Human Rights (ECHR), but said ministers would do "what it takes" to send asylum seekers to Kigali including through "change" to international agreements if necessary.
The Prime Minister has announced plans for emergency legislation and a new treaty with the east African nation in a bid to address issues that led the UK's highest court to rule the policy was unlawful.
A Government source said the upgraded deal with Rwanda would be published "shortly" but perhaps not as soon as Monday, as reports earlier suggested.
Speaking to Sky News on Friday, Transport Secretary Mr Harper said: "We're confident (the measures) will enable us to send people to Rwanda."
The minister was asked about the latest intervention from Suella Braverman, who claimed in an article for The Telegraph that the policy would fail unless the Prime Minister is more radical.
"The point is we do need to make changes to the legal position. That is why on Wednesday immediately after the Supreme Court judgment the Prime Minister set out two things," he said.
"First of all we are concluding a new treaty with Rwanda. We weren't sitting on our hands when the Supreme Court was considering this case. We were already working on contingencies depending on what they set out."
He added: "That will make the position very clear for the courts and we are confident that that will enable us to send people to Rwanda to break the business model of these organised crime groups which is what the British people want us to do."
Asked on LBC later whether he would be happy for Parliament to sit through Christmas in order to get the emergency legislation on the statute books as soon as possible, he said: "Well, I'm very happy to do whatever it takes to deliver our commitment, but scheduling parliamentary business is not a matter for me. But I'm prepared to do what it takes to deliver our commitments to the British people."
Mrs Braverman, who was fired in a reshuffle earlier this week, said a solution to the challenge of stopping migrants crossing the English Channel "demands of the Government an end to self-deception and spin".
"Tinkering with a failed plan will not stop the boats," she wrote in The Telegraph.
Former deputy prime minister Damian Green said that her proposal to pass a law that would block Rwanda deportation appeals is "profoundly unconservative".
He said that it would "sweep away" all judicial review protection for asylum seekers.
"It's not just all our own laws passed by Parliament, and all international treaties that we have signed, that Suella wants to sweep away," he said.
"Conservatives believe in a democratic country run by the rule of law. And dictators, Xi and Putin, would prefer to have the state completely untrammelled by any law. And so, as a democrat I oppose it.
"But quite specifically as a conservative, because if we conservatives don't believe that the state should be controlled by the law, that the Government has to obey the law as much as you or I have to obey the law, then that seems to me to be very profoundly unconservative."
Meanwhile, Lord Sumption, a former Supreme Court judge, told the BBC the plan to use a law to declare Rwanda as safe was "profoundly discreditable", "constitutionally really quite extraordinary", and would "effectively overrule" a decision by the UK's highest court.
The yet-to-be-published treaty with Rwanda is expected to attempt to address the Supreme Court's concerns around refoulement – the potential for refugees whose applications for asylum are rejected by Kigali to be sent back to the country they are fleeing from.
The emergency legislation is expected to enable Parliament to deem the east African nation safe.