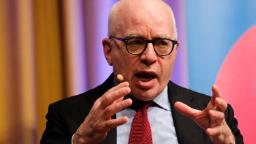 Editor's Note: A version of this article first appeared in the "Reliable Sources" newsletter. Sign up for the daily digest chronicling the evolving media landscape here.


CNN
 — 

On Wednesday evening, at a swanky party in a townhouse in Manhattan's Greenwich Village, Michael Wolff will celebrate his forthcoming book about Fox News, titled "The Fall: The End of Fox News and the Murdoch Dynasty." The anticipated 320-page work, which will hit shelves next week, is poised to generate voluminous chatter and headlines — and leave newsrooms with a predicament.
In the forthcoming book, a copy of which CNN obtained in advance of its release, Wolff makes a number of shocking and explosive claims. Wolff reports that Rupert Murdoch holds immense disdain for Sean Hannity, calling the primetime host an offensive slur, and even pondered firing him. Murdoch, he writes, initially thought he could settle the massive Dominion Voting Systems lawsuit for a mere $50 million (he settled, ultimately, for $787.5 million). Suzanne Scott feared she would lose her job as chief executive of Fox News amid the Dominion lawsuit, he reports. And so much more.
But, when reading and reporting on the book, journalists and the public at large would be smart not to mistake Wolff's word for the word of God. More simply put: Wolff may not be the most reliable narrator.
Wolff has a history of printing claims that end up being strongly disputed by the subjects themselves. Critics have chided him in the past for sloppy or unethical reporting practices. And his bestselling "Fire & Fury" even contained outright factual errors.
That's not to say that everything Wolff prints is mistaken. There is no question that a number of the anecdotes and claims printed in "The Fall" will hold water. In fact, most of them may very well prove to be entirely accurate. But the allegations, particularly the most explosive ones, should be viewed with a skeptical eye, especially until other news outlets attempt to re-report them.
Most books are not subject to the same vigorous fact-checking process that stories published by established news organizations are. Often, the author simply works with an editor before submitting the manuscript to a publisher for printing. That lack of an extra layer of scrutiny sometimes gives way to errors finding their way into print.
Even the acclaimed author Walter Isaacson had to walk back a major claim he made in his recently released biography on Elon Musk. Isaacson reported that Musk abruptly turned off Ukraine's access to his Starlink satellite internet system last year as the country was launching a drone attack on a Russian fleet in Crimea, depriving the Eastern European country's forces of communications for the assault and rendering the offensive a failure.
But that claim, from an author with a sterling reputation, was quickly disputed by Musk and Isaacson ultimately moved to issue a correction. That meant CNN and The Washington Post (the former which ran a story based on an excerpt and the latter which published an actual excerpt) had to amend what they printed and append editor's notes to their articles.
A quick glance at the version of "The Fall" that CNN obtained reveals that Wolff made sloppy mistakes, struggling to even spell the names of top Fox News anchors Bret Baier and Jesse Watters. And Fox sources tell me that Wolff made no attempt to fact check his book with either Fox News or its parent company, Fox Corporation.
Reached for comment Tuesday night, Wolff conceded that he did not reach out to Fox's public relations team for a fact check, suggesting he did not believe they would be honest in their responses to him. But Wolff said that "every principal character in the book," including Murdoch, "was contacted for comment." Wolff said Murdoch's own reply was, "No thank you."
When it comes to reporting on any subject, however, taking basic fact-checking measures is important. With Fox News, where an author might be basing major claims using less-than-reliable sources, the risks are more pronounced, making such reporting efforts even more paramount. Some sources could harbor an agenda — and it takes little effort or risk to provide information as an unnamed source.
Fox News, for its part, is choosing not to respond to the specific claims Wolff makes in the book. In a short statement, a network spokesperson only said, "The fact that this author's books are spoofed by 'Saturday Night Live' is really all we need to know."