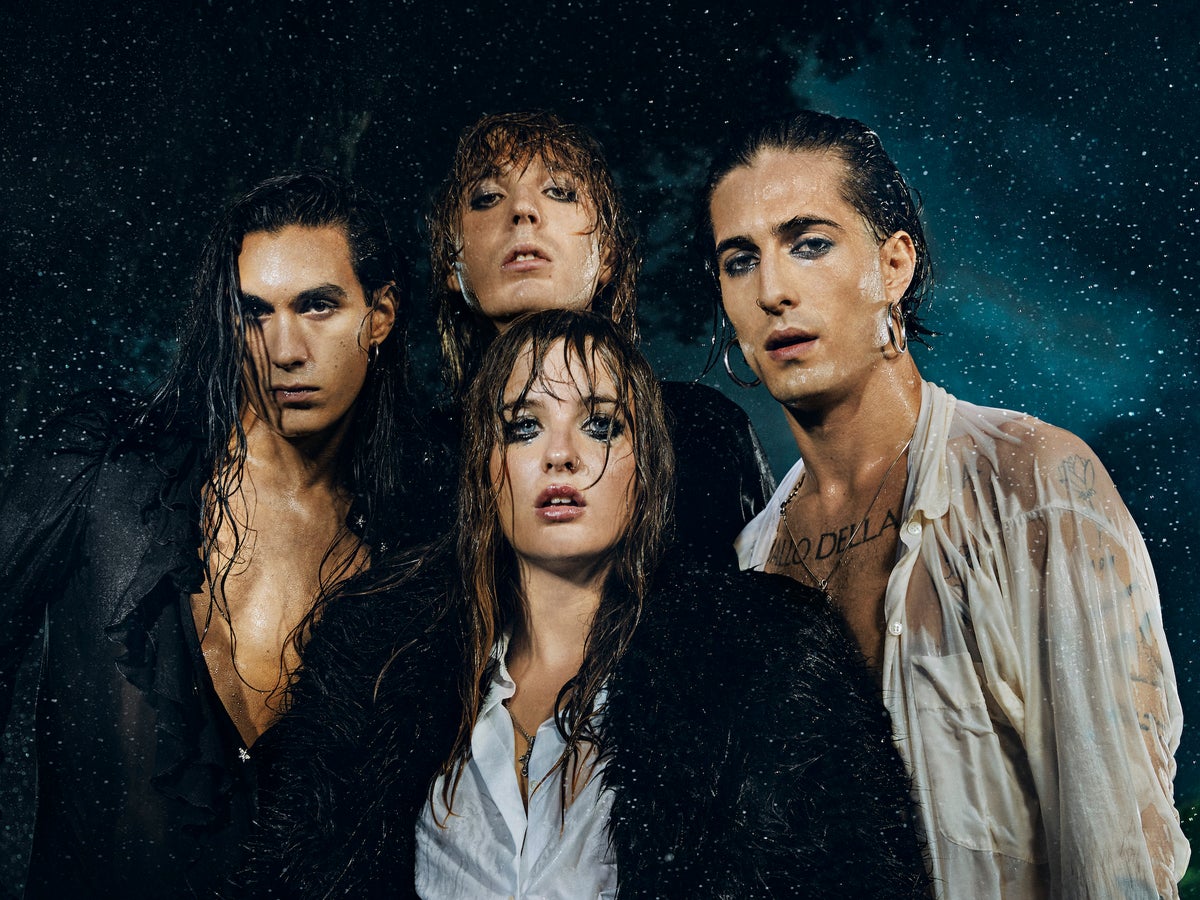 Måneskin have many credits to their name. After winning the Eurovision Song Contest in 2021, four years after they conquered The X Factor in Italy, the group went on to become the first Italian band to crack the UK Singles Chart. Their pop-rock cover of the Four Seasons oldie "Beggin" has reached more than 1.2 billion streams on Spotify, while "I Wanna Be Your Slave" tops half a billion. Last November, the foursome nabbed their first Grammy nod. But perhaps most impressive in Måneskin's list of accomplishments is the fact they're teaching millions how to pronounce the Scandinavian letter, å.
Across one EP, two albums and a string of riotously fun performances – replete in latex, black glitter nail polish and assless chaps – Måneskin have helped restore glam rock to its former glory. Lead singer Damiano David, bassist Victoria De Angelis, guitarist Thomas Raggi and drummer Ethan Torchio take their cues, both musical and aesthetic, from David Bowie and Freddie Mercury. So far, their approach has worked a treat. In two short years, Måneskin have found their place on the world stage – and from the sound of their third record Rush!, they're making themselves at home.
In a first for the band, the majority of Rush! is in English, with only three tracks performed in their native language. It's a move that may raise eyebrows among their day one fans, but one that will undoubtedly fulfil its purpose of achieving mass appeal. Odds are at least one of the 17 tracks will go viral on TikTok in the coming weeks; the involvement of pop powerhouse producer Max Martin all but guarantees it.
An Italian music critic once compared Måneskin to the Energizer Bunny and the analogy holds up on Rush!, which does not so much move through its tracks as it does bounce and bound. The riffs come thick and fast on album opener "Own My Mind" and the energy remains high throughout. Soon after, Tom Morello lends a guitar cameo to the cocksure strut of "Gossip", a track that has little in common with Rage Against the Machine but is a good time, regardless.
Sleazy basslines and a relentless drumbeat help deliver on the swagger and showmanship Måneskin have become known for. The bombastic, anti-Putin anthem "Gasoline" exemplifies that. Less expected is the liberating silliness that comes across in shouty choruses and wry digs at dissenters. The deadpan schtick doesn't always work, though. The juvenile sneering of "Bla Bla Bla" invites its own sneers, for example. "I hate your face but / I like your mums," taunts David on a bass-heavy track that brings to mind Wet Leg's self-titled debut last year. But what worked for the Isle of Wight duo fails to do the same for Måneskin.
An unexpected highlight is found in the aggro-punk of "Kool Kids". The song showcases a different side to David's vocals, mixing a handful of gravel into his growl. Like their breakout track "Zitti e Buoni", the song celebrates individuality. It also includes what has become for the band an obligatory reference to partying. The endless lyrics about sex, drugs and general bad behaviour can grow tiresome. The same is true for the bass-drum-stomp formula that lays the groundwork for many a Måneskin song. That being said, Måneskin are a band who know what they are and what they're good at – because while it's true that Rush! starts to feel amorphous, you'd be hard-pressed to find a single moment in its 50-minute runtime where you're not enjoying yourself just a little.