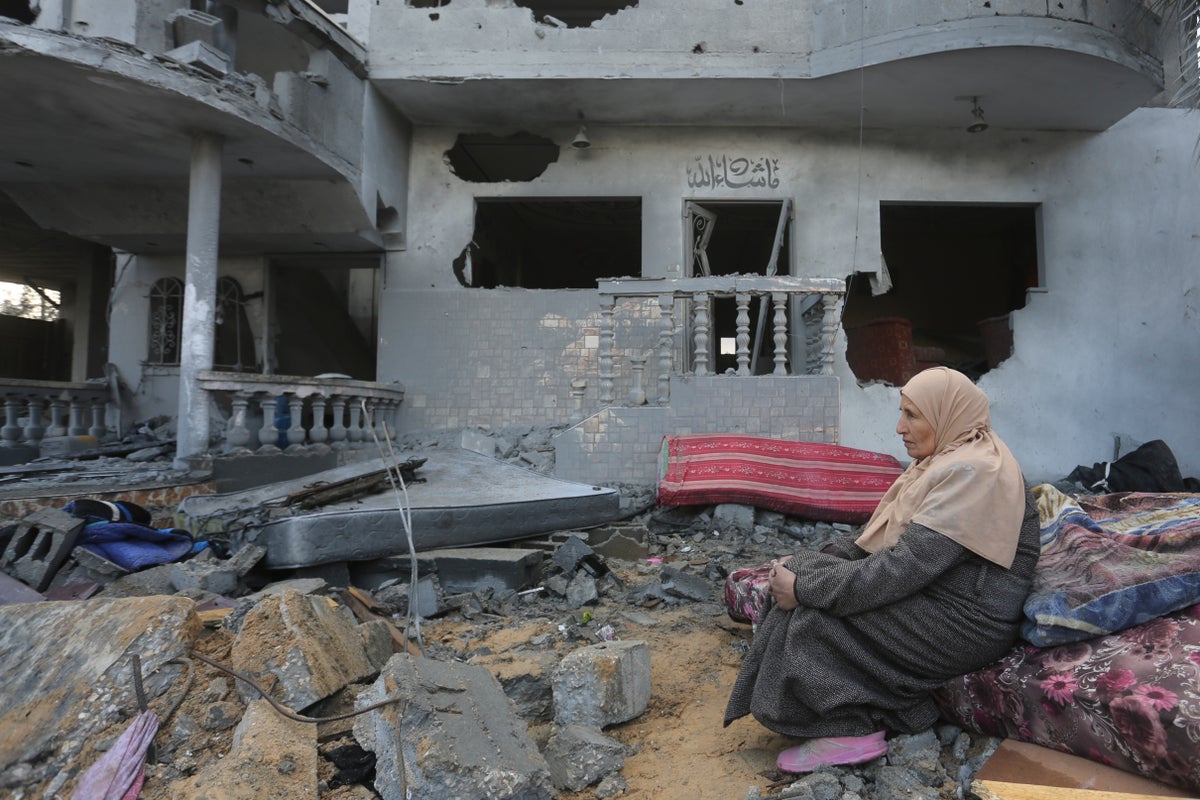 A shell hit the second floor of a hospital in northern Gaza, killing at least 12 people, according to the Hamas-led Health Ministry and a medical worker, as Israeli troops focus on clearing medical facilities where they say Hamas militants take cover.
Heavy fighting broke out around the Indonesian Hospital, which has housed thousands of patients and displaced people for weeks.
The fighting came a day after the World Health Organization evacuated 31 premature babies from Shifa Hospital in Gaza City, the territory's largest, where they were among more than 250 critically ill or wounded patients stranded there days after Israeli forces entered the compound.
Israel says Hamas uses civilians and hospitals as shields, while critics say Israel's siege and relentless aerial bombardment amount to collective punishment of the territory's 2.3 million Palestinians after Hamas' Oct. 7 rampage into southern Israel.
More than 11,500 Palestinians — two-thirds of them women and minors — have been killed since the war began, according to Palestinian health authorities, who do not differentiate between civilian and militant deaths. About 2,700 people are reported missing.
Some 1,200 people have been killed in Israel, mostly during the Oct. 7 attack, and around 240 were taken captive by militants.
Currently:
— 31 premature babies are evacuated from Gaza's largest hospital
— Yemen's Houthi rebels hijack an Israeli-linked ship in the Red Sea
— China welcomes Arab and Islamic foreign ministers for talks on ending the war in Gaza
— Attacks are on the rise in the West Bank, which faces its own war
— French performers lead a silent Paris march for peace between Israelis and Palestinians
— Tens of thousands rally in Pakistan against Israel's bombing in Gaza
— Dissent over US policy in the Israel-Hamas war stirs unusual public protests from federal employees
— French Holocaust survivors are recoiling at new antisemitism, and activists are pleading for peace
— Find more of AP's coverage at https://apnews.com/hub/israel-hamas-war
Here's what's happening in the latest Israel-Hamas war:
BABIES EVACUATED FROM GAZA'S LARGEST HOSPITAL ARRIVE IN EGYPT
Egypt's state-run media say babies evacuated from Gaza's embattled Shifa hospital have arrived in Egypt.
The Palestinian Red Crescent rescue service said it was transporting 28 premature babies from a hospital in southern Gaza to another across the border in Egypt on Monday. Egypt's Al-Qahera satellite channel broadcast images of the babies inside Egyptian ambulances, without specifying how many had arrived.
On Sunday, the World Health Organization said 31 premature babies in " extremely critical condition " had been evacuated from Gaza's largest hospital and would be transferred to Egypt for specialized care. There was no immediate explanation of the differing numbers.
More than 250 patients with severely infected wounds or other urgent conditions remain stranded at Shifa Hospital days after Israeli forces entered the compound.
Four other babies died in the two days before the evacuation on Sunday, according to Mohamed Zaqout, the director of Gaza hospitals.
Shifa can no longer provide most treatment after it ran out of water, medical supplies and fuel for emergency generators because of a territory-wide blackout. Israeli forces battled Palestinian militants outside its gates for days before entering the facility last Wednesday.
JAPAN CONDEMNS HIJACKING OF CARGO SHIP IN RED SEA
TOKYO — Japan on Monday condemned the hijacking of a Japanese-operated cargo ship in the southern Red Sea and said it is doing its utmost to achieve the release of the vessel and its 25 crew members.
"The government of Japan absolutely condemns such an act," Chief Cabinet Secretary Hirokazu Matsuno told reporters.
Yemen's Houthi rebels seized the Israeli-linked cargo ship and took its crew hostage Sunday, raising fears that regional tensions heightened by the Israel-Hamas war were spilling into the seas. The Iran-backed rebel group said it would continue to target ships connected to Israel.
No Israelis were aboard the Bahamas-flagged ship Galaxy Leader, which was operated by Japan's NYK Line with crew members from the Philippines, Bulgaria, Ukraine, Mexico and possibly Romania. Public shipping databases associated the ship's owners with Ray Car Carriers, a company founded by Abraham Ungar, who is known as one of the richest people in Israel.
Ungar told The Associated Press he was aware of the incident but couldn't comment as he awaited details. A ship linked to him experienced an explosion in 2021 in the Gulf of Oman. Israeli media blamed it on Iran at the time.
Matsuno said Japan is negotiating with Houthi rebels, while also communicating with Israel and cooperating with the governments of Saudi Arabia, Oman and Iran to achieve the release of the ship and its crew.
NYK Line said the Galaxy Leader was seized off the Yemeni coast while heading to India. NYK chartered the ship from its British owner, Galaxy Maritime Ltd.
NYK said the ship had no cargo at the time of the hijacking. It was taken to Yemen's port city of Hodeida, according to the British military's United Kingdom Maritime Trade Operations.
EXTENSIVE DAMAGE IN NORTHERN ISRAEL AFTER REPORTED ARTILLERY STRIKES
Video shot Monday in northern Israel shows extensive damage following a claim by the Israeli military that several artillery launches from Lebanon had struck the area.
It comes as the Israel Defense Forces said its artillery struck several locations in Lebanon.
Firefighters were seen in the video shot in Biranit after the artillery strikes set some areas aflame. Israeli troops and Hezbollah militants and their allies have been clashing along the border since the Israel-Hamas war started on Oct. 7.
While largely contained, clashes have increased in intensity. Most of the Israeli population living in the border villages with Lebanon have been evacuated.
FAMILIES OF HOSTAGES OPPOSE BILL THAT WOULD ALLOW DEATH PENALTY
JERUSALEM — The families of Israeli hostages being held in Gaza have tearfully pleaded with Israeli lawmakers not to advance legislation that would permit the death penalty for convicted Palestinian militants, including those involved in Hamas' Oct. 7 assault on Israel.
The families, who represent some of the 240 people abducted by Hamas and other militants that day, told far-right National Security Minister Itamar Ben-Gvir that the legislation risked angering Hamas and putting the lives of their relatives at risk.
"Not now, when the lives of our loved ones are on the line, when the sword is on their necks," Gil Dikman, whose cousin is believed to be held hostage in Gaza, said Monday during an emotional hearing at the Knesset, Israel's parliament.
The National Security Committee hearing devolved into a screaming match between nationalist lawmakers and hostage families. After the hearing, Ben-Gvir wrote on X, formerly called Twitter, that the legislation is an important tool for increasing pressure on Hamas. "In the Middle East, you don't blink, you hit your enemy with every tool and bring them to their knees," he said.
Ophir Katz, the head of the government coalition and a member of Prime Minister Benjamin Netanyahu's Likud party, told reporters that the amendment to the penal code would not come up for a vote until it was vetted by senior Cabinet members and Netanyahu.
NETANYAHU EXTENDS CENTRAL BANK GOVERNOR'S TERM
TEL AVIV, Israel — Israeli Prime Minister Benjamin Netanyahu says he has decided to grant the country's central bank chief a second term.
The move to keep on central bank Gov. Amir Yaron was an attempt by Israel to signal stability at a turbulent time for the country's economy, which has been rocked by the Oct. 7 Hamas attack and the war it set off.
With hundreds of thousands of reservists called up and business slowing across a broad swath of sectors because of the war, Israel's economy has been shaken, even as Yaron has emphasized its resilience, calling it "robust and stable."
Following the war's outbreak, the central bank cut its 2023 economic growth forecast and earmarked billions of dollars to shore up the shekel.
Yaron's term was set to wrap up in December. His ties with Netanyahu and Finance Minister Bezalel Smotrich had been icy before the war because of his criticism of a planned government overhaul to the country's judiciary. It wasn't clear if he would be asked to stay on.
Monday's decision will come up for approval in the next meeting of Netanyahu's Cabinet, according to a statement from Netanyahu's office.
ISRAELI CABINET MINISTER SAYS GAZA RESIDENTS SHOULD BE RESETTLED OVERSEAS
TEL AVIV, Israel — An Israeli Cabinet minister is promoting the idea of resettling Palestinians from the Gaza Strip in foreign countries as a way to ensure Israel's security along the border once the war with Hamas is over.
Intelligence Minister Gila Gamliel said in an op-ed in the Jerusalem Post newspaper on Sunday that "voluntary resettlement" was the best way to provide Palestinians from Gaza with a better life. "It could be a win-win solution," she wrote. Gamliel did not say what her plan would mean for those who chose to remain in Gaza, nor what countries would be open to take them. She did not specify what Israel's role would be in a future Gaza.
Gamliel's proposal stands in sharp contrast to the postwar vision for Gaza set forth by Israel's top ally, the United States, which opposes the idea of displacement. The U.S. calls for a united and Palestinian-led government for Gaza and the West Bank under the Palestinian Authority after the war ends, while Gamliel, echoing Israeli Prime Minister Benjamin Netanyahu, said the Western-backed Palestinian Authority, which administers parts of the West Bank, cannot have a foothold in Gaza.
Gamliel's ministry was behind a wartime proposal last month that suggested transferring the Gaza Strip's 2.3 million people to Egypt's Sinai Peninsula. While dubbed by Israel as a hypothetical exercise, that idea drew condemnation from the Palestinians, who have painful memories of their people's mass displacement during the war that led to Israel's creation. Egypt has made clear throughout this latest war that it does not want to take in a wave of Palestinian refugees.
Gamliel's op-ed follows a similar proposal made last week by two Israeli lawmakers in the Wall Street Journal, who said countries around the world "should offer a haven for Gaza residents who seek relocation."
MATERIALS FOR A JORDANIAN FIELD HOSPITAL ARRIVE IN GAZA
KHAN YOUNIS, Gaza Strip — Materials to build a Jordanian field hospital have arrived in Gaza through the Rafah border crossing.
Jordan will build the hospital in southern Gaza to help with the territory's health crisis. The arrival of the materials follows a siege of Gaza's largest hospital, Shifa and attacks on other hospitals.
Some of the trucks in the convoy on Monday had Jordanian flags draped across their front or side.
FEMALE ISRAELI SOLDIERS ARE IN GAZA IN COMBAT ROLES, MILITARY SAYS
JERUSALEM — The Israeli military says female soldiers are operating in Gaza alongside male troops, including in combat roles.
In a briefing with reporters Monday, brigade commander Col. Elad Aderi said women make up 40% of his Search and Rescue brigade, which has worked to facilitate the penetration of ground troops into Gaza. Aderi said men and women are "on the front lines, fighting together." Female soldiers also served inside Gaza during Israel's 2014 ground operation there and have been in combat roles for more than 20 years.
As of February 2022, about 18% of the Israeli army's combat forces were women, according to the Israel Democracy Institute, a Jerusalem think tank. That's a result of multiple legal challenges to allow women to serve in elite and regular combat units. Female soldiers serve in various combat roles including tanks, artillery, and the navy, though the mixed-gender infantry units usually serve on the Egyptian border and not in active combat.
The Israeli military declined to comment on the overall number of female soldiers currently in Gaza.