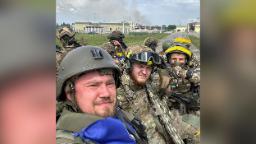 Yevgeny Prigozhin, the head of Russian mercenary group Wagner, claimed Tuesday that his men are the strongest fighters but acknowledged the Ukrainian army has also put up a fierce fight, particularly in the eastern city of Bakhmut.
In an interview with pro-Moscow blogger Konstantin Dolgov, Prigozhin said the Ukrainians are "highly organized, highly trained and their intelligence is on the highest level, they can operate any military system with equal success, a Soviet or a NATO one."
"Now I can judge it according to my own experience, I know how different countries fight [..] today Wagner PMC is the best army in the world, and after it of course I have to say it should be Russian army in order to be politically correct, but I believe Ukrainians today are one of the strongest armies in the world," Prigozhin said.
Over the weekend, Wagner claimed it had taken all the territories they had planned to and would leave the front line in eastern Ukraine on Thursday, leaving the fighting to the Russian Defense Ministry.
Prigozhin has criticized Russia's military leadership several times in the past, including earlier this month when he blamed Russian defense chiefs for "tens of thousands" of Wagner casualties because they didn't have enough ammunition.
In the interview, Prigozhin said more than 10,000 Wagner troops had died in the battle for Bakhmut. And he admitted that Russia hadn't achieved much success in its goal of "demilitarizing Ukraine." 
"In the beginning of the special military operation they (Ukrainians) had, say 500 tanks and now they have 5,000 tanks, and if only 20,000 people knew how to fight then, right now there are 400,000 people who know how to fight. So how did we demilitarize it (Ukraine)? It looks like we did the other way around, we militarized it," he told Dolgov.
Attacks in Russia: Separately, when asked about cross-border incursions in Belgorod claimed by anti-Putin Russians this week, Prigozhin said: "Russian Volunteer Corps groups are shamelessly entering Belgorod region," and Russian defense forces are "absolutely not ready to resist them in any shape or form."