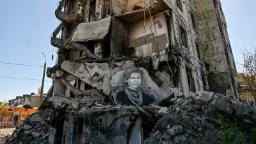 According to Wagner, the battle for the city of Bakhmut has come to an end, as the Russian private military group claims that forces have taken complete control of the long-contested city in eastern Ukraine.
CNN could not independently verify Wagner's claim, and a message from a Ukrainian defense official disputed it, saying Kyiv's troops still hold a small part of the city.
Wagner chief Yevgeny Prigozhin claimed his forces will hand control of Bakhmut to the Russian military on May 25.
The city's capture can be viewed largely as a symbolic target for Moscow, though it also provides important road connections to other parts of the Donetsk region: eastward to the border with Luhansk, northwest to Sloviansk and southwest to Kostiantynivka.
Here's what else you should know in a day of major developments for the war in Ukraine:
G7 summit: G7 members are meeting in Hiroshima, Japan, where Ukrainian President Volodymyr Zelensky is a surprise attendee. The G7 comprises the world's most advanced industrialized democracies: the US, France, Germany, the United Kingdom, Canada, Japan and Italy. Tokyo has also invited Australia, South Korea, India, Indonesia and Vietnam, all rising economic powerhouses and key Asian regional players.
At the summit, leaders decided on a plan to counter Moscow and agreed to "support Ukraine for as long as it takes in the face of Russia's illegal war of aggression." The G7 also called on China to press Russia to "immediately, completely and unconditionally withdraw its troops from Ukraine," and stop its military aggression.
Russian Foreign Minister Sergey Lavrov characterized the decisions made at the G7 summit as cynical ploys to hold back Russia and China.
Next up, all eyes are on a meeting between Zelensky and US President Joe Biden, set for Sunday afternoon local time (1 a.m. ET).
On the ground: Russia launched another "massive drone attack" at Kyiv during the early morning hours Saturday, marking their 11th airstrike this month, the city's military administration said.
Meanwhile, Russian troops in occupied Mariupol, a city in Ukraine's southeast, are receiving backup after explosions rocked a Russian base there Friday, a local Ukrainian official said.
Military aid: Zelensky thanked the United Kingdom's Prime Minister Rishi Sunak for the leadership he says the UK has shown building an international coalition to help Ukraine procure F-16 fighter jets. Russia's deputy foreign minister denounced the coalition, warning Western countries of "enormous risks for themselves" if Ukraine is provided with F-16 fighter jets, Russian state media TASS reported Saturday.