Russia is banning "500 Americans" from entering the country.
The move is in response to the "regularly anti-Russian sanctions" imposed by the US administration, according to a statement from Russia's Ministry of Foreign Affairs on Friday.
The rambling, indiscriminate list of names includes former President Barack Obama, former US Ambassador John Huntsman, several US senators and the next expected chairman of the joint chiefs of staff, Charles Q. Brown Jr. Also included is CNN anchor Erin Burnett.
Hours earlier, at the Group of Seven summit, the Biden administration unveiled new sanctions targeting Moscow for its war in Ukraine.
Here are other headlines to know:
Zelensky heads to Japan: President Volodymyr Zelensky will travel in person to Japan for the G7 summit, according to officials familiar with the planning, a stark display of confidence and Western solidarity as Ukraine's wartime leader tries to keep crucial support from allied nations flowing. The surprise trip – which would be the Ukrainian president's first to Asia since Moscow's invasion of his country last February – comes as Kyiv is preparing a highly anticipated counteroffensive against Russia and building pressure on partner governments for more military aid amid intensifying aerial attacks.
Arab League meeting: Zelensky told Arab leaders Friday in Saudi Arabia that "here among you" are people who "turn a blind eye" to Ukraine's suffering, urging them to "take an honest look." Syrian President Bashar al-Assad attended the Arab League summit for the first time in a decade and was seen on camera in the conference room minutes ahead of Zelensky's speech. Syria was only one of only two countries in the world (along with North Korea) to recognize Russia's claimed annexations last year of four Ukrainian regions.
On the ground: There were at least two explosions Friday night in the Russian-occupied city of Mariupol, according to social media video and the accounts of residents on community channels. An adviser to the mayor of Mariupol in southeastern Ukraine claims the explosions took place at a base for Moscow's forces. CNN cannot independently verify the officials' claims, and the local Russian-installed administration has not yet commented on the explosions or what caused them
Meanwhile, the pace of Ukrainian counterattacks around Bakhmut slowed down Friday, but "very fierce fighting continues" in the eastern city, according to Ukrainian Deputy Defense Minister Hanna Maliar. Ukrainian forces have claimed advancements in several areas in recent days, despite coming under heavy fire from Russian troops. But Maliar acknowledged that Russian forces had made advances within the city limits.
US diplomatic appointment: US President Joe Biden formally nominated James O'Brien to serve as the top State Department official for European affairs — a key role for guiding Washington's response to Russia's war in Ukraine.
CNN's Kylie Atwood first reported that O'Brien was expected to be tapped for the role. He currently serves as the head of the sanctions coordination office at the State Department.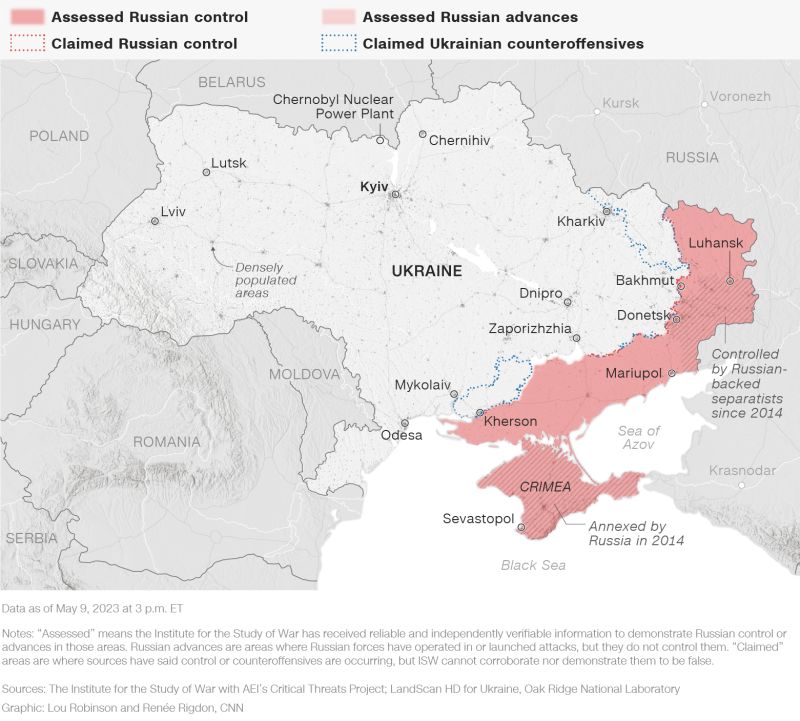 Secret shipments: The Russian mercenary organization Wagner Group has been working to obscure its efforts to acquire military equipment for use in Ukraine, including by trying to source the materials from Mali, where the group has a strong foothold, a US official told CNN. There are no signs yet that Wagner has successfully procured the equipment, but the group has continued working to procure mines, drones, radar and counter-battery systems from contacts in Mali for use in Ukraine, the official said.
US assistance for pilots: President Joe Biden on Friday told G7 leaders the United States will support an effort to train Ukrainian pilots on advanced aircraft, including F-16s, a senior administration official tells CNN. The joint training effort is not expected to happen in the US, the official said, and will likely happen entirely in Europe. But US personnel will participate in the training alongside allies and partners, the official said. It is expected to take several months to complete.
NATO developments: Turkish President Recep Tayyip Erdogan told CNN he is still not prepared to support Sweden's NATO membership, repeating his claim that Stockholm has allowed terrorist organizations to harbor in the country. "As long as Sweden continues to allow the offshoots of terror groups in Turkey to roam free in Sweden, in the streets of Stockholm, we cannot look favorably on Sweden's membership in NATO," Erdogan said.