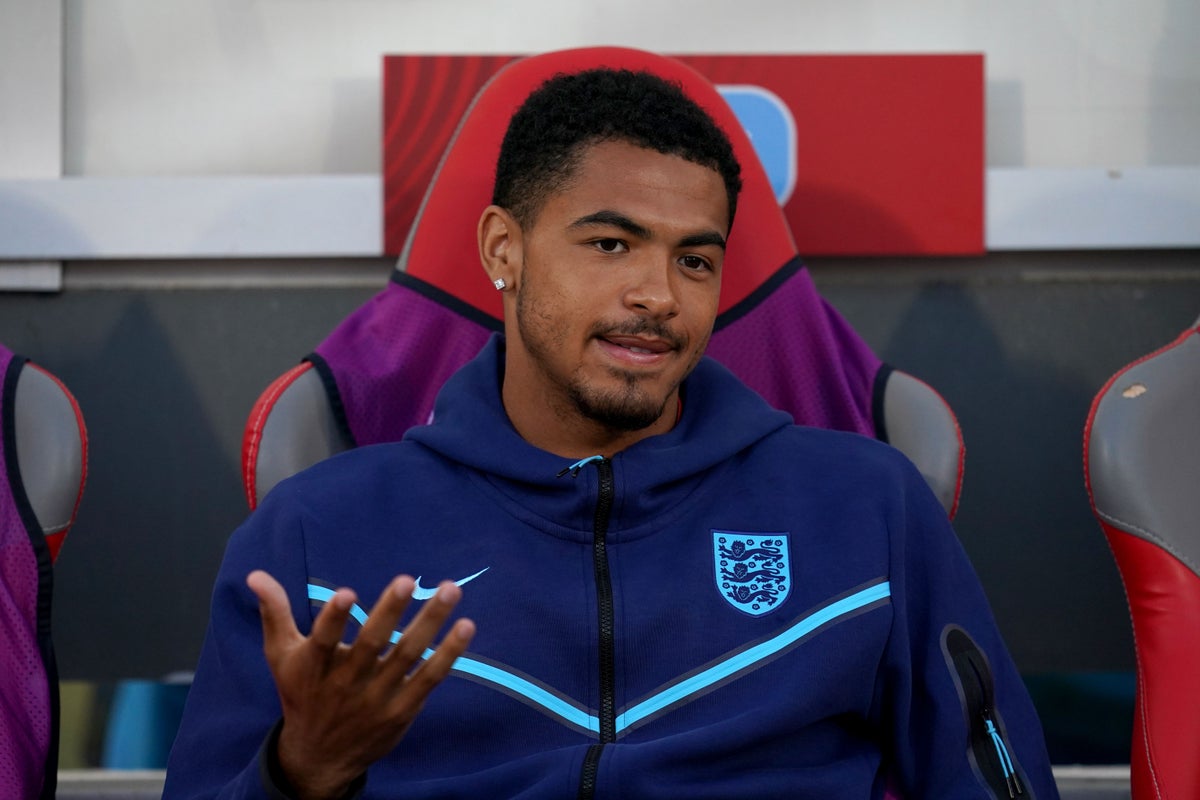 Levi Colwill's amazing year shows few signs of slowing as the defender looks to make his England debut and prove his worth to Gareth Southgate with Euro 2024 on the horizon.
An impressive season-long loan with Brighton was followed by helping England Under-21s become European champions over the summer.
Colwill returned to Chelsea and was rewarded with an improved six-year deal, before going onto make his debut in their season opener.
The 20-year-old has been an ever-present under new Blues boss Mauricio Pochettino and his eye-catching displays earned a first formal England call-up.
"It has been an amazing year," Colwill said.
"There have been a lot of ups and still been downs, and a load of stuff that I have had to overcome. But it's all part of my career and you're going to get that.
"A hundred per cent it's all worth it in the end. You've got to keep working hard, that's what I have done so far but now it's about keep going."
Colwill cited the initial lack of game time under Graham Potter and Brighton successor Roberto De Zerbi as examples of down moments he overcame.
But the success that followed on the south coast saw him brought in to train with the England senior squad in June, even travelling with them for the qualifier in Malta, before heading off on Under-21s duty.
"Coming and training in June was a big blessing," Colwill said. "I enjoyed it so much and then obviously getting formally called up now is amazing.
"When I got the text I called dad straight away. I think he was getting emotional, to be honest. Dream come true.
"Everyone was so welcoming and it made a big difference for me.
"Now I have settled in a bit, I am ready to kick on and hopefully prepare for the upcoming week."
Colwill is hoping to make his debut against Ukraine in Saturday's Euro 2024 qualifier in Poland, or in the Hampden Park friendly against Scotland three days later.
The 20-year-old allayed fitness concerns ahead of that double-header after sitting out training on Tuesday, pointing to a tough previous week and the fact he is "a young boy still growing".
Asked if making it into next summer's Euros squad is a target, he said: "Of course. Playing for Chelsea – one of the biggest clubs in the world – it's got to be my aim to hopefully be in the England team come the Euros.
"Obviously it's still a long time until that comes so I've just got to keep working hard, pushing myself and let's see what happens next."
England have yet to mathematically seal qualification for Euro 2024, but it has long looked a case of when rather than if their place in Germany is wrapped up.
The uncapped Colwill already appears to have a strong chance of being involved – an opportunity that will only be bolstered by Chelsea boss Pochettino.
Adam Lallana, who the defender calls a key influence in his career, made his England debut at Southampton under the Argentinian, who his former Brighton team-mates had praised to the hilt.
Colwill took that on board when committing his future to Chelsea, where he is excited to develop under a manager with a fine track record of maximising English talent.
"I think the big thing for me was the first day I came in, him just putting an arm around me and showing me that he respects me as a person and also a player," he said of Pochettino.
"That allows me to work my hardest and want to play my best for him.
"Just working under him in general, I know I'm going to improve. I can guarantee that because he's such a good manager and he will push me. He won't let me have any off days and that's what I need.
"Someone like me, if someone lets me go to sleep I might just have a good day or a bad day. But I need someone there to give me that kick up my bum and say 'keep going' and that's what he does."