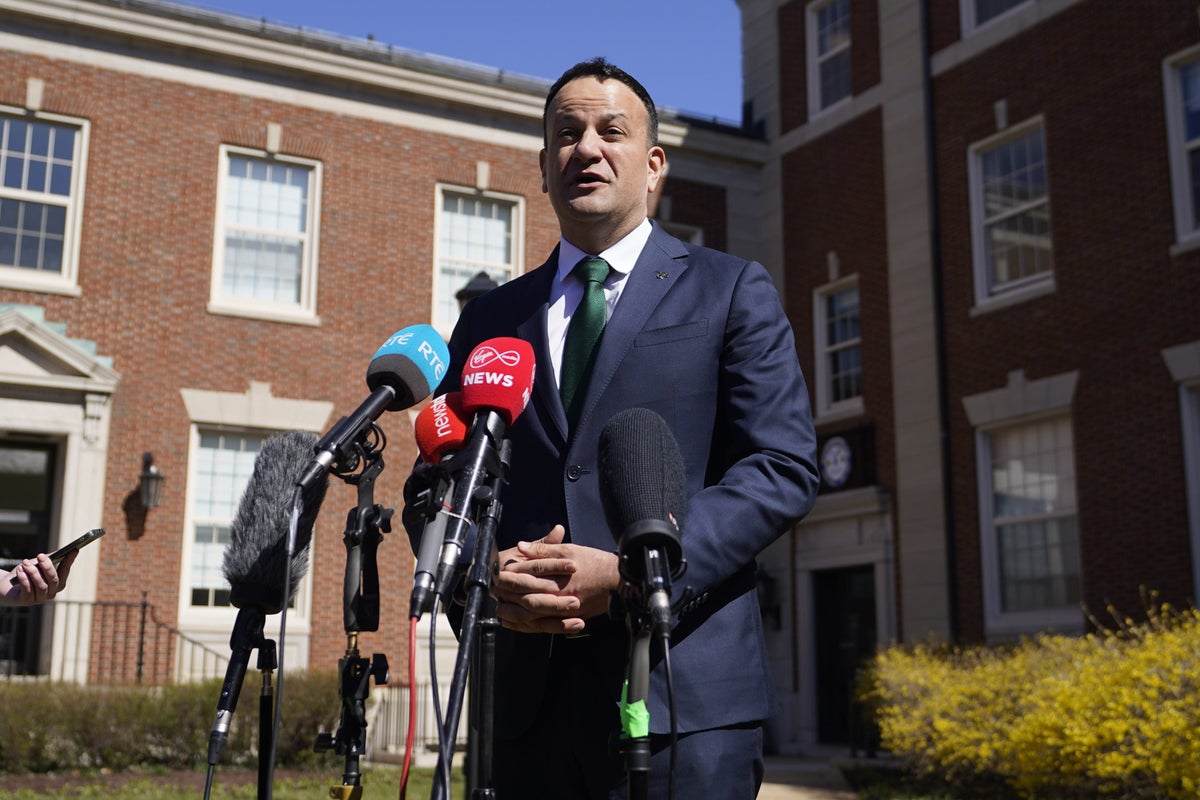 Leo Varadkar is expected thank Joe Biden for his administration's support on Brexit during a meeting with the US president on St Patrick's Day.
He said he would also discuss Mr Biden's trip to Ireland and Northern Ireland to coincide with the 25th anniversary of the Good Friday Agreement, which Mr Varadkar said "we're all looking forward to".
The Irish premier is in Washington DC for a series of engagements as part of a long-standing tradition to bolster international relations and promote Ireland abroad to coincide with March 17.
On Wednesday, he spoke to the US Chamber of Commerce before giving an address at the Ireland Funds gala dinner, while on Thursday he addressed an event at Georgetown University that reflected on the role of women in the Good Friday Agreement.
He also discussed the African-American Irish diaspora connection at Howard University, which he called "a strong one and one that a lot of people don't know, but I think needs to be explored into the future".
The Taoiseach's visit will culminate in a high-profile ceremony to hand over a crystal bowl of shamrocks to the US president at the White House, after having breakfast with US vice president Kamala Harris.
Irish popstar Niall Horan, who rose to fame as part of the band One Direction, is also expected to perform at the White House as part of the celebrations.
This will be Mr Biden's first shamrock bowl handover, after last year's ceremony was cancelled after the then-taoiseach Micheal Martin tested positive for Covid-19.
When asked what he would discuss with the US president, Mr Varadkar said he would thank the US for their interest in Ireland and the administration's support during Brexit.
"People around the world listen to what the White House says and President Biden has said all the right things from our point of view in the past couple of years," he said.
"I'm also keen to thank him for America's support for Ukraine – American leadership at this time is crucial.
"America is not perfect. There are a lot of times when they make very big foreign policy errors, but largely speaking, it's been a force for good in the last few centuries, stood against fascism, Nazism, stood against communism, and now standing against what Russia is doing in Ukraine. So I really want to thank him for that and ask American stay the course in that regard."
He said he would also raise concerns about America and Europe working together and avoiding a "subsidies race".
He added: "If we both end up subsidising our companies, we just cancel each other out, and we cancel each other at the expense of each other's taxpayers."
Mr Varadkar also praised the speech of the leader of the US senate at a gala dinner on Wednesday night.
Chuck Schumer told The Ireland Fund gathering, which was attended by DUP leader Sir Jeffrey Donaldson and DUP MLA Emma Little-Pengelly, that he hoped the Stormont institutions would be restored.
The US Senate Majority Leader also said he hoped the Windsor Framework "clears the way for the DUP to join Sinn Fein in a powersharing agreement decided by the people of Northern Ireland in the last election, an amazing election.
"I say to all parties in the north, but especially the DUP, let's get to the people's business."
Speaking to reporters in Washington DC on Thursday, Mr Varadkar said: "It was a great speech. I've known Chuck Schumer for years now and I'm a big fan of his.
"It wouldn't have been the speech that I would have made to put it that way, but I have a different role to play in politics, but it was a really really, really interesting speech."
In a colourful address to the gala dinner, Mr Schumer made reference to a group of Irish fishermen's campaign to oust a Russian naval ship away from the Co Cork coast in 2022, quoted novelist James Joyce, and said Mayo would win the All Ireland Football Championship.
He also praised the Irish rugby team – telling the congregation that if they had been sent to Ukraine, the war would be over within a week.
During his address, Mr Varadkar thanked the US for its response to the invasion of Ukraine, paid tribute to the late Congressman Brian Donnelly, and reflected on the upcoming 25th anniversary of the Good Friday Agreement.
He told guests: "This remarkable achievement took real political leadership – and a vision that was not afraid of compromise – and it allowed us to break the cycle of violence that had ravaged the island of Ireland for 30 years.
"A new generation of young people were given the freedom to dream big dreams for the first time.
"It would never have been possible without the support of our friends here in the United States, including some of the people in this room.
"In many ways, America is the thirds co-guarantor of the Agreement."
The Taoiseach added: "In this St Patrick's week, let us remember that peace in Northern Ireland is one of the greatest and most significant success stories in American foreign policy."