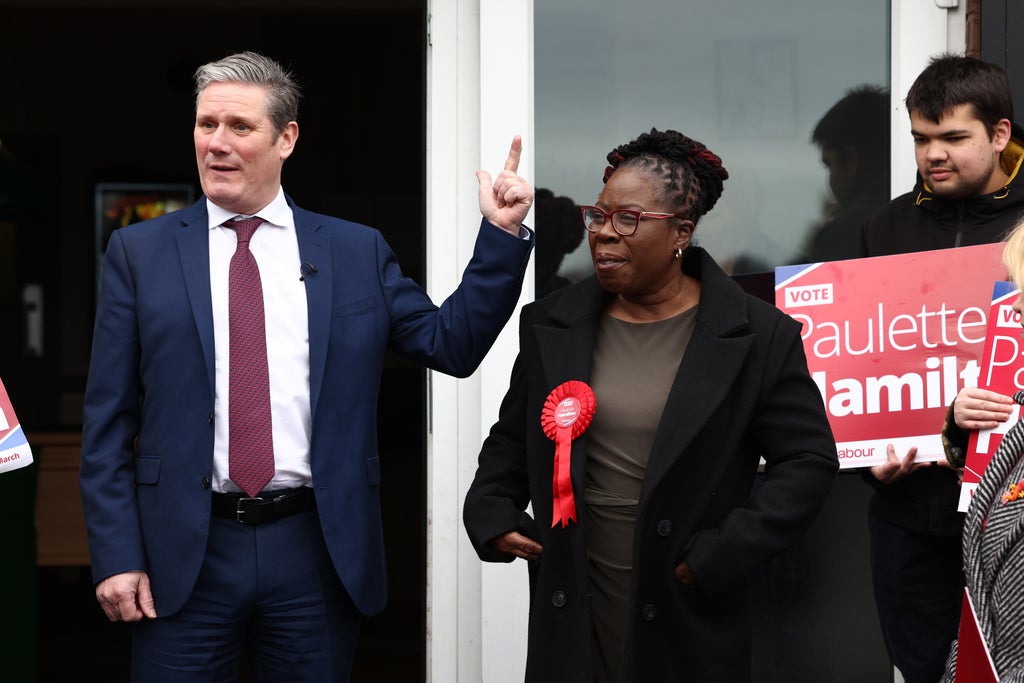 Keir Starmer has praised Labour's newest MP as a "great champion of working people" after she won a by-election contest in Birmingham Erdington.
Paulette Hamilton saw off a limp Tory challenge for the constituency on Thursday night to become the city's first black MP.
She succeeds Jack Dromey, who had held the seat since 2010 before he died suddenly at the age of 73.
Visiting the constancy on Friday Sir Keir told reporters: "Jack would be smiling this morning… looking down seeing that baton being passed to Paulette, a champion of working people for Erdington."
Addressing the victorious candidate he said: "You will be a fantastic champion for them, bringing them what they want most – the security of knowing they've got a champion for them in Parliament, the prosperity that they want for themselves, their businesses, their communities, and the respect that they so richly deserve."
Ms Hamilton revealed on Friday how her father had died just days after she was picked as the Labour candidate for the seat.
In the end she won a convincing victory, albeit on a rock-bottom turnout of 27 per cent – low even for a by-election.
She secured 9,413 votes compared to the Tory candidate Robert Alden's 6,146.
In third place was Dave Nellist, standing under the left-wing TUSC banner, who won 360 votes.
Her 55 per cent of the vote was up on the 50 per cent secured by Labour in the seat at the 2019 election, but did not match the 58 per cent secured in 2017.

UK news in pictures
Show all 50
But the Tory candidate won his lowest share in the seat since 2015, reflecting national Tory troubles in the polls. Labour has held the constituency at every election it has existed since 1945.
Ms Hamilton said: "I never thought I'd be running to be an MP, but the fact that I am now not only the MP for Erdington but the first black woman – the first woman to ever get the position – I am delighted and I am still pinching myself."
If the swing in the constituency were replicated at a general election Labour would take many seats from the Conservatives.