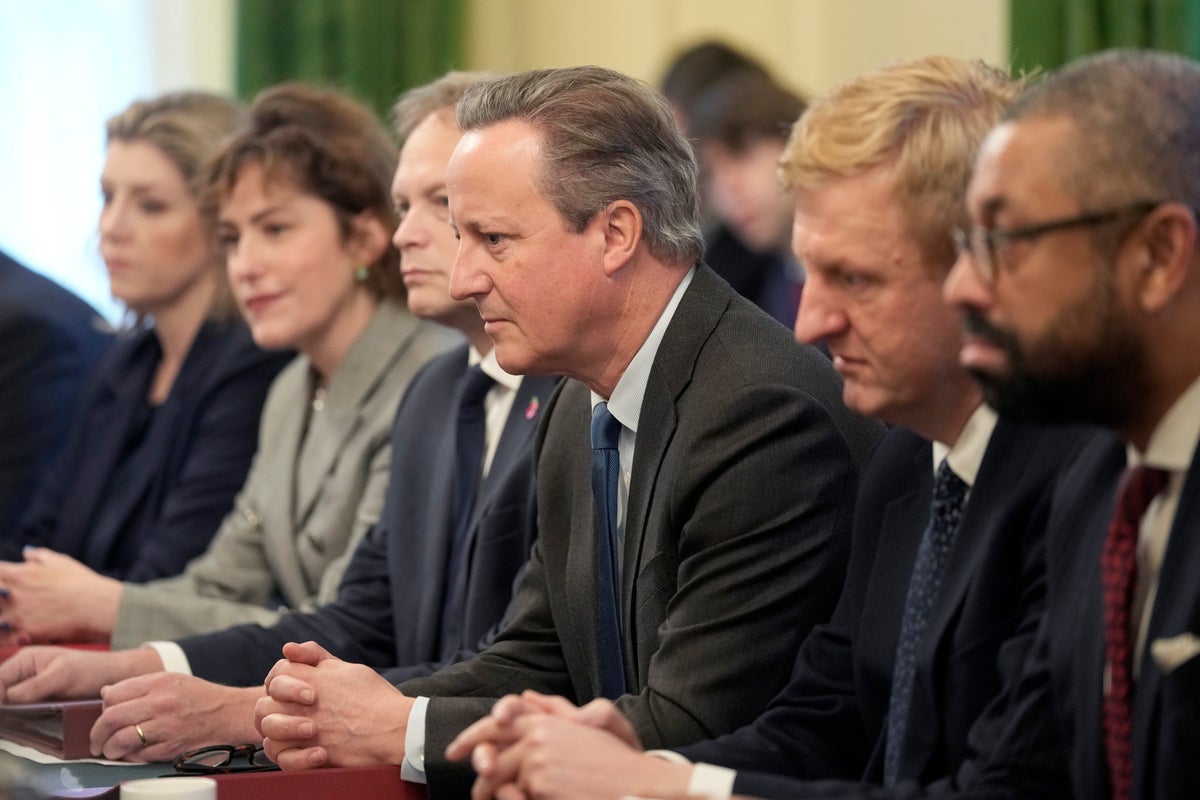 It's been a dramatic week in UK politics, with an explosive cabinet reshuffle, a high-profile sacking and an astonishing political comeback.
The departure of home secretary Suella Braverman on Monday was followed swiftly by Rishi Sunak's shock appointment of new foreign secretary David Cameron – who left No 10 seven years ago after losing the Brexit referendum.
Bitter Braverman branded Mr Sunak a failure and accused him of betraying a secret deal on small boats in a blistering attack that once again plunged the Conservatives into open warfare.
With the Tory party facing even more turbulence, many readers have also been intrigued by the departure of some mid-ranking ministers as well as the reppaearance of a number of old faces in the cabinet.
Here are seven questions from Independent readers following the dramatic reshuffle – and my answers from the "Ask Me Anything" event.
Q: Why is Cameron sitting in the cabinet office when he has yet to be elevated?
Tophthebus
A: He has been elevated already! The news release that was issued yesterday said: "His Majesty has … been pleased to confer the dignity of a Barony of the United Kingdom for life upon David Cameron." So he is already Lord Cameron, even though he has not yet been introduced in the House of Lords, and therefore cannot make the Foreign Office statement that Andrew Mitchell, his deputy, made in the Commons this morning.
Q: Mr Rentoul, a journalist in De Morgen (Belgium) writes that two years ago it would have been unthinkable for Cameron to join the UK government, and that the fact that now he can and does shows that the Brexit debate is dead. What is your opinion on this?
Real European
A: The Brexit debate has certainly changed rather dramatically since the Leavers in parliament got pretty much everything they wanted, and found that the sunlit uplands were even further away than ever. At the same time, no major UK party advocates rejoining the EU, so the way is clear for the leader of the Remain campaign to rejoin the government. It is a funny old world.
Q: Why did so many Conservative MPs step downFrom ministerial positions yesterday?
Swizzle
A: I thought it was significant that so many highly regarded (by me at least) mid-ranking ministers stepped down yesterday. Nick Gibb at education, Neil O'Brien at health, Jesse Norman at transport in particular. I assume, although I haven't spoken to any of them because I am not sure that they would tell me, that they think the Conservatives will lose at the election, probably in about a year's time, and they want to prepare for a life outside parliament now.
On the other side of the ledger are the people who have come back into government, thinking it worth while to be a minister for a year: David Cameron, Andrea Leadsom, Esther McVey and so on.
Both groups are interesting, reflecting the growing consensus that this government is coming to an end.
Q: Given what is happening in Gaza and Ukraine and an election in at most a year's time are there really any wider implications to Cameron's appointment other than signalling?
Paul Gillion
A: A lot can happen in a year that hasn't been anticipated. I think that Rishi Sunak believes that Lord Cameron will be able to handle whatever the world can throw at him, leaving Sunak to focus on the domestic front in an election year. I don't know what that says about James Cleverly, who I thought was doing a good job as foreign secretary: the analysis that is complimentary to Cleverly is that he was doing such a good job that he was the best choice for the difficult post of home secretary.
Q: Do you think Cameron doing no politics for seven years makes it harder to be foreign secretary?
Alexbac
A: No, one of Lord Cameron's qualities is the speed with which he can assimilate a complex brief. In that sense I think it is a good appointment.
Q: Considering the vast differences between all these factions, it would make more sense to split up to the Tory Party (and the Labour party) so that you have a clear and more coherent party policy and party leaders would be able to focus on policy rather than on managing their own party. But that, of course, would also require changing FPTP to PR because no party would win a majority anymore.
Real European
A: You have a choice. Either party leaders try to manage their broad churches, or rather more small party leaders try to manage their relations with each other. I prefer the first system, because proportional representation tends to give disproportionate power to small parties and is more likely to involve deals struck between parties after the people have voted. The deals struck within parties before elections are more transparent.
Q: When Sunak used his prerogative to appoint Cameron to the Lords, did he intend to annoy Nadine Dorries, or was that just a bonus?zen419
A: I suspect that is a rhetorical question. I think Nadine Dorries has some justification for being slightly put out, in that I don't think the reason for her omission from Boris Johnson's honours list was explained to her in advance – namely that she couldn't be nominated for a peerage to take effect after the election.The interesting thing about David Cameron's peerage is that the House of Lords Appointments Commission cleared it on propriety grounds within 24 hours and without it leaking.