Hiroshima, Japan
CNN
 — 

The hollowed-out remains of Hiroshima's Genbaku (A-bomb) Dome look eerily the same as they did 78 years ago, when the American military detonated an atomic bomb over this Japanese city – the first ever used in war.
Unleashed early in the morning on August 6, 1945, it killed thousands of people instantly; some vaporized in temperatures reaching 3,000 to 4,000 degrees Celsius.
Within the bomb's hypocenter, only the half-exploded Genbaku Dome – formerly the Hiroshima Prefectural Industrial Promotion Hall – was left standing as the bombing razed Hiroshima city to the ground.
To this day, it's a stark reminder to all who live and visit of the devastating impact of war.
Though the city's backdrop may serve as a symbolic reminder of the atrocities of warfare, tourists and delegates visiting for the G7 Summit between May 19 and 21, would've found a modern city teeming with shops, parks and businesses.
From 2015 to 2019 the annual number of foreign visitors to Hiroshima surpassed 1 million, with the city welcoming 1.8 million overseas visitors in 2019. In the wake of the pandemic, numbers are quickly going up as tourists return to Japan.
Meanwhile, Hiroshima has earned itself the title of Japan's "manufacturing prefecture," making everything from automobiles and ships to electric machinery and components.
Indeed, with a population of one million people, Hiroshima embodies resilience against the odds. However, some locals say that though the city promotes a message of peace, its complex relationship with history must also be noted.
"When visitors from overseas come to Hiroshima, they tell me they're going to the Peace Museum and Park. They have the idea that Hiroshima is a city of peace. Still, I'd like them to be aware that this city also owed much of its initial development as a military hub," Hiroshi Ishida, a bar owner and third-generation A-bomb survivor in Hiroshima, told CNN.
Hiroshima was among several large castle towns of the Edo period (1603-1867).
During the Meiji Restoration, Japan underwent a period of modernization, and in 1888, the city became the base for the Fifth Division Headquarters of the Imperial Japanese Army.
When a railroad was connected to Ujina port – found on Hiroshima's southern coast – the following year, the city became a strategic base to dispatch troops to the Korean Peninsula and Chinese mainland.
Hiroshima's role as a military capital expanded and critical army facilities were erected in the city as the conflicts in the Second Sino-Japanese War (1937 to 1945) and the Pacific War (1941 to 1945) intensified.
According to the city's prefectural government, that concentration of military facilities and its "size and layout" made it a testing target for the atomic bomb.
Till then, Hiroshima – unlike other major cities across Japan – had escaped America's firebombing raids during the last stages of WWII.
That was partly because America wished to use Hiroshima to demonstrate "the full potential of the atomic bomb," according to the website of Hiroshima for Global Peace.
After the American military detonated its first atomic bomb at 8:15 a.m., Japan local time (7:15 p.m. ET), Hiroshima city lost roughly 40% of its population, which numbered around 300,000 people at the time.
A new exhibition in Hiroshima Gate Park entitled "Pride of Hiroshima" highlights how quickly businesses in the city joined recovery and reconstruction efforts in the immediate aftermath of the tragedy.
For instance, just a day after the bombing, the Chugoku Electric Power Company started working to restore power to the people, repairing a damaged substation in the eastern part of Hiroshima city so the power would return to the port area. By August 20, 1945, the company restored power to 30% of homes left standing and the whole city by the end of November.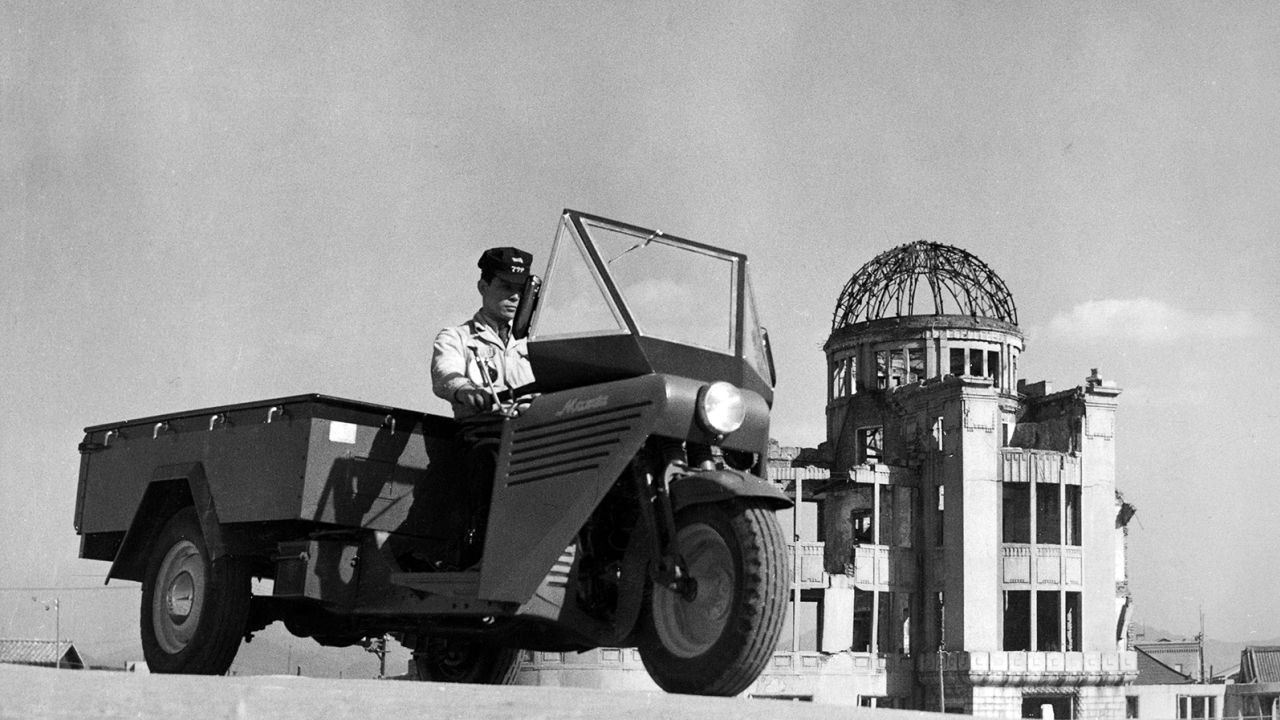 Three days after the bombing, Hiroshima Electric Railway – which had lost 185 employees – reopened a portion of a single streetcar line and worked steadily to restore the city's transport network.
And in December 1945, just four months after the end of WWII, automotive manufacturer Mazda resumed production of its tricycle trucks – affectionately dubbed "batanko" – and made it a priority to get them to Hiroshima to help people transport essential items needed for daily life.
But the path to recovery was no easy feat.
Full-scale reconstruction only began in August 1949 after the Hiroshima Peace Memorial City Construction Law was promulgated, allowing the national government to extend special financial support to Hiroshima.
As a child, Ishida, the third-generation A-bomb survivor and bar owner, grew up alongside senior citizens with burn marks on their hands and faces and heard stories of the A-bomb's devastating aftermath.
He said he and his friends are grateful for the effort made by their parents and grandparents to rebuild Hiroshima into the metropolis it is today. Still, they can't help but feel sad about the lost centuries of history.
It's a feeling shared by 82-year-old Terao Okihiro, a stained glass artist and first-generation A-bomb survivor, who spends time in Hiroshima's Peace Memorial Park when he can, to tell visitors about his WWII experiences.
"When people said the Peace Memorial Park was beautiful, I couldn't help but feel a bit sad as I knew that before the atomic bombing, it had been the largest commercial district in Hiroshima," said Okihiro. "Now, instead of feeling sad about it, I just explain that deeper history to them."
Near the Genbaku Dome, Sofia Trommlerova and Dušan Brejka were visiting Hiroshima from Slovakia as part of a six-day Japan trip. They recently helped Ukrainian friends flee the war and said the dome made them reflect on the dangers of history repeating itself.
"It makes me think about what will happen to Ukraine, and whether maybe 70 or 80 years later, we will visit a place in Ukraine and look at something similar like (the Genbaku Dome) – ruins of old buildings that used to be there but because of the Russians don't exist anymore," said Trommlerova.
"It's impressive how Japanese people rebuilt the city from scratch again – building a beautiful city full of green spaces. That gives me a very peaceful feeling. And yet in the middle of it, there is the reminder of what had happened – I think it beautifully shows the terrible past and the beautiful present," she added.