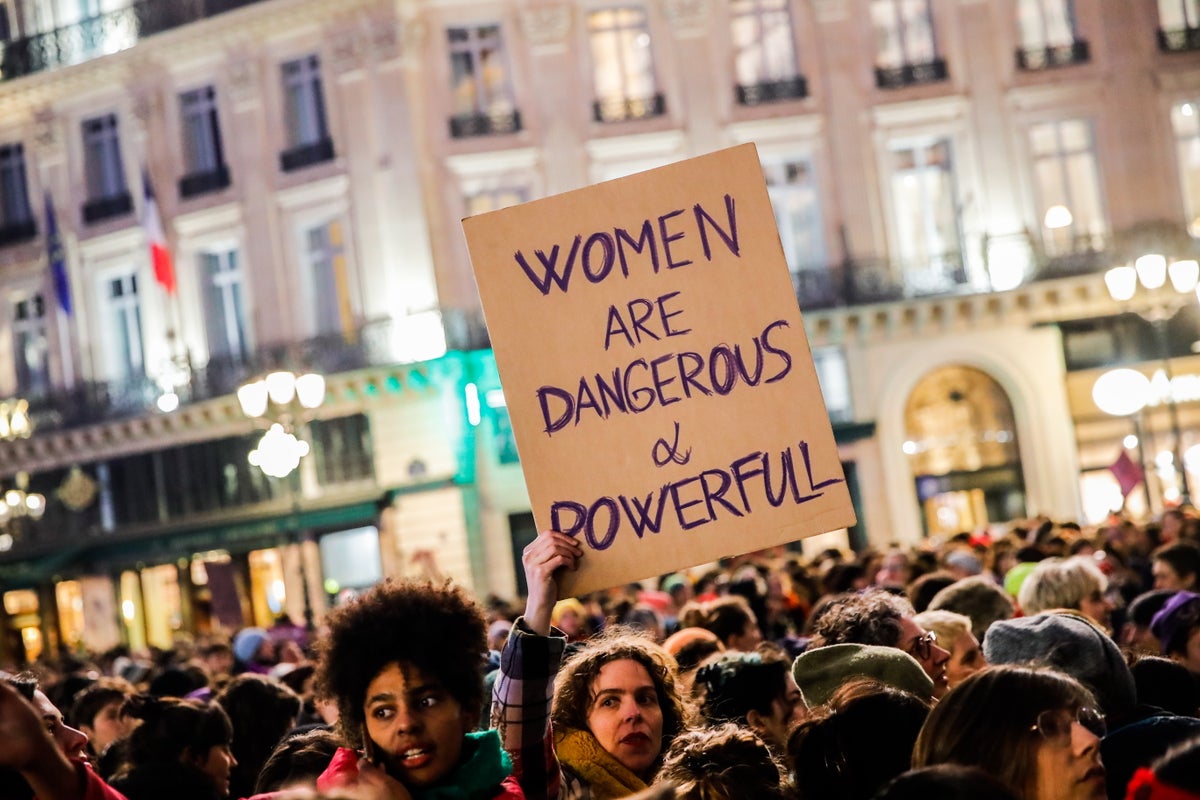 International Women's Day is more than a celebration of all that women can and have done for the world, and more even than a "moment" to reflect on the formidable obstacles to true equality that still remain.
It is also that rarest of global phenomena, something that belongs to no single individual, government, country or even international organisation. There is no chief executive, no board of directors, and apparently little in the way of infrastructure beyond sponsorship by the United Nations. It is a day for all of humanity to shape as they wish.
It is about imagination, too, of a world that is both tantalisingly near – because equality is and should be the natural order of things – but painfully distant, with so many women still facing oppression and the denial of their human rights.
In the words of the IWD website: "Imagine a gender-equal world. A world free of bias, stereotypes, and discrimination. A world that's diverse, equitable, and inclusive. A world where difference is valued and celebrated. Together we can forge women's equality. Collectively we can all #EmbraceEquity."
Today, The Independent does precisely that, with a range of female voices discussing what it means to be a woman in 2023. They can be sobering, such as charity chief Ngozi Fulani, who concludes after her intense experience in the media spotlight: "Being a woman, a Black woman, and an older woman means that society will not view me in the same manner as other women, this means that I have to be on constant alert to make way for my children and grandchildren."
Akshata Murty, the prime minister's wife, speaks movingly about the empowerment of women over the generations: "I look to my young daughters and hope they too are inspired by their grandmother to think about new frontiers, to reimagine a world built on Stem innovation and to pursue their own passions. I wonder what stories they'll be telling over the next 50 years – I hope the one about a young woman studying engineering in 1960s India sticks with them."
Tracey Emin, whose painting, 'Marriage to Myself' adorns this newspaper's front page, exclusively for International Women's Day, talks candidly about being a woman in chronic pain. "The pain in my hands and feet and every part of me is just too much. Just the idea of anything tight touching my body puts me into mental pain."
Trans comedian Jordan Gray writes of the radiant diversity of women today: "A woman in 2023 shares her mantle with the England Lionesses, Michelle Yeoh and the inimitable Sandi Toksvig. Women are the very best of us. Women move history forward."
Yet for all the hope and inspiration, perhaps unparalleled in human history, too many women in too many societies face sexism, misogyny, hostility (including from those who should know better) and fearsome economic and social inequalities. To see that in all its grim breadth, it is necessary only to take a few news stories from recent days and weeks.
The final trial of the murderer Wayne Couzens for indecent exposure, for example, promoted another apology from the police, because had these crimes been taken seriously Couzens would not have been in a position to rape and kill Sarah Everard. "Flashing" is still not taken seriously enough as a precursor to even more appalling criminality.
In parliament, Kemi Badenoch, Britain's minister for equalities, dismissed calls for employment protection for menopausal women. Scottish Widows disclosed that women on average would have to work an additional 16 years to retire with the same pension as men, a result of the now well-documented gender pay gap. The war in Ukraine has been a timely reminder of how much of the burdens of war are carried by women.
The pandemic hit women hard, over-represented as they are in the caring professions. The cost of living crisis has also meant greater hardship for single-parent families, again disproportionately led by females. In many countries, such as Iran and Afghanistan, women are systematically targeted by regimes who visit violence upon them for merely seeking the right to dress as they wish or to be educated. Across the world, the rape of women – a form of terrorism – is deployed as a weapon of war.
The origins of what is now International Women's Day stretches back to the movement for women's political rights at the beginning of the 20th century, and was for a time associated with at least the ideals of communist societies that sought to integrate women into industry, agriculture, science and the professions (though less visibly in positions of political power).
Since the second feminist wave in the 1960s, International Women's Day has become a far more inclusive and meaningful affair as the struggle for equality has gathered pace, both through landmark legislation such as the Equal Pay Act and the Equalities Act, and by societies simply moving in from past mores and now-dated and ludicrous prejudices.
The process has hardly begun, in the sense of female emancipation, parity of esteem and equality on a global scale. Men could, and should, be proud to call themselves allies. One day – not soon enough – we will be able to say on International Women's Day that "we're all feminists now".