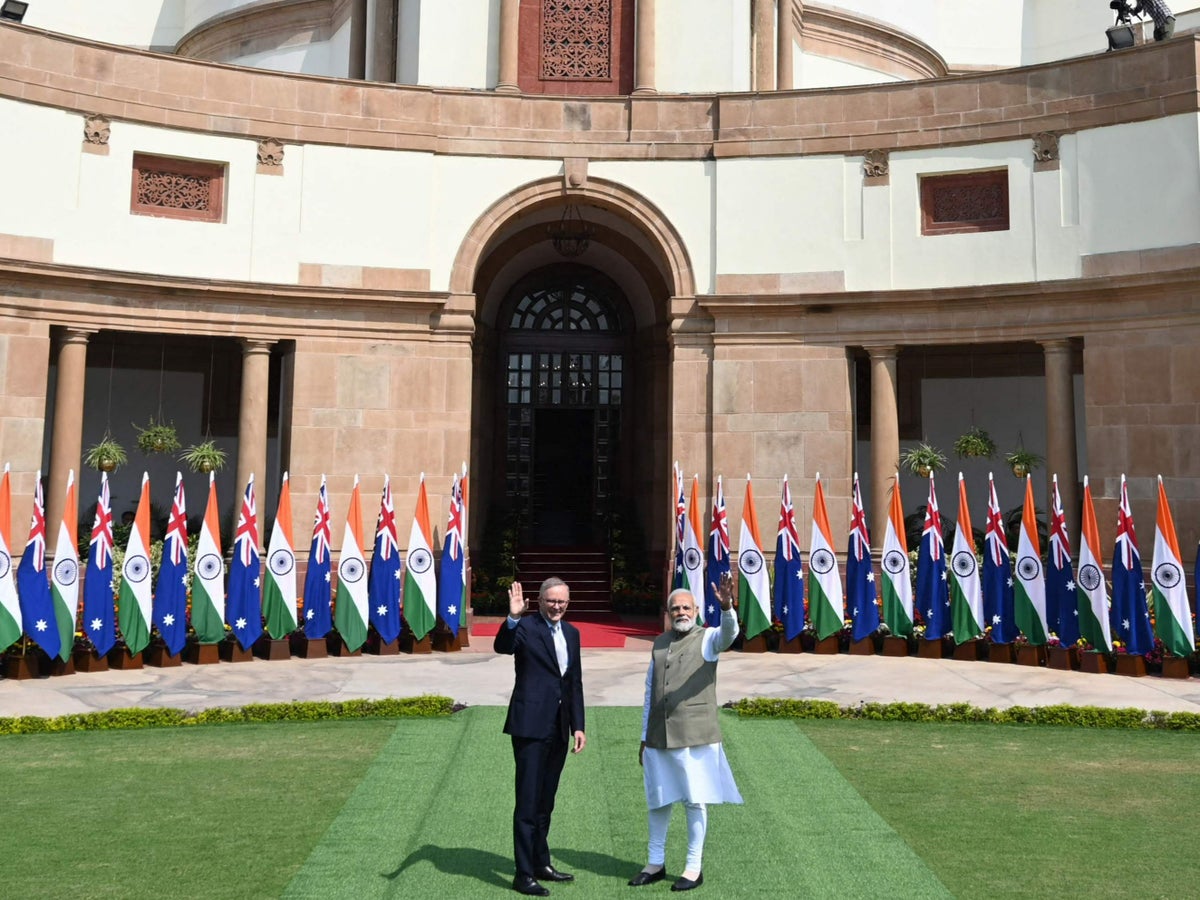 Indian prime minister Narendra Modi on Friday raised the issue of "unfortunate" attacks on Hindu temples in Australia at a joint address with visiting Australian counterpart Anthony Albanese.
Standing alongside the Australian prime minister who is on a four-day visit to India, Mr Modi said the spate of incidents has caused alarm in the country.
"Indian immigrants are the second largest expat community in Australia. They are making significant contributions to the Australian society and economy. It's a matter of regret that for the last few weeks we have been getting regular news of attacks against temples," Mr Modi said.
"It is only natural that this kind of news is very worrying and distressing for everyone in India."
The concerns from the highest level during bilateral talks drew promises from the vising prime minister to give special protection to stop the threats.
"I expressed these feeling and concerns to PM Albanese and he has assured me that the safety of the Indian community will be a special priority for him.
"Our teams will remain in regular contact on this subject and will offer each other all possible support."
The topic that has recently become a sore point in Australia-India relations came up after Mr Albanese received a grand welcome first in Mr Modi's home state Gujarat, followed by his visit to Mumbai, where he became the first foreign leader to set foot on India's first domestically built aircraft carrier INS Vikrant, before arriving in Delhi.
The Indian High Commission in Canberra took notice of at least three incidents where Hindu temples were defaced with anti-India graffiti in January. It condemned the "glorification of anti-Indian terrorists" and said the "frequency and impunity" of attacks are alarming.
The spate of attacks came after public protests by supporters of the secessionist Sikh movement seeking a break-away state for Sikhs to be called Khalistan.
The Indian government has opposed the secession movement in the US, UK, and Canada, and as well as wherever the groups operate, demanding action against similar attacks in the past.
Mr Modi, who is the leader of the ruling Hindu nationalist Bhartiya Janata Party (BJP), raised the issue in bilateral talks that also canvassed security, trade and cultural ties.
Mr Albanese did not touch upon Mr Modi's comments during the press conference but said the two leaders have agreed on an "early conclusion" of the ambitious Comprehensive Economic Cooperation Agreement "as soon as possible" without giving a deadline.
"I am hopeful that we will be able to finalise that this year," Mr Albanese told reporters.
The CECA which was launched in May 2011 is stalled in negotiations. The negotiations were suspended in 2016 after nine rounds of negotiations as the talks were gridlocked. Negotiations resumed in 2021 but a deal has yet proved to be elusive.
"This transformational deal will realise the full potential of the bilateral economic relationship, creating new employment opportunities and raising living standards for the people of both Australia and India."
The two leaders did not directly discuss Russia's war against Ukraine but Mr Albanese said they discussed an "increasingly uncertain global security environment" and work towards a stable and open Indo-Pacific region.
He said topics of "migration and mobility arrangement" for students, researchers and professionals are also being negotiated by the officials.
Before holding closed-door talks with Mr Modi in Hyderabad House, the Australian prime minister arrived at the presidential palace on Friday to receive a guard of honour.
Mr Albanese said: "Australia and India are great friends. We are partners and we are building that partnership even stronger each and every day."
Mr Albanese invited Mr Modi to attend a summit of the Quad member countries to be held in Australia in May while the Indian prime minister invited his Australian counterpart for the G20 leaders summit in September.
The Australian prime minister also fielded a question on the recent raid by Indian tax officials on the BBC offices in New Delhi and Mumbai after the broadcaster aired a documentary that was critical of Modi.
"Australia stands up for press freedom. But India is a great democracy, and to dismiss that is, I think, wrong…. Where there are differences or issues to be raised, we raise them privately and appropriately," he said.
The Australian leader celebrated the Indian festival of Holi on Thursday and briefly attended the fourth Cricket Test between Australia and India in a stadium in Ahmedabad.
Mr Albanese, who first arrived in India on a backpacking trip in the 90s, described "the moment as one of the highlights of his life" as he joined Mr Modi to do a lap of honour around the stadium in a specially designed "chariot".
"It sure is (different) – it's a highlight of my life being here today, and India and Australia have a great friendship," Mr Albanese told reporters comparing it to his backpacking trip.
In another highlight from his trip, Mr Albanese called India a "top tier" defence partner.
He announced that Indian forces will join the massive Talisman Sabre war games, the largest bilateral exercise between Australian and US forces, for the first time in Australia this year.
He also confirmed that Australia would host its maiden Malabar naval exercises with the US, India and Japan this year.