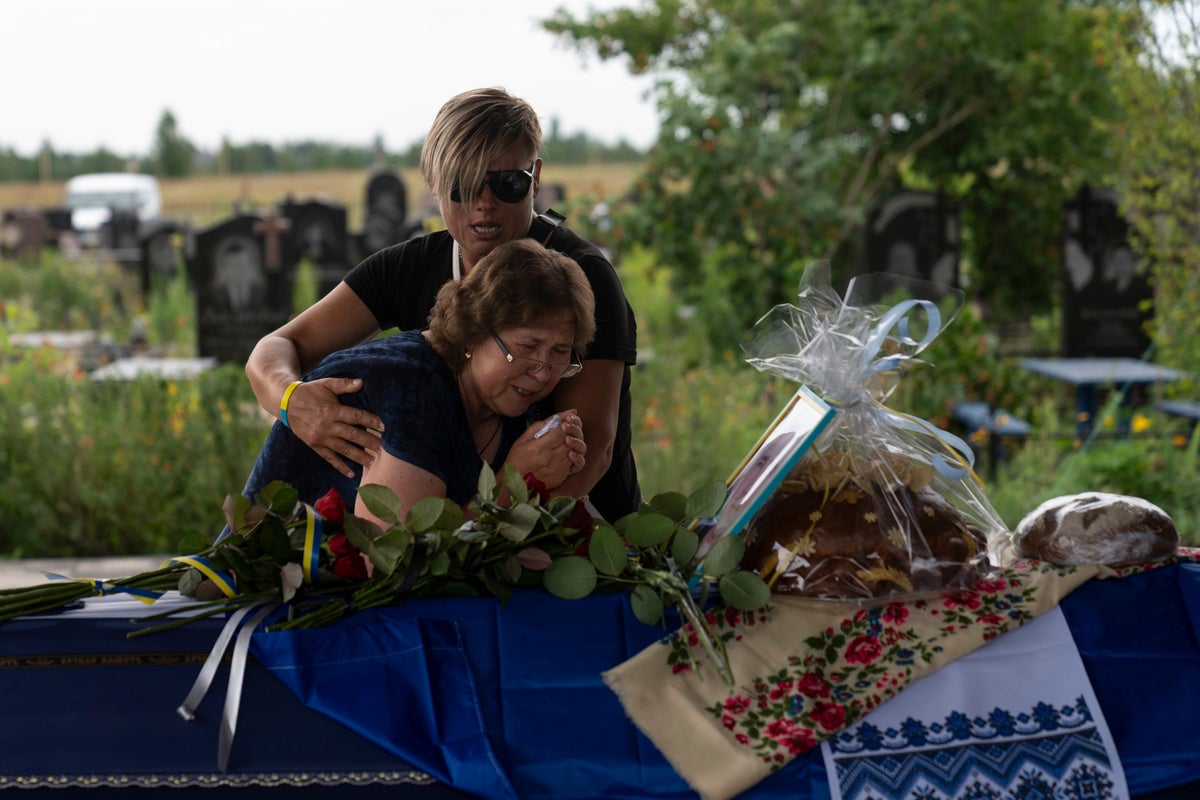 The Ukrainian veteran's gravestone carries his photograph and birthday, but the date Roman Shadlovskyi died is a broad estimate: March 2022, the month Russian forces brutally killed both civilians and military personnel before ending their occupation of Bucha.
Shadlovskyi's body was found about three months later in a mass grave along with the remains of six other people in a forest outside the city near Ukraine's capital. Residents and relatives gathered at a Bucha cemetery on Tuesday to give him a proper burial.
"They took him on the fourth of March, but we don't know when they tortured him and how long they tortured him," Zynaida Nedoleshko, an aunt who helped raise Shadlovskyi and was very close to him. "We don't know when he died."
Shadlovskyi turned 27 two weeks before the Russians captured him. For his friends and family, the event created its own fog of war, weeks of uncertainty and waiting that prolonged their grief and undid their attempts to cope with the loss.
"We were searching for him for 103 days. And on the 103rd day, they recovered his remains," his aunt recalled.
It took another year to confirm Shadlovskyi's identity with DNA testing. Some of the bodies recovered along with his had tied hands and signs of tortures, Bucha Deputy Mayor Mykhailyna Skoryk-Shkarivska said.
Before his funeral and reburial on Tuesday, Shadlovskyi was buried under a number at a local cemetery along with dozens other unidentified bodies found in the area after Russian troops retreated. His remains were exhumed just hours before the ceremony.
"You know, it was painful back then," Nedoleshko said about the period when they didn't know anything about her nephew's whereabouts. "It's still difficult now. It feels like someone reached into my heart and twisted it. It's terrifying to even think about what he went through, how they tortured him."
She soothes herself by thinking of what Roman was like before the Russians came to Bucha.
"He always laughed. He always said, 'Come on, let me hug you.' Now. I will only hug him with prayers, and he won't hug me back. He was a very good boy, very good. He always smiled."
Foreign leaders visiting Ukraine to show support typically start their tours in Bucha and the Kyiv suburb of Irpin, which became synonymous with the horrors of Russia's war because of what happened under occupation.
Other families are still awaiting the results of DNA tests so they can properly bury loved ones whose remains were recovered from different mass graves. Memories of the occupation and its aftermath are never far from the surface in Bucha, where Russian troops slaughtered hundreds of people early in the war.
Many of the locals who came for Shadlovskyi's memorial service and funeral placed flowers on the closed casket. He was buried in a section of the central cemetery called the Alley of Heroes as he was a veteran of Ukraine's armed forces when the war started.
He joined the army in 2017 and until 2019 fought in eastern Ukraine's Donetsk region, where Russia backed separatists in an armed confrontation with the Ukrainian military. Shadlovskyi's Roman's military experience was the main reason Russian troops detained and killed him, Bucha authorities say.
"On the honorary Alley of Heroes, there will be another grave," an Orthodox priest, Father Andriy, said during the memorial service, standing with Ukrainian flags that each symbolized a Bucha resident who gave a life in the war.
"I hope that the time will come when among those buried as unknown, unidentified, there will be no more graves left," the priest said.
After the ceremony, military personnel presented Shadlovskyi's father with the blue and yellow Ukrainian flag from his son's casket. Holding it, he burst into tears.
Municipal authorities say 458 bodies were found in the Bucha area after the 33-day Russian occupation. The dead included 12 children, most of whom were killed with their parents. A mass grave near the Church of St. Andrew the First-Called held the bodies of 116 people.
On the other side of the cemetery, hundreds of meters away from the place where Shadlovskyi finally rests under his own name, there are dozens of graves with numbers instead of names. The numbers on the tombstones are slowly fading away under the weight of time; some are barely visible now.
___
Follow AP's coverage of the war in Ukraine: https://apnews.com/hub/russia-ukraine