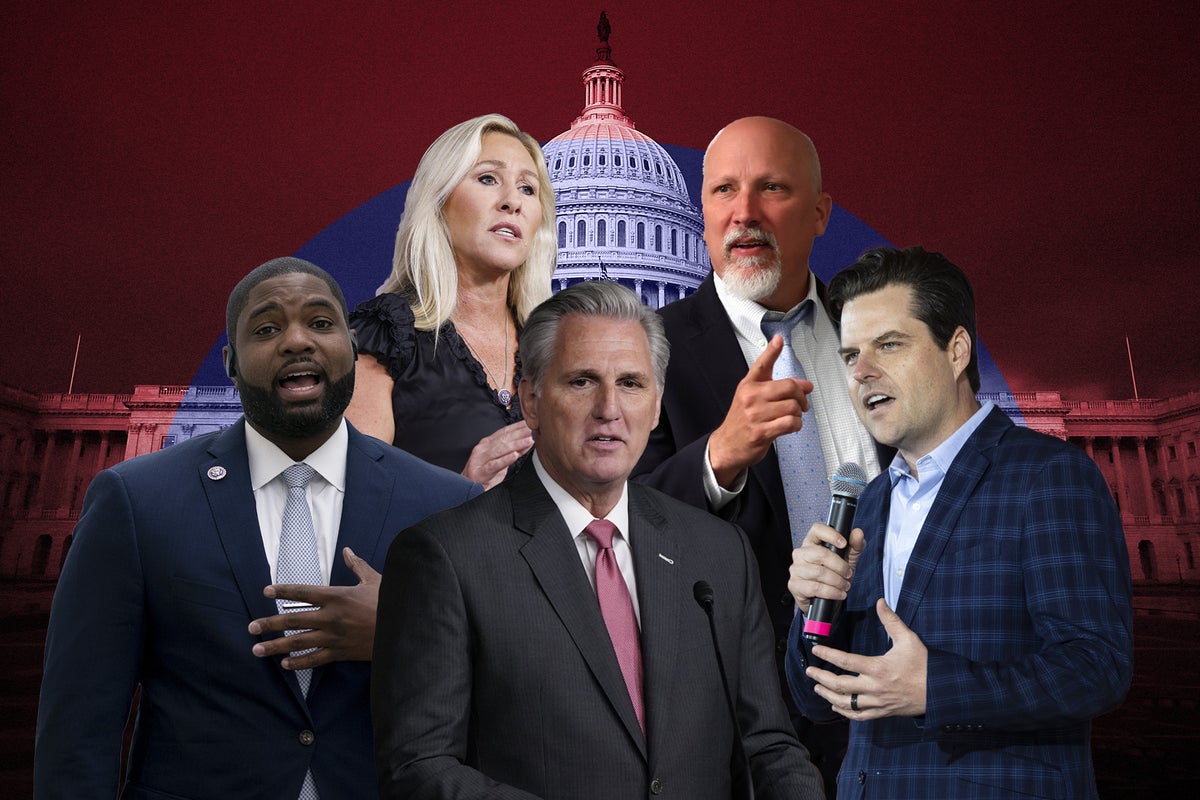 The US government will run out of money this weekend, but the House of Representatives is nowhere close to finding a deal to keep the lights on.
If both the House and Senate can't pass identical versions of all 12 annual government funding bills — or a resolution continuing to fund the government at Fiscal Year 2023 levels — the federal government will enter its sixth partial or full shutdown since 1994.
Most times, these impasses happen because of disagreements between Democrats and Republicans — either a Democratic White House and GOP Congress, or a Republican Senate and Democratic House, or some other conflict. But unlike the latest row that could shutter the US government is the result of intractable intra-party bickering in the GOP-led House of Representatives.
And with just 10 days until the end of the fiscal year, all eyes are on House Speaker Kevin McCarthy.
The California Republican, who took hold of the speaker's gavel after a marathon of 15 separate ballots in January, needs to craft a compromise that can satisfy each of the myriad factions within his conference, ranging from the moderate to centrist Main Street Caucus to the hard-right members whose votes he courted to earn his current position.
Now, with the clock ticking towards a shutdown, whether he is able to pass a resolution that the House can stomach, the Democratic-controlled Senate will support, and President Joe Biden will sign, might ultimately determine whether he can remain speaker.
Thus far, things don't look good for him.
On Tuesday, plans to pass spending bills hit another snag when five conservative Republicans sank a vote to pass a rule to begin debate on the annual defence spending bill, which infuriated many Republicans.
Here's a breakdown of how Congress got this way.
How is the government usually funded?
Congress has to fund the US government by the end of the US fiscal year on 30 September. Otherwise it does not have money to pay for its functions. If Congress misses a deadline, then many essential services will close and numerous federal employees will go without a paycheck.
The US Constitution gives the House of Representatives what is known as the "power of the purse," meaning spending bills have to originate in the House before they pass the Senate. Typically, Congress misses the 30 September deadline, but it passes what is called a continuing resolution so that the chairpeople of House and Senate Appropriations Committees can continue negotiating before the end of December.
Oftentimes, the House and Senate pass what is known as an "Omnibus" spending bill, wherein all 12 spending bills that Congress must pass are lumped into one piece of legislation.
What is different this time?
House Republicans have long resented both continuing resolutions, which they see as a way for Congress to continue the spending status quo, and omnibus spending bills, which they see as lumping in must-pass legislation without the ability to negotiate the details.
Late last year, the top Democrat and Republican on the Senate Appropriations Committee, who were both retiring at the end of the year, announced that they'd negotiated an omnibus spending bill for Fiscal Year 2023 with the outgoing Democratic chairwoman of the House Appropriations Committee, Representative Rosa DeLauro.
The budget deal came after several continuing resolutions that had let lawmakers put off budgeting decisions until after last November's general election. House Republicans, who emerged from Election Day with a five-vote majority for the upcoming 118th Congress, complained at the time that the outgoing Congress had not done its job by passing a spending bill, and argued for another CR to expire after the new Congress had started so they — not the Democratic-controlled 117th Congress — could set funding levels for this fiscal year.
Mr McCarthy, then the House minority leader who was trying to whip votes to become speaker, told reporters at the time that the House Republicans would return appropriations to "regular order" — meaning that they would pass all 12 individual spending bills through committee, then through the House floor, and avoid the use of massive omnibus packages.
Not surprisingly, this takes much longer than passing one large spending bill. But even though the Democrats who controlled the chamber from 2019 to this year managed to finish each of the individual spending bills on time during their reign atop the House, the GOP under Mr McCarthy hasn't accomplished a similar feat due to infighting between varying factions of his conference.
Who are the chief opponents of the spending bills?
Most of the opposition to keeping the government funded comes from hard-right Republicans who see the appropriations process as an opportunity to force through arch-conservative policies in must-pass bills.
The chief group opposing the status quo is the House Freedom Caucus, a group of hard-right conservatives who often hold up must-pass legislation to enact their preferred policies. Many of the House Freedom Caucus members, including its chairman Rep Scott Perry (R-PA), initially opposed Mr McCarthy's bid to become speaker in January, though most of them ultimately flipped to get behind him.
In May and June, many of the House Freedom Caucus criticised a bipartisan agreement between House Republican leadership and the Biden administration to raise the debt limit. Rep Chip Roy (R-TX), one of the members of the Freedom Caucus who flipped his vote to Mr McCarthy in later rounds, threatened that there would be "a reckoning."
In addition, some conservatives who are not official members of the Freedom Caucus but fellow travelers currently oppose passing a continuing resolution without adding preconditions. Such conservatives include Rep Matt Gaetz (R-FL), a perpetual critic of Mr McCarthy and Rep Marjorie Taylor Greene (R-GA), an ally of Mr McCarthy whom the House Freedom Caucus booted recently.
What are some of the demands?
In addition to a desire to see spending cuts, many conservative Republicans want to add various provisions to the continuing resolution. Specifically, members of the Freedom Caucus want to include provisions to restrict immigration at the US-Mexico border.
In a thread last week on X, formerly known as Twitter, Freedom Caucus member Chip Roy of Texas laid out the group's demands.
Specifically, Mr Roy said that conservatives want to cut 8 per cent of the federal bureaucracy that is not related to national defence. Mr Roy also said Republicans want to use the continuing resolution to prevent the "weaponisation" of the Department of Justice against former president Donald Trump and his allies, despite no evidence that prosecutors are singling anyone out.
Mr Roy has also demanded that the House include provisions to restrict immigration in a spending bill.
He added that the caucus wants to prevent the Pentagon from paying for service members to travel to states where abortion is more accessible. They also want to prevent coverage for gender-affirming care for transgender servicemembers, despite the fact the US military is one of the largest employers of transgender people.
"In short, this bill is only 30 DAYS (30 days), & would fund troops, fund vets, cut federal bureaucracy 8% more than ever been cut including weaponized DOJ, force strongest border security ever, & re-focus military on mission over social engineering," Mr Roy posted.
Lastly, conservatives have said that they do not want to include a supplemental appropriations bill for the defence spending bill to fund support for Ukraine. Numerous conservatives have criticised US support for Ukraine and the last omnibus spending bill included provisions to aid Ukraine.
On top of the request for funding, Republicans also want to target the president. During the August Recess, Ms Greene, an ally of Mr McCarthy, said that along with opposing funding for Ukraine, she would not vote for any government funding unless the House opened an impeachment inquiry into Mr Biden. Many other conservatives have also called for an impeachment inquiry.
Last week, Mr McCarthy announced that the House would open an impeachment inquiry. Despite months of hearings, House Republicans have found no evidence of lawbreaking by the president despite his son Hunter Biden's recent indictment.
What has been the reaction from Democrats and the Senate?
Most of these bills are unlikely to pass the US Senate, where Democrats hold 51 of the 100 seats. The Senate has mostly proceeded with passing appropriations bills on a bipartisan basis between chairwoman Sen Patty Murray (D-WA) and ranking Republican Sen Susan Collins (R-ME).
Similarly, House Democrats have balked at voting for a continuing resolution loaded up with conservative priorities. House Minority Leader Hakeem Jeffries told The Independent last week that Democrats would not vote for "right-wing ransom notes."
Last week, Democratic Rep Steny Hoyer criticised Mr McCarthy's inability to forge a consensus solution during an appearance on MSNBC.
"When the majority of the Congress wanted to make a compromise and move forward," he said. "They shouldn't let that happen to the United States Senate, and they shouldn't let it happen here in the House of Representatives. And I'm hopeful that Speaker McCarthy and a majority of the House Republicans, overwhelming majority of House Republicans will act in a responsible way, will come together."
House Democrats hope that eventually, Mr McCarthy will do what he did to end the debt limit crisis and rely on Democrats to help him pass a "clean" continuing resolution with no riders.
What does the White House think?
At this point, White House aides say the president and his top advisers are all but resigned to the inevitability of a shutdown, and while they aren't keen on the hit to the economy it will cause, they are confident that voters will know who to blame: The Republicans.
The White House is also using the opportunity to highlight President Biden's work this week at the UN General Assembly and contrast it against the dysfunction that has been exhibited on Capitol Hill by Mr McCarthy's conference.
A press release issued early on Wednesday described the "extreme" House GOP as "consumed by chaos and marching our country toward a government shutdown that would damage our communities, economy, and national security".
"Instead of following the bipartisan example of Republicans and Democrats in the Senate, extreme House Republicans continue to demand a reckless laundry list of partisan proposals as a condition of keeping the government open—from an evidence-free impeachment that even some of their own members don't agree with, to reckless cuts to programs millions of hardworking families and seniors count on, to a litany of other extraneous ideological demands," the White House said.
Why Mr McCarthy can't work with Democrats
In November, Republicans won control the House of Representatives but only by a thin margin. As of September, Republicans only have 221 seats in the House while Democrats have 212 seats in a 435-seat House with two vacancies. That means only a handful of Republicans can break away and sink legislation. This was the case last week when five Republicans joined every Democrat to sink the rule to begin debate on a defence spending bill and again when six Republicans sank the rule again.
In addition, during his negotiations with conservatives, Mr McCarthy agreed to allow for any single member to file a motion to vacate the chair, which would trigger a no-confidence vote in Mr McCarthy. Last week, freelance reporter Matt Laslo found that Mr Gaetz had dropped a piece of legislation that would begin a motion to vacate in the men's bathroom.