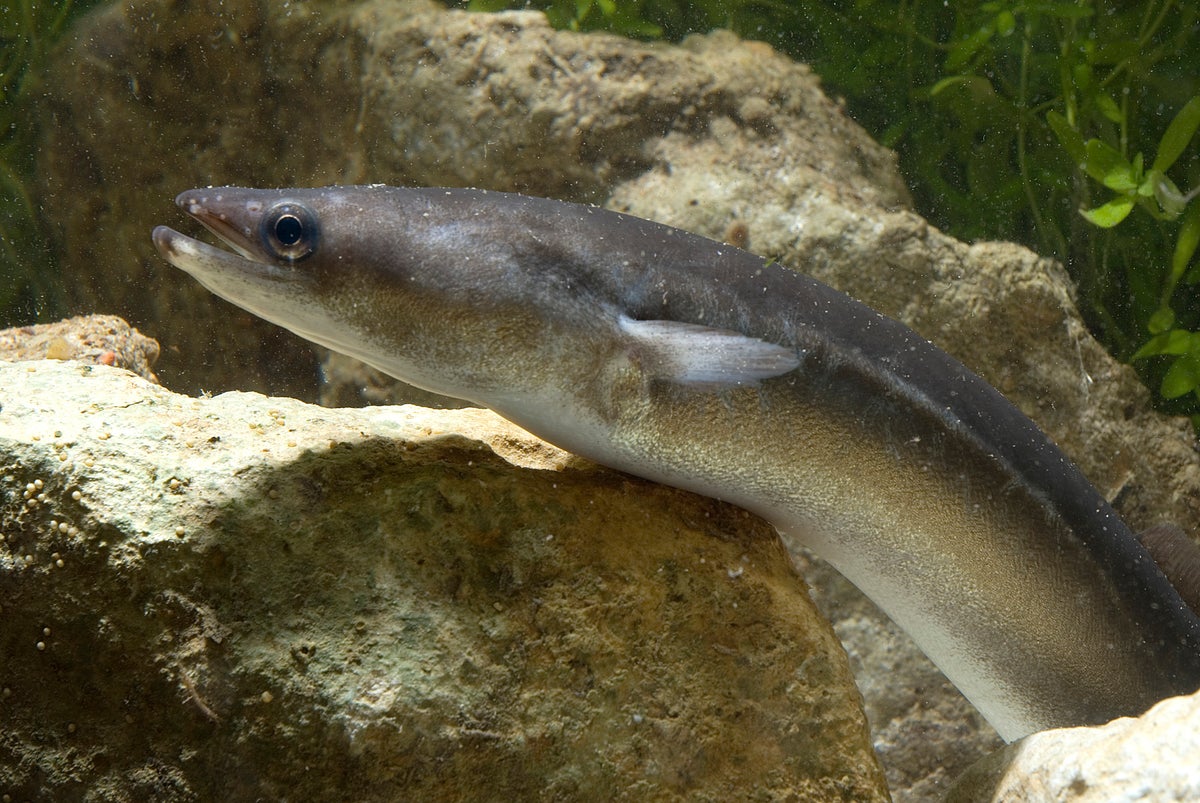 Wildlife groups are calling for Britain to ban the transportation of eels to Russian conservation projects because of fears they are being sold on to China for food.
The alarm was sounded after a consignment of half a million eels were moved to Kaliningrad. Charities have said that the profits Russia has made from these sales could be funding the Ukraine war.
Multi-member organisation Wildlife and Countryside Link (WCL), which represents the RSPCA, CPRE and the Marine Conservation Society, has called for action from Defra (Department for Environment Food and Rural Affairs).
Conservation has been required with the European eel population falling by 90 per cent in the past four decades despite hundreds of millions of baby, or glass, eels arriving each year.
Dr Richard Benwell, chief executive of WCL, told The Independent: "European eels are a species at huge risk, with populations down by more than 95 per cent in the past 40 years.
"Falling eel populations also mean less food for rare birds like the bittern and osprey.
''Reductions in eel numbers are being worsened by an illegal export market. Over recent years, UK authorities have worked hard to uphold international obligations to prevent the illegal export trading of eels for use in food and traditional medicine.
"This progress could be undone by allowing eel exports to Russia, with concerns that onward illegal trade is a strong possibility. Defra should move quickly to close this loophole for wildlife crime, and uphold protections for our threatened population of European eels.''
WCL has said that eels are being affected by barriers on rivers preventing migration as well as trafficking to Asia – a criminal business worth an annual £3 billion.
The Cites convention on endangered species allows trade provided it is for restocking eels in places where numbers are low.
But with profit margins high, there are incentives to break the rules and sell the eels onto China – Andrew Kerr, of the Sustainable Eel group told the Times,
"There are obvious risks here now that the Russian 'special military operation' has evolved into war," Mr Kerr said.
"The question is bound to be asked, how can the UK be sure this trade is not being used to fund the Russian war against Ukraine?"
A spokesman for Defra said: "We have robust rules and laws in place to safeguard protected species, such as glass eels, and any applications to export them are scrutinised thoroughly by UK Cites authorities.
"Any reports of illegal wildlife trafficking are taken very seriously and fully investigated by APHA [Animal and Plant Health Agency] and Border Force officials."