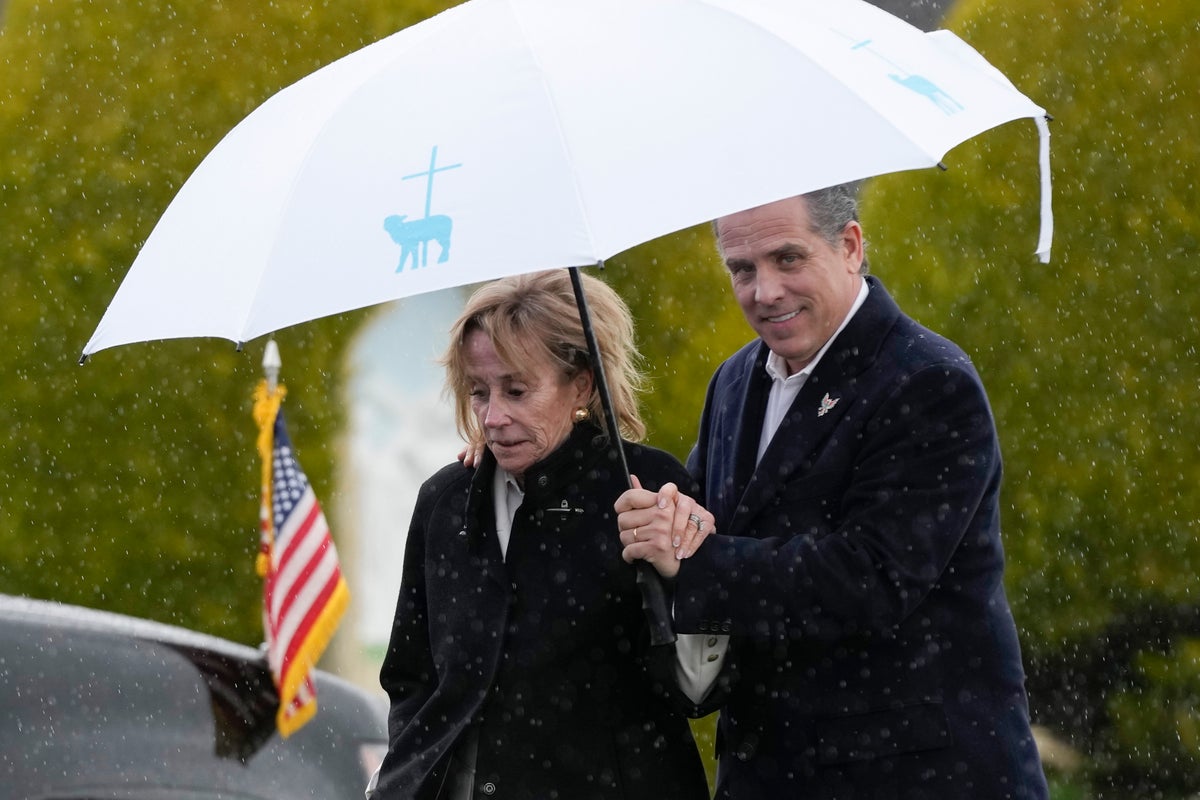 With President Joe Biden poised to announce that he is officially seeking re-election, Republicans in Congress have been busy conducting investigations that they hope will tarnish the 46th president's public image enough to convince voters that former president Donald Trump — not Mr Biden — deserves four more years at 1600 Pennsylvania Avenue.
Since taking over the House of Representatives in January, GOP committee chairs have sent out flurries of document requests and subpoenas to further their probes, and many have taken to Fox News and other friendly television outlets to claim they've uncovered heinous wrongdoing and are preparing to expose it to the world. So far they haven't surfaced any smoking gun of wrongdoing.
And thus far, Mr Biden himself has not been the target of the various congressional investigations. Instead, Republicans are laser-focused on using the full power of legislative branch oversight to target Mr Biden's youngest (and only surviving) son, Hunter Biden.
A Yale-educated attorney and former lobbyist, the younger Mr Biden has had more than his fair share of troubles, which much of it already in the public record.
He is currently a target in a long-running Department of Justice probe being overseen by David Weiss, the Trump-appointed US Attorney for the District of Delaware. Mr Weiss, who is one of only two of Mr Trump's appointees to have been asked to remain on the job by President Biden, has been looking into whether Hunter Biden broke US tax laws by failing to report income earned in overseas business ventures and not paying tax on that income, and whether he violated laws against lobbying for foreign governments without registering as a foreign agent.
Mr Weiss is also reportedly examining whether Hunter Biden, who has a long and well-documented history of addiction issues, broke federal laws by declaring that he was not using drugs when he filled out a background check form to purchase a handgun in 2018.
Thus far, Hunter Biden has not been charged with any crime, and the probe led by Mr Weiss remains open.
While the DOJ investigations into Hunter Biden have been conducted behind closed doors, the congressional investigations being conducted by the House Oversight and Judiciary committees have largely played out under the bright lights of television studios.
In appearance after appearance on Fox News, Oversight Committee Chairman James Comer of Kentucky has made increasingly serious accusations against Hunter Biden, who he and other Republicans have accused of selling his father's influence to overseas bidders in China and elsewhere, and funnelling profits into the pockets of the 46th president and other members of his family.
They've also accused Mr Biden's brother James, who is also a veteran lobbyist, of similar improprieties — and worse.
Representative Marjorie Taylor Greene and Representative Nancy Mace have both accused Mr Biden and his family of profiting from what they describe as a human trafficking ring.
In a video posted to her Twitter account, Ms Greene said she viewed "jaw-dropping evidence of human trafficking" connected to the Bidens, which she said "involved prostitutes, not only from here in the United States but foreign countries like Russia and Ukraine".
Those unproven accusations stem from Treasury Department documents known as Suspicious Activity Reports, which are generated by banks any time customers make any sort of large wire transfer or transfer of funds that approaches the amount which must be reported to regulators.
Such reports aren't necessarily an indicator of illegal activity, and because they are not public information, it's not possible to verify Ms Greene's outrageous claim.
But according to experts and Democratic operatives engaged in efforts to defend the president, the accusations against Hunter and James Biden appear to be part of a long-running GOP effort to construct a narrative about what Mr Trump and others have called the "Biden family enterprise" — a bizzarro analogue to the real-life business Mr Trump owned during his time in the White House.
The ex-president and others in his camp have suggested without evidence that Hunter and James Biden somehow used their businesses to financially support Mr Biden, who was one of the least wealthy members of Congress during his three-plus decades as a senator but came into significant amounts of money with book deals and speaking engagements during his time out of government.
Kyle Herrig, the executive director of the Congressional Integrity Project, told The Independent the GOP probes are targeted at dirtying up Mr Biden while giving a pass to Mr Trump and his family, who public records show profited handsomely from his time in the White House.
"I think at the end of the day, Americans are seeing these investigations for what they are, which is partisan political stunts. And I think the Maga politicians smearing President Biden's family, Hunter, and others, these politicians are hypocrites after ignoring Donald Trump and his children's numerous conflicts of interest," he said.
Mr Herrig noted that Mr Jordan, the Judiciary Committee chairman, explicitly said his efforts would be aimed at returning Mr Trump to the presidency in 2024 – even before the GOP had won a majority in last year's elections. But he said those efforts don't appear to be carrying much weight with the voting public.
That may be because so far, they haven't identified anything Mr Biden or his family has done that violates federal law or even comes close to approximating the schemes they've described in television appearances.
"I think what they're running into is that they're complete duds, that they've been failures from the start. And they're not convincing anyone," he said.
Michael LaRosa, the former press secretary to first lady Jill Biden who now runs the Facts First Super PAC, told The Independent that the GOP cries of a "two-tiered justice system" ring hollow at a time when Mr Weiss, the Delaware US Attorney, is still leading an active probe into Hunter Biden.
"I don't know what the Republicans are screaming and crying about when there's already a major federal investigation into a tax issue, a gun registration issue, and a Fara issue," he said.
"I would say that if even a Trump-appointed prosecutor does … conclude that there was no criminal wrongdoing, then I would say there really isn't much for anyone else to be doing," he said.
Mr LaRosa also echoed Mr Herrig's opinion that the GOP-led probes into Mr Biden's family are meant to counter Democrats' evidence-based criticisms of Mr Trump and the way he used the presidency to line his family's coffers.
"Because the Trump family is wrapped up in so much tawdry and unethical behaviour, they're trying to muddy the waters, but it really just has not worked," he said.
Mr Comer, the House Oversight chair, appears to share that opinion at least somewhat.
During a recent appearance on CNN, he admitted that his committee hasn't found anything that suggests Mr Biden or his family members have broken the law in their private business dealings.
"Well, we've found a lot that's certainly unethical, we've found a lot that should be illegal," he said.
But Mr LaRosa suggested that the various Biden probes aren't breaking through because the accusations against the president and his family come off as unhinged and amateurish, with the presentations in congressional hearings falling far short of convincing.
"These guys are pretty amateur hour, in terms of getting mainstream media to cover their spectacles, which … by programming and production standards have just been terrible. There's just not enough there. There's just too much wild innuendo and nobody really takes them seriously. And so they haven't penetrated the mainstream or the bloodstream of the American people," he said.