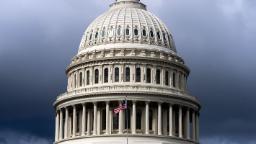 Washington
CNN
 — 

House Republicans are barreling toward a government shutdown without a clear plan or strategy to get out. Leadership's life raft? Make it a showdown over the US southern border.
After months of internal divisions over spending levels, House Speaker Kevin McCarthy and his allies have tried to unite Republicans around what they see as a winning message: Border security has to be part of any package to keep the government open.
It's a move that comes as House Republicans are struggling to clear a series of yearlong spending bills and are still short of the votes needed to pass a short-term spending bill that could pass with only GOP votes. So McCarthy's gambit on the border is intended to placate – and pressure – holdouts to fall in line, while targeting a politically vulnerable issue for the White House.
Making the next 48 hours about the border is an effort GOP leaders hope can either rally Republicans behind their own spending solution as the Senate is on a path to pass its version or can help give them a roadmap out of a protracted shutdown if they find themselves there.
For now, McCarthy is arguing that hardliners, who are still opposed to a short-term spending bill, are facing a choice: A vote against the proposed funding package is a vote with the Biden administration on the border.
"I know those individuals care about the border, so I don't know why they would side with the president on an open border when we have an opportunity here," McCarthy said Thursday, adding, "It would make everybody in this place a stronger hand to actually solve this."
Across the Capitol, there are signs that the issue is gaining traction. A group of Republican senators and Independent Sen. Kyrsten Sinema are scrambling to draft last-minute amendments to their stopgap bill aimed at boosting border security, which could make their bill more palatable in the House. But it's unclear whether they will be able to succeed in the Senate, let alone in the House.
Although McCarthy has offered hardliners a short-term option that would boost funding for border technology and barriers and make significant policy changes, it hasn't been enough, raising the prospect that Republican leaders could find themselves in a shutdown without a clear way out and without a unified message around what Republicans are asking for.
Rep. Cory Mills, one of the hardline Republicans, reiterated he would not vote for a stopgap bill under any circumstances and said that adding the House GOP security package would do nothing to win over his vote – especially since it would not have provisions related to E-verify, a national database that is used by employers to verify the immigration status of individuals they hire.
"The bottom line is that we've already passed HR2 as a standalone bill. And back when we passed it, it also had an E-verify in there, which made it a lot stronger," Mills said.
Republicans on Capitol Hill believe a border message can resonate as they argue even Democratic leaders in cities like New York and Chicago have asked for more help in handling a migrant crisis spilling across the southern border and into the rest of the country.
The showdown over border security on the Hill comes at a delicate time for the White House, which has been grappling with new border strains. Over the last week, crossings at the US-Mexico border have surged, nearing numbers not seen since late spring, with over 8,000 migrant encounters daily.
The ongoing situation has brought a politically fraught issue for the White House back to the forefront and renewed GOP calls to impeach Homeland Secretary Alejandro Mayorkas.
Since taking office, President Joe Biden has grappled with unprecedented mass migration in the Western hemisphere and faced fierce criticism from Republicans and Democrats over the handling of the US-Mexico border.
But as the government heads toward a shutdown, the White House is seeking to call out hypocrisy by Republicans, arguing GOP proposals would harm operations.
"House Republicans are proposing an extreme continuing resolution that would eliminate 800 CBP agents and officers, allowing 50,000 pounds of cocaine, more than 300 pounds of fentanyl, more than 700 pounds of heroin, and more than 6,000 pounds of methamphetamine to enter our country," White House spokesman Andrew Bates said in a memo this week.
US Border Patrol agents are considered essential and will continue to perform their law enforcement functions, including apprehending migrants crossing the border unlawfully, during a government shutdown – but without pay. Over 19,000 Border Patrol agents and 25,000 Office of Field Operations officers would go unpaid, according to the Department of Homeland Security.
Immigration and Customs Enforcement would also continue its law enforcement duties. And US Citizenship and Immigration Services, which also falls under DHS and is tasked with processing asylum claims, would continue work that's fee-funded.
Funding to border communities and interior cities who are receiving migrants could also take a hit. Recipients of that money may be unable to "draw down on a portion of the funds, and no new awards" would be made under a shutdown, according to DHS, placing increased strain on communities already overwhelmed by the influx.
A shutdown could also harm other operations. In previous shutdowns, for example, DHS was forced to delay maintenance of facilities, "which had a serious impact on law enforcement officer operations and safety, including at the border," according to a 2019 congressional report that reviewed the cost of past government shutdowns.
Senate Minority Leader Mitch McConnell sought to capture the heart of the issue Wednesday, saying: "A vote against a standard, short-term funding measure is a vote against paying over a billion dollars in salary for Border Patrol and ICE agents, working to track down lethal fentanyl, contain our open borders."
But even Republicans who recognize a shutdown could be politically risky, see the border as one issue where Republicans might be able to make a stand.
"This is a crisis that is affecting every single state. This isn't something that is isolated to Texas, Arizona, New Mexico, and California, it is something that is causing the death of Americans," Louisiana Rep. Garret Graves, a close ally of the speaker, said.
"This is something that needs to be fixed and we are going to focus on this and for me personally, this is something I would shut down the government over," he added.
Texas GOP Rep. Austin Pfluger similarly said, "If (Biden) wants to keep the government open, he needs to shut the border down."
Others view a shutdown as largely unavoidable at this point as House Republicans and Senate leaders talk past one another with competing bills that – if passed – would be dead on arrival in their other chamber.
McCarthy has privately told McConnell, as well as his own members, that he wouldn't put the Senate-passed bill on the floor of the House without significant changes, saying any measure needs to boost border security and punt on Ukraine aid. Democrats – who control the Senate – would never accept a short-term spending bill at lower spending levels and with a Republican-passed border security bill attached.
If a shutdown occurs, veteran appropriator Rep. Steve Womack of Arkansas warns it would be up to Republicans to find a way to unite around something on the border to get the government back open.
"It would probably be up to our side to determine what is it that we are willing to take in exchange for higher spending numbers, and I am sure it is going to be a border security package. It is going to be something related to border," he said.
In the Senate, a small group of members is already working to try and find a border security amendment that could pass that chamber. One amendment lawmakers are looking at would boost funding, according to North Carolina Sen. Thom Tillis.
That amendment could be adopted by a simple majority vote, something that Democrats running in tough reelections might embrace as an opportunity to distinguish themselves against the president. Another amendment negotiators are looking at would focus on specific policy changes including potentially increasing the threshold under which migrants could seek asylum. That could be a tougher lift and would require 60 votes to pass.
"There are some Democrats who are concerned with it, but there is an increasing number that I have spoken with who understand they have an immigration problem, they have a political problem and this may be a reasonable fix," Tillis said.
If the Senate could accept a border security measure, it could provide some incentive for House Republicans to back the measure, but many Republicans are still asking for more than just funding.
Oklahoma Rep. Kevin Hern, the leader of the GOP study committee, said "Just giving money to the current presidential policies is not going to work."