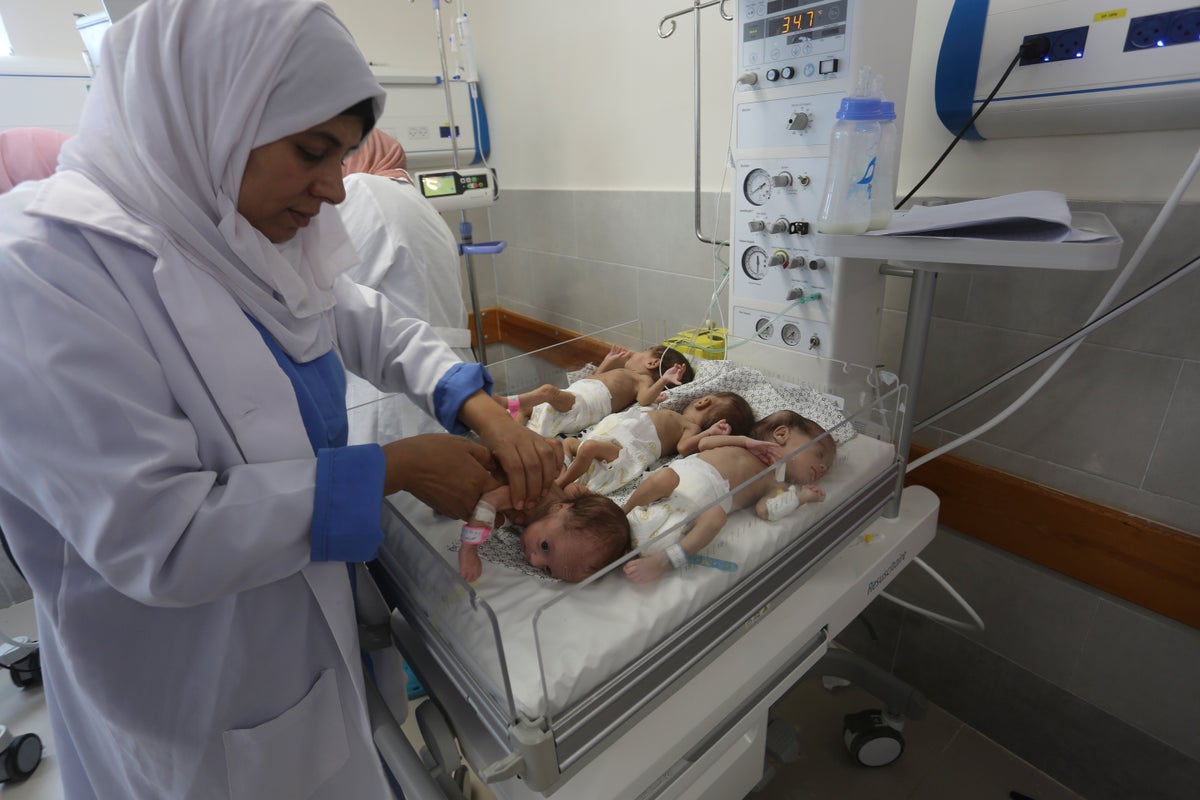 Heavy fighting erupted Monday around a hospital in northern Gaza where thousands of patients and displaced people have been sheltering for weeks, as Israeli forces focus on clearing out medical facilities that they say Hamas militants use for cover.
The advance on the Indonesian Hospital came a day after the World Health Organization evacuated 31 premature babies from Shifa Hospital in Gaza City, the territory's largest, where they were among more than 250 critically ill or wounded patients stranded there days after Israeli forces entered the compound.
The plight of Gaza's hospitals is at the focus of a battle of narratives over the war's brutal toll on Palestinian civilians, thousands of whom have been killed or buried in rubble since the six-week-old war was sparked by Hamas' Oct. 7 rampage into southern Israel.
Israel says Hamas uses civilians as human shields, while critics say Israel's siege and relentless aerial bombardment amount to collective punishment of the territory's 2.3 million Palestinians.
Marwan Abdallah, a medical worker at the Indonesian Hospital, said Israeli tanks were visible from the windows. "You can see them moving around and firing," he said. "Women and children are terrified. There are constant sounds of explosions and gunfire."
Al-Jazeera television aired footage apparently shot from inside the hospital showing tanks firing just outside the facility.
Abdallah said the hospital had received dozens of dead and wounded in airstrikes and shelling overnight. He said medical staff and displaced people fear Israel will besiege the hospital and force its evacuation.
The Israeli military, which rarely publicizes troop movements, had no immediate comment.
BABIES EVACUATED
U.N. bodies were able to safely evacuate the babies, who were in critical condition, from Shifa to a hospital in southern Gaza, and plan to transport them to a hospital in neighboring Egypt. Four other babies died in the two days before the evacuation, according to Mohamed Zaqout, the director of Gaza hospitals.
Over 250 patients with severely infected wounds and other urgent conditions remain in Shifa, which could no longer provide most treatment after it ran out of water, medical supplies and fuel for emergency generators amid a territory-wide blackout. Israeli forces battled Palestinian militants outside its gates for days before entering the facility last Wednesday.
Israel's army said it had strong evidence supporting its claims that Hamas maintained a sprawling command post inside and under the hospital's 20-acre complex, which includes several buildings, garages and a plaza.
The military released a video showing what it said was a tunnel discovered at the hospital, 55-meter (60-yard) long and about 10 meters (33 feet) below ground. It said the tunnel included a staircase and a firing hole that could be used by gunmen, and ended at a blast-proof door that troops have not yet opened.
The Associated Press couldn't independently verify Israel's findings, which included security camera video showing what the military said were two foreign hostages, one Thai and one Nepalese, who were captured by Hamas in the Oct. 7 attack and taken to the hospital.
The army also said an investigation had determined that Israeli army Cpl. Noa Marciano, another captive whose body was recovered in Gaza, had been injured in an Israeli strike on Nov. 9 that killed her captor, but was then killed by a Hamas militant in Shifa.
Hamas and hospital staff have denied the allegations of a command post under Shifa. Senior Hamas official Osama Hamdan dismissed the latest announcement, saying "the Israelis said there was a command and control center, which means that the matter is greater than just a tunnel."
THREE IN FOUR PEOPLE DISPLACED
Israel has repeatedly ordered Palestinians to leave northern Gaza and seek refuge in the south, which has also been under aerial bombardment since the start of the war. Some 1.7 million people, nearly three quarters of Gaza's population, have been displaced, with 900,000 packing into crowded U.N.-run shelters, according to the U.N. Office for the Coordination of Humanitarian Affairs.
Their misery has worsened in recent days because of cold winds and driving rain.
More than 11,500 Palestinians have been killed in Gaza, according to Palestinian health authorities. Another 2,700 have been reported missing, believed buried in rubble. The count does not differentiate between civilians and combatants, and Israel says it has killed thousands of militants.
About 1,200 people have been killed on the Israeli side, mainly civilians during the Oct. 7 attack, in which Hamas dragged some 240 captives back into Gaza. The military says 63 Israeli soldiers have been killed.
Hamas has released four hostages, Israel has rescued one, and the bodies of two were found near Shifa.
Israel, the United States and Qatar, which mediates with Hamas, have been negotiating a much larger hostage release for weeks. Israel's three-member war cabinet is to meet with representatives of the hostages' families on Monday evening.
YEMEN REBELS SEIZE SHIP
Yemen's Houthi rebels seized a Israeli-linked cargo ship in the southern Red Sea and took its 25 crew members hostage Sunday, raising fears that regional tensions heightened by the war were spilling into the seas. The Iran-backed rebel group said it would continue to target ships connected to Israel.
No Israelis were aboard the Bahamas-flagged Galaxy Leader, which was operated by a Japanese company with crewmembers from the Philippines, Bulgaria, Romania, Ukraine and Mexico. Public shipping databases associated the ship's owners with Ray Car Carriers, a company founded by Abraham Ungar, who is known as one of the richest people in Israel.
Ungar told The Associated Press he was aware of the incident but couldn't comment as he awaited details. A ship linked to him experienced an explosion in 2021 in the Gulf of Oman. Israeli media blamed it on Iran at the time.
The Galaxy Leader was taken to Yemen's port city of Hodeida, according to the British military's United Kingdom Maritime Trade Operations. Japanese officials were negotiating with the rebels for the release of the ship and its crew, said Japan Chief Cabinet Secretary Hirokazu Matsuno.
___
Magdy reported from Cairo. Associated Press writer Tia Goldenberg in Tel Aviv, Israel contributed.
___
Full AP coverage at https://apnews.com/hub/israel-hamas-war.