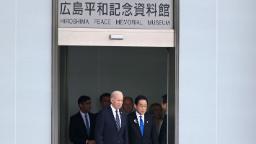 CNN
 — 

World leaders gathered in Japan will attempt to project unity on China during meetings Saturday, even as differences persist between the United States and Europe in how to confront Beijing's growing military and economic aggression.
It was one of several issues that are taking center stage at the Group of 7 talks this weekend, which were delivered a jolt of drama with news Ukrainian President Volodymyr Zelensky would address the leaders in person on Sunday.
His attendance underscores the pressing need to maintain western unity in the face of Russian aggression. There is growing fear that political support for Ukraine could be waning, lending urgency to Zelensky's appeals for more advanced weapons and tighter sanctions on Russia.
Leaders are confronting a wide-ranging set of issues beyond Ukraine during their summit talks, including climate change and emerging artificial intelligence technologies.
The matter of China has also taken on new significance as Beijing escalates its military provocations around Taiwan and the South China Sea.
Following a number of working sessions Saturday, leaders will release a statement highlighting a "common approach to China," according to a senior US administration official, speaking ahead of the talks.
"G7 leaders are going to make clear that we are all united around a set of principles that underpin all of our approaches to China," the official said, offering only a vague description of the final language that leaders will agree to in their meetings.
Biden's aides have said they hope to emerge from this week's summit having coalesced America's allies around a general approach to Beijing, while acknowledging each country will deal with China in their own way.
It's an area where there are significant differences. For example, French President Emmanuel Macron said last month that Europe should not follow the United States into war with China. And many European nations are wary of reducing economic ties with Beijing.
Still, Biden and fellow leaders will find some areas of common ground in their joint statement Saturday. The principles in their statement are "grounded in common and shared values," the US official said, adding that the language is "very specific."
"As we've emphasized already as the United States, all of the G7 are looking to de-risk, not decouple, from China. And you'll also see that we're all aligned in principles that will guide each of the relationships in other ways," the official continued, citing collective concerns over human rights, economic practices and evolving technologies.
Climate change will also factor into Saturday's meetings, with a joint statement expected from the G7 leaders on accelerating a clean energy transition.
"We are taking this element of President Biden's agenda … and its emphasis on climate action and good jobs as complementary and making it the blueprint for broader G7 action," the senior official said, previewing "deepening" commitments from other G7 countries.
Leaders will also attend an event aimed at scaling up infrastructure investments in low and middle-income countries, a move toward countering China's Belt and Road Initiative.
Biden is balancing his world leader talks with updates from Washington on negotiations over raising the US debt ceiling. He departed a leaders' dinner early on Friday to return to his hotel for additional updates from staff.