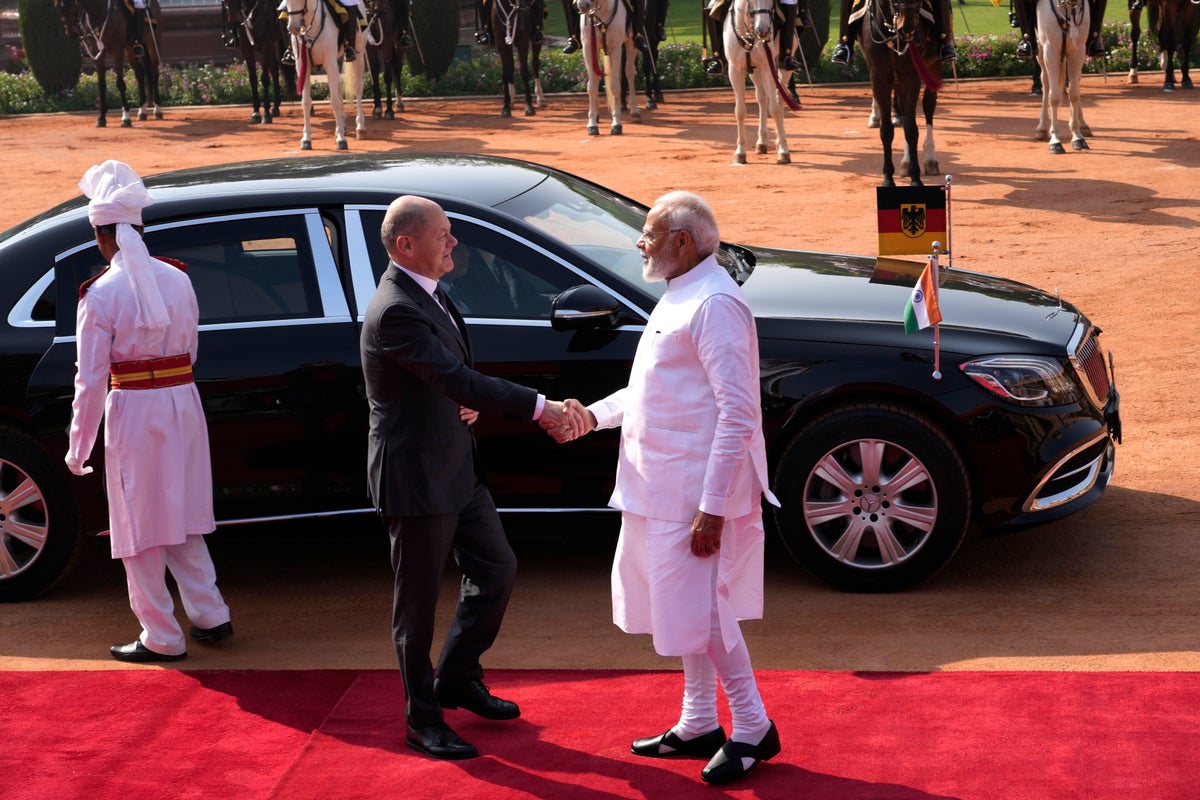 German Chancellor Olaf Scholz arrived in the Indian capital on Saturday where he is expected to discuss with the Indian prime minister Russia's war in Ukraine and ways to boost bilateral economic cooperation, officials said.
"We will discuss intensely all topics relevant for the development of our countries but also the peace in the world, which is important," Scholz told reporters after he was received by Indian Prime Minister Narendra Modi at the president's palace.
The trip is Scholz's first official visit to India, though it is his fourth meeting with Modi since taking office in 2021.
The German chancellor is expected to seek India's support for the tough stance taken by Europe and the United States toward Russia over the war in Ukraine.
After a videoconference with fellow leaders from the Group of Seven industrial powers on Friday, Scholz said before leaving Berlin for India that "internationally, we are endeavoring to make clear that Russia stands alone in the world with its aggression against Ukraine."
"I will advocate once again there (New Delhi) for our stance, our point of view on this conflict," he told reporters.
Modi has refrained from any overt criticism of Russia for its invasion of Ukraine as Moscow is a major arms supplier and also provides India with oil and other economic needs.
"There is huge potential for intensified cooperation, in sectors such as renewables, hydrogen, mobility, pharma and digital economy" with India, Scholz said in an interview published by The Times of India newspaper on Saturday.
Philipp Ackermann, the German ambassador to India, said he understands why India is buying large quantities of oil from Russia.
"That's something that the Indian government decides and as you get it at a very, very low price, you know I cannot blame the Indian government for buying it," the New Delhi television news channel cited Ackermann as saying.
Scholz also is expected to press for progress toward India-EU free trade and investment protection agreements. Germany has been pushing to diversify its economic relations as European countries try to decouple from China, a German official said on condition of anonymity as he was not authorized to talk to reporters.
In May last year, Germany and India signed a series of bilateral agreements focused on sustainable development under which India will receive $10.5 billion in aid by 2030 to boost the use of clean energy.
Some agreements are expected to be signed on Saturday. Details were not immediately available.
The two-day visit will also take Scholz to India's information technology hub Bengaluru on Sunday.