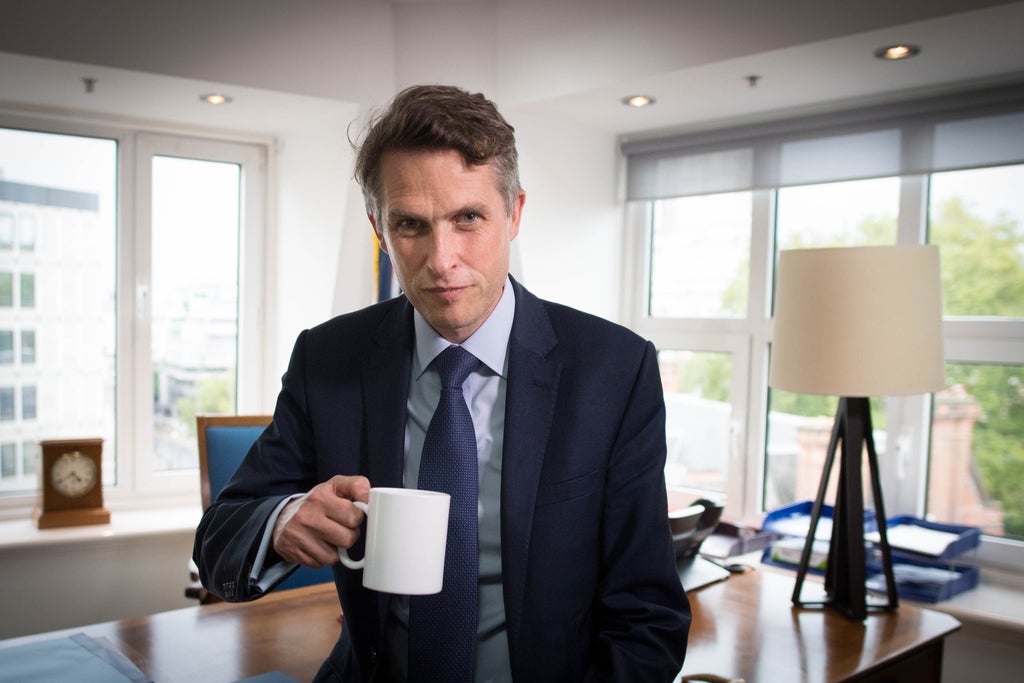 Former education secretary Gavin Williamson has been given a knighthood, Downing Street has announced.
The honour comes six months after Williamson was sacked as education secretary by Boris Johnson in the wake of the fiasco surrounding school exams during the Covid pandemic and a series of U-turns over free school meal policy when he was shamed by footballer Marcus Rashford.
The MP had previously been sacked as defence secretary by Theresa May in 2019 after being blamed for a leak from the National Security Council.
No 10 was not immediately able to provide details of the citation explaining the reason for the award to the South Staffordshire MP. It is understood that the honour was a political award.
News of the knighthood was greeted with outrage by some at Westminster, with Labour's shadow education secretary Bridget Phillipson saying it showed "utter contempt" for schoolchildren subjected to exam chaos and denied school meals during lockdown.
Lib Dem education spokesperson Munira Wilson described it as "an insult to every child, parent and teacher who struggled through Covid against the odds".
Ms Phillipson said: "Gavin Williamson left children to go hungry, created two years of complete chaos over exams and failed to get laptops out to kids struggling to learn during lockdowns. His record is astonishing and disgraceful.
"Boris Johnson is proving again it's one rule for him and his mates and another for the rest of us.
"This shows utter contempt for the challenges children and education staff have faced during the pandemic."

UK news in pictures
Show all 50
And Ms Wilson said: "The only award Gavin Williamson should be given is the one for worst education secretary in history.
"He failed to get laptops to children who needed them, sleepwalked into the exam crisis and caused chaos for parents and teachers over getting children back to school.
"People across the country will be outraged at this reward for his abysmal failures. It is an insult to every child, parent and teacher who struggled through Covid against the odds. It shows this government only cares about those at the top."
Labour shadow cabinet member Peter Kyle said: "The man who, as defence secretary, told Russia to 'shut up and go away' is given a knighthood by Boris Johnson seven days after Russia illegally invades a sovereign European country.
"Our country is further humiliated with every day these people remain in power."
And Labour's Yasmin Qureshi said: "Gavin Williamson getting a knighthood. Presumably it's for services to failure in managing two sets of exam results?"
Liberal Democrat MP Layla Moran said: "One does have to wonder…does Williamson know where all the horcuxes are hidden?
"I can't think of any other reason why he has been honoured for doing such an abominable job."
A former fireplace salesman, Sir Gavin, 45, was elected to parliament in 2010 and was a parliamentary aide to David Cameron before serving as Ms May's chief whip from 2016-17, when he became known for keeping a pet tarantula in his office.
As defence secretary, he incurred the PM's wrath after information about Huawei's potential involvement in the 5G phone network leaked from a top-secret NSC meeting, though he denied he was the source. He had already been the butt of ridicule in the wake of the Salisbury poisoning when he said Russia should "go away and shut up".
After supporting Mr Johnson's campaign to succeed May as leader, he returned to the cabinet following a two-month absence, this time as education secretary.
In the summer of 2020, he was forced into a last-minute U-turn on plans to use algorithms to determine the A-level results of pupils unable to take exams because of the pandemic.
And in January 2021 he announced the closure of schools amid the Alpha wave of coronavirus, just days after insisting they must stay open.
He was ditched by Johnson from his government in last September's reshuffle.