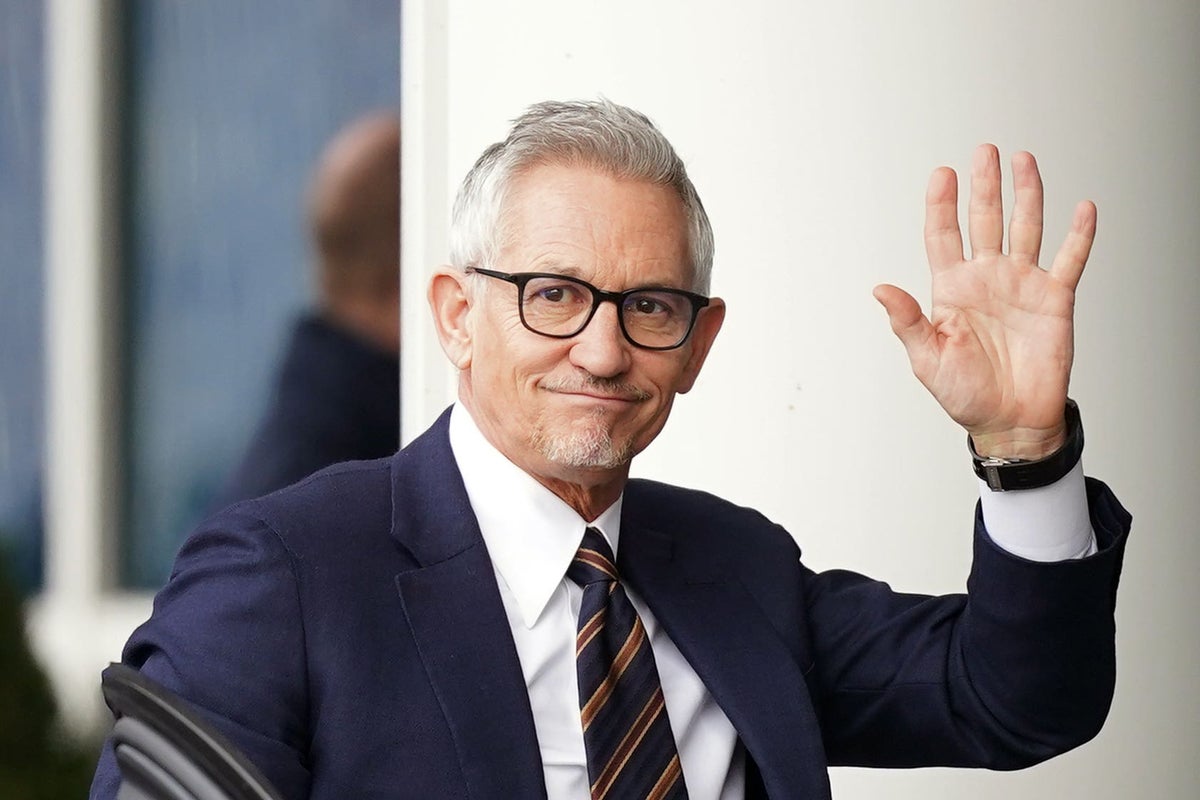 Gary Lineker has fired back at a Conservative MP who falsely suggested that the BBC presenter had called so-called "red wall" voters in the north and Midlands "Nazis" and "racist bigots".
Jonathan Gullis, Tory MP for Stoke-on-Trent North, said Rishi Sunak's planned small boats crackdown had "upset all the right people in the right places".
The right-winger told Channel 4 News: "Let's be clear, when I talk about upsetting people I'm talking about the Twitterati, the wokerati of north Islington – those champagne socialists who pontificate all day."
Mr Gullis added: "Those are the people I don't care upsetting, because those are the people who want to call people up here racist bigots, Nazis – like Gary Lineker has done."
Reacting to a clip of the interview, a Twitter user said: "I don't think Gary Lineker has actually directly called red wall voters 'Nazis' Mr Gullis."
Lineker then replied himself, tweeting: "No he hasn't and never would. This is outrageous and dangerously provocative."
The Match of the Day star sparked a furore last week when he said the rhetoric used by the government to launch its Illegal Migration Bill was like 1930s Germany.
He was reinstated on Monday and made no apology for his tweet comparing the government's language to 1930s Germany – immediately tweeting again about the plight of refugees as he announced his return.
Fellow football pundit Ian Wright as said managers at the BBC had caused a "hot mess" at the weekend after asking Linker to step away from Match Of The Day.
Wright – among the corporation's presenters and reporters to walk out in solidarity with Lineker – said the row had been a "perfect distraction from what really matters".
He added: "For me, they made a hot mess. I'm telling you, this is all from high up, I can't blame my man (the head of BBC TV Sport) Philip Bernie, the BBC Sports team. All of this is over a tweet."
Mr Lineker appeared to taunt BBC bosses with a new Twitter picture of a George Orwell quote about free speech just a day after he and the BBC reached a temporary truce.
His profile on the social media site now features a photoshopped picture of himself standing next to the inscription: "If liberty means anything at all, it means the right to tell people what they do not want to hear."
On Monday Labour's culture secretary Lucy Powell accused Tory ministers and MPs of orchestrating a "cancel campaign" which saw Lineker pulled off air – comparing it to Vladimir Putin's regime.
But Tory culture minister Julia Lopez fired back – arguing that any comparison with Moscow's authoritarian regime was "disgraceful" and "way off the mark".
The chief executive of Ofcom said trust in the BBC is on the line as it reviews its social media guidelines in a bid to resolve the Linker controversy.
Melanie Dawes said the impartiality row went "straight to the heart of the BBC's wider reputation, beyond its news and current affairs coverage".
It comes as more than 300 academic experts in migration have signed a joint letter to the government to object to the UK's Illegal Immigration Bill, arguing the policy is not "evidence based, workable, or legal under human rights law".
The scholars' letter, which published online on Wednesday, states that "there is no evidence that we are aware of, as experts in this field, to suggest that deterrence based approaches are effective".
The group pointed to Australia where its government's attempt to deter boat arrivals with offshore detention had failed to "stop the boats" or break people smuggling networks.
Instead, the "Pacific solution" had resulted in "enormous financial costs" to Australian taxpayers, the violation of fundamental rules of international laws and numerous legal challenges.