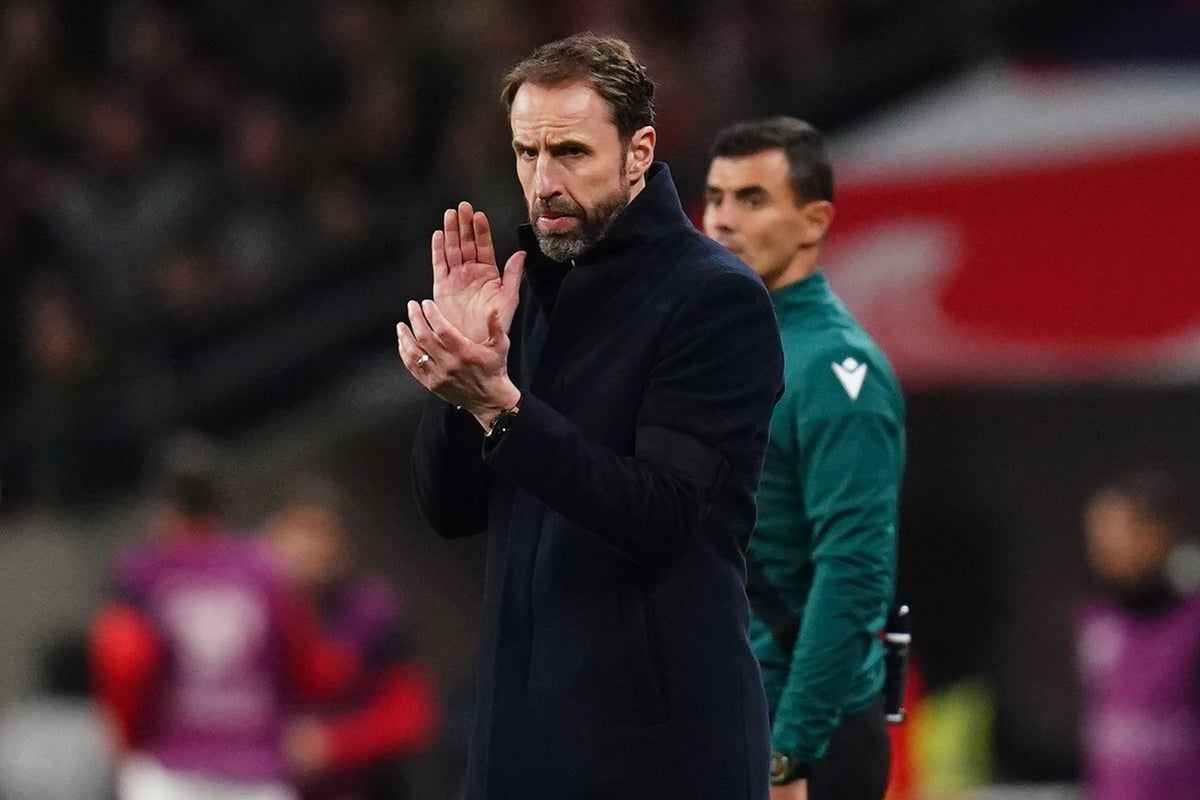 Gareth Southgate said England's players fell short of the standards they "need to be at" against Malta but had no concerns about their attitude and aptitude ahead of next summer's European Championship.
Nobody at Wembley expected anything other than a victory from the side ranked fourth in the world against the one nestled between Fiji and Bermuda in 171st.
But already-qualified England made hard work of a straightforward Group C qualifying assignment on Friday, with Enrico Pepe's own goal giving the hosts a lead in a first half in which they failed to muster a single shot on target.
Harry Kane added another after a rare moment of quality interplay in the second half as Southgate's side limped to a 2-0 victory that all but assures their place among the top seeds at next month's Euro 2024 draw.
"We didn't start the game well," the England boss said. "I've been in football for 35 years and if you don't start well, it's really difficult to pick it up.
"We needed, of course, to show better quality with the ball but also we were a bit stretched without it and a little bit disjointed in our pressing at times.
"We were not the level we would want to be at. We were not the level that we need to be at.
"But, equally, this group of players have been exceptional and I'm not going to start getting into their ribs too much about a performance like tonight.
"We made a few changes, we didn't hit the levels we would have liked to have but they managed to win the game.
"Not in the style we'd have liked for the supporters but, in the end, we've won comfortably, as we should."
England now head onto Skopje to complete their Euro 2024 qualification campaign against North Macedonia as preparations continue for next summer.
Glory in Germany is the sole focus and Southgate dismissed the suggestion that his players taking their foot off the gas at home to Malta was a worrying sign.
"No, it's not a worry because I think sometimes when players have so many matches they almost self-regulate," Southgate said.
"I've been a player. You know that there's a certain level you need to hit to beat Italy here and you know that you don't have to hit that level to win today's game.
"Although you would think that everybody would be at the same level all the time, that's not the reality of football.
"I've played in those matches myself and there are nights where subconsciously you just do enough to win and I think that's a little bit where we were tonight."
England were below par for the most part on Friday, but Southgate still saw things he liked in their final home match of an unbeaten year.
"We scored a lovely second goal and I think there were some individual performances that were very positive," he added.
"I thought Trent (Alexander-Arnold) was very, very good (in midfield). Him and Phil (Foden) in the first half were the two that looked like opening things up.
"I thought Marc Guehi had a very mature performance again. He's really growing as an international footballer.
"It was lovely to get Cole Palmer on and give him a feel of things and I thought he looked really very comfortable in the environment."
The result meant Malta ended qualification bottom of Group C with defeats in all eight of their games, but they showed signs of promise against the Euro 2020 runners-up.
Teddy Teuma went close to a famous opener just 28 seconds into the match at Wembley, where head coach Michele Marcolini praised his players' efforts.
"I'm very proud of my players," the Malta boss said. "I think they came here in Wembley without fear, always brave. We tried to be as offensive as possible.
"They reacted very, very well to falling behind. I think during these European qualifiers, we grew a lot and in these last matches against Ukraine and England played very well.
"For everything, to grow, we need time. I am very happy with our performance and the regret is we didn't score. It would have been amazing.
"Apart from that, we wanted to make the fans proud and I think today the players put on the pitch the last drop of sweat I asked them to do yesterday."