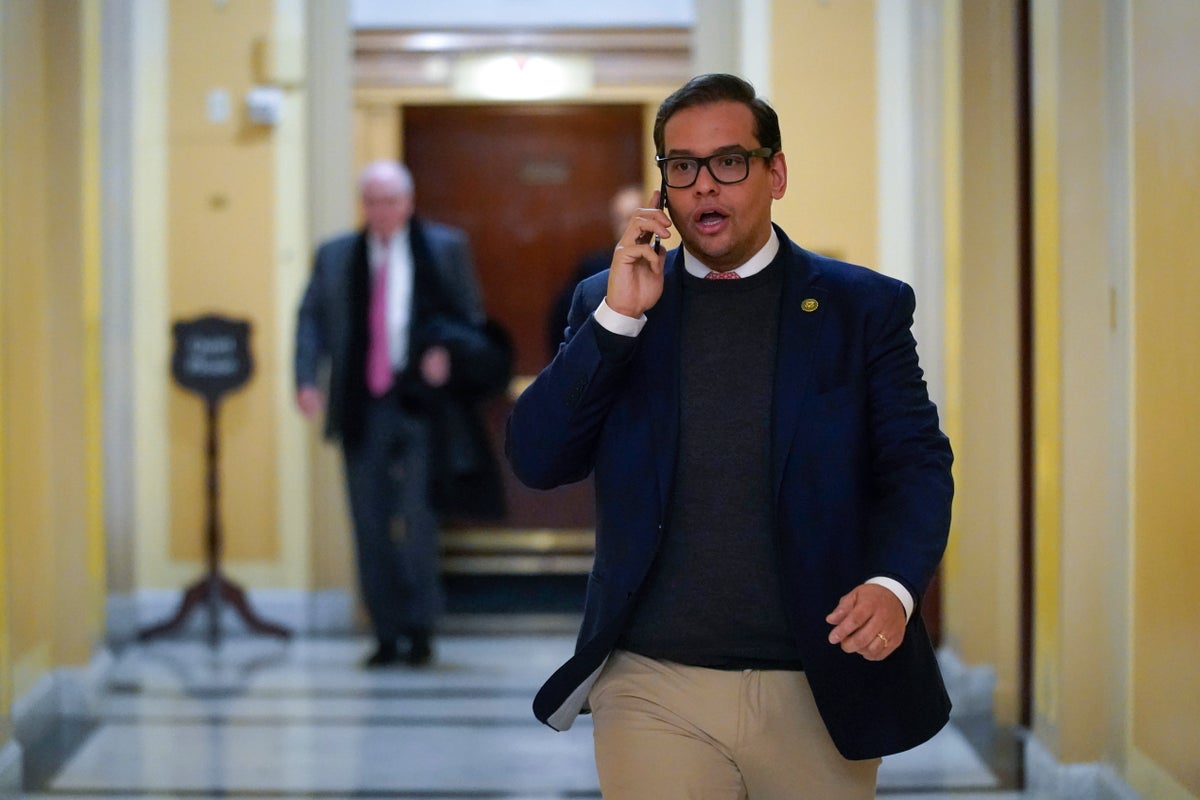 Facing a mountain of scandals and lies, George Santos announced on 16 November that he would not seek re-election.
His decision came in the wake of a damning report by the House Ethics Committee, which found that the embattled New York Republican engaged in "uncharged and unlawful conduct."
Mr Santos has in fact been charged, too. In May, he was arrested and charged with 13 federal criminal counts, including wire fraud, money laundering, and theft of public funds. A superseding indictment was later handed down in October, increasing the federal charges against Mr Santos to 23.
In addition to the myriad of legal troubles, Mr Santos has also been accused of lying about his personal history. He has claimed that he played as a star volleyball player at Baruch College, worked at Goldman Sachs, has ancestors who fled the Holocaust, and that his mother died during 9/11; none of these claims have been substantiated.
Dogged by surely one of the oddest scandals to hit American politics in the last few years, Mr Santos has been facing calls for his expulsion and resignation even before he was seated as representative for New York's 3rd Congressional District.
Let's take a look back at how Mr Santos' scandal-plagued political career evolved, from the beginning to now:
6 September 2022: The North Shore Leader begins probing Santos's finances
Just two months before he would go on to be elected as a member of Congress, George Santos was the subject of a story in a small Long Island-area newspaper called The North Shore Leader. With no suggestion of how it occurred, the Leader pointed out that Mr Santos's financial disclosure forms had indicated a shocking surge of wealth in just two years' time.
"Controversial US congressional candidate George Santos has finally filed his Personal Financial Disclosure Report on September 6th – 20 months late – and he is claiming an inexplicable rise in his alleged net worth to $11 million," wrote the paper's reporter, Maureen Daly.
George Santos: The imposter in Congress | On The Ground
"Two years ago, in 2020, Santos' personal financial disclosures claimed that he had no assets over $5,000 – no bank accounts, no stock accounts, no real property.  A net worth barely above "zero", Daly reported.
It was an important story, but drew little notice either from other journalists or local Democratic Party officials.
8 November 2022: George Santos wins his second bid for Congress
Following a defeat in 2020, George Santos finally saw success in his bid to join the House of Representatives in 2022, following more than a year of campaigning. New reports indicate that he was fundraising at Mar-a-Lago and in other GOP circles as early as mid-2021 with the help of operatives for Rep Elise Stefanik, chair of the House GOP conference.
He was swept to victory easily, with Democrats in the state spending little to oppose him.
19 December 2022: The New York Times jumps on the story
In an expansive investigation, the Times summarises its findings in a headline: George Santos's background is "largely fiction".
The first revelation of Mr Santos's lies came in the form of an avalanche. In this one story, he was accused of lying about working for two different companies, attending a college, and even potentially about managing a "family firm" and controlling millions in assets.
Mr Santos couldn't (or wouldn't) answer for most of the revealed falsehoods, which led other reporters at competing outlets to smell blood in the water.
21 December 2022: The Forward dives in
Just two days after the Times published its investigation, Jewish-American news agency The Forward went public with its own findings.
At the top of the list was a lie that Mr Santos had apparently told just a month earlier: That he is Jewish. That ended up being a lie he had told on multiple occasions, in multiple forms. It even expanded, in some instances, to claiming that his maternal grandparents had fled from the Holocaust.
Such things are easily verifiable, and a review of several genealogy websites by The Forward revealed that Mr Santos's maternal grandparents were born in Brazil.
While far from the only fiction he told to get elected, this may prove to be the most damaging (if not surely the most offensive) of the congressman's fictions. It has already led to his blacklisting from future Republican Jewish Coalition events, as well as condemnations from across the political spectrum.
22 December 2022: The New York Attorney General's office announces a probe
Letitia James's office joined the fray just one day after The Forward's investigation was published, with prosecutors clearly feeling the pressure to examine whether any of Mr Santos's actions had risen from the level of mere dishonesty to criminal fraud or worse.
No official charges have been filed against Mr Santos, and it remains unclear what criminal charges he could actually face.
26 December 2022: Santos spills the beans
After days of crying foul and denouncing reporters as political hatchet-men through his attorney, George Santos finally came clean. Turns out, those journalists weren't lying or launching "attacks" — Mr Santos really did lie about working at Goldman Sachs and Citigroup, he really did lie about being Jewish, and he really did lie about attending college.
But those lies, he said, were mere attempts to "embellish" his resume — a practice he faulted Americans of all political shades for supposedly engaging in.
And he remained adamant about serving two years in Congress, despite the criticism.
26 December 2022: Rep Ritchie Torres calls for Santos to be investigated
Congressman Ritchie Torres, a fellow New Yorker of the opposite party of Mr Santos, became the first member of Congress to speak about the issue in late December. On the 26th, he called for the House Ethics Committee to investigate the surge in wealth that Mr Santos self-reported.
26 December 2022 (evening): Santos is eviscerated by Tulsi Gabbard
Apparently unsatisfied with the grilling he received in local New York media hours earlier, Mr Santos appeared on Fox News for the first time. Clearly expecting a friendly interview, the congressman-elect was instead subjected to a reprimanding from former Congresswoman Tulsi Gabbard, sitting in for Tucker Carlson.
"Do you have no shame?" she questioned him at one point during the excruciating confrontation.
27 December 2022: Rep Ritchie Torres calls for Santos to step down
A day later, Mr Torres ups his criticism of Mr Santos as more and more of the DC journalism world is consumed by coverage of the New York Republican.
Reposting a clip of Mr Santos's beatdown from Ms Gabbard broadcast the previous evening, Mr Torres told his new colleague: "George, you can be an ally of the Jewish community w/o pretending to be Jewish and w/o pretending to have family members who died in the Holocaust."
"Stop embarrassing yourself and RESIGN," he added.
28 December 2022: Nassau County's district attorney launches a probe
Nassau County's district attorney delivered a sharp statement just before the new year, insisting that "no one is above the law and if a crime was committed in this county, we will prosecute it."
Again, it wasn't clear what specific crime Mr Santos would supposedly be investigated for allegedly committing. But the district attorney of Nassau County is a Republican, and therefore her statement served as the first crack to appear in a dam protecting Mr Santos from the wrath of his own party.
"The numerous fabrications and inconsistencies associated with Congressman-Elect Santos are nothing short of stunning. The residents of Nassau County and other parts of the third district must have an honest and accountable representative in Congress," Anne T Donnelly said.
2 January 2023: Brazilian authorities come back to haunt George Santos
Happy New Year! While most Americans ring in the new year with champagne and late-night celebrations, George Santos wakes up the day after New Year's Day to learn that he is now the only sitting member of Congress to face a serious international criminal investigation.
The New York Times, citing a spokesperson for prosecutors in Rio de Janeiro, reports that authorities intend to prosecute him for allegedly stealing a checkbook from an acquaintance of his mother and using it to make several purchases. The congressman has denied this.
10 January 2023: Rep Ritchie Torres and colleague formally request ethics probe
Not keen to let his new feud against George Santos go, Mr Torres and his New York ally Dan Goldman file a request for the House Ethics Committee to probe Mr Santos's improper filing of financial disclosure forms.
11 January 2023: The GOP dam breaks
This marked the day that George Santos finally said goodbye to any immunity he had from attacks originating within his own party.
The Nassau County Republican Party held a press conference formally denouncing him as a member of Congress; it was attended by one of Mr Santos's fellow GOP members, Anthony D'Esposito, who became the first sitting Republican to call for his ouster.
17 January 2023: Santos receives committee assignments
After days of reporters pressing House Speaker Kevin McCarthy about Mr Santos and whether he will be allowed to remain in Congress for two years, GOP leadership reveals that the extent of their punishment for Mr Santos's countless lies will be assignments to smaller House committees with less desirable areas of expertise.
Mr Santos walks away from committee assignments with roles on two panels: the House Committee on Small Business, and the House Committee on Science, Space, and Technology.
17 January 2023: Rep Ritchie Torres holds press conference with 'Concerned Citizens of NY03'
Still working to keep the pressure on his in-state rival, Mr Torres brought a number of Mr Santos's constituents to a press conference and touted his "SANTOS Act" — legislation that would force congressional candidates to supply basic information about their backgrounds to the federal government under penalty for perjury.
18 January 2023: Eula Rochard blows the lid off of 'Kitara Ravache'
Just when everyone thought this story couldn't get any weirder, a Brazilian drag performer by the name of Eula Rochard contacted a freelance reporter, Marisa Kabas, and supplied a picture of Mr Santos in drag.
The congressman, she said, performed in drag under the moniker "Kitara Ravache" when he lived in Brazil as a teenager.
Mr Santos would go on to deny this, but subsequent photos and videos emerged prompting another admission by the congressman, as well as this defeated quip: "Sue me." It's later discovered that a Wikipedia user who went by Mr Santos's alias "Anthony Devolder" bragged about performing at a number of shows.
23 January 2023: Poll shows majority of New Yorkers want Santos gone
Perhaps spelling Mr Santos's final fate, voters in his district and elsewhere around the state signaled in a poll published Monday that they favour the congressman resigning rather than spending two years in office. Even a plurality of Republicans, 49 per cent, said so.
Wherever Mr Santos goes from here, it's hard to see a path for the 34-year-old freshman to win a second term as he faces unprecedented condemnation from his colleagues in every corner of Washington and hungry rivals back home.
20 February 2023: The Piers Morgan interview
In an another attempt to move past the avalance of scandals which have buried Mr Santos for weeks, the New York congressman appears for an interview with British broadcaster and notoriously tough interviewer Piers Morgan.
Prompted by Morgan to distinguish the difference between mere "embelishments" of his resume and outright dishonesty, Mr Santos tells the journalist: "I've been a terrible liar".
2 March 2023: Ethics investigation
On 2 March, the House Ethics Committee announced it was investigating Mr Santos.
In a statement, the panel said that an "Investigative Subcommittee" will determine whether the freshman Long Island, New York, congressman may have "engaged in unlawful activity with respect to his 2022 congressional campaign; failed to properly disclose required information on statements filed with the House; violated federal conflict of interest laws in connection with his role in a firm providing fiduciary services; and/or engaged in sexual misconduct towards an individual seeking employment in his congressional office".
17 April: Reelection bid
Despite his escalating scandals, Mr Santos launched his reelection bid.
In his campaign announcement, he made no mention of the investigations or his ballooning falsehoods.
"We need a fighter who knows the district and can serve the people fearlessly," he said.
9 May 2023: Criminal charges
Things took a major turn on 9 May, when Mr Santos was hit with 13 federal charges from the Justice Department.
The embattled congressman was charged with seven counts of wire fraud, three counts of money laundering, one count of theft of public funds, and two counts of making materially false statements to the House of Representatives.
10 May 2023: Arrest
The day after the indictment was filed, Mr Santos was arrested after surrendering to authorities at a federal court on Long Island.
The indictment was unsealed, revealing that federal prosecutors accuse Mr Santos of lying on financial disclosure forms he filed to the House when he became a candidate.
10 October 2023: Superseding Indictment
The Justice Department handed down a 23-count superseding indictment months later, adding the charges of conspiracy to commit offenses against the United States, wire fraud, aking materially false statements to the FEC, falsifying records submitted to obstruct the FEC, aggravated identity theft, and access device fraud.
The new charges revealed that Mr Santos allegedly stole his donors' credit cards. In the case of one donor alone, Mr Santos is accused of trying to charge at least $44,800 to this contributor's credit card without authorisation.
16 November 2023: Drops re-election bid
The House Ethics Committee released a report on the New York congressman, saying it had uncovered "substantial evidence" that Mr Santos broke federal laws.
The committee found that Mr Santos "knowingly" caused his campaign to file false FEC reports, used campaign funds for personal purposes, including OnlyFans, among other findings.
After the report's release, Mr Santos announced he would not seek re-election in 2024. In a lengthy X post, he called the report a "disgusting politicized smear."