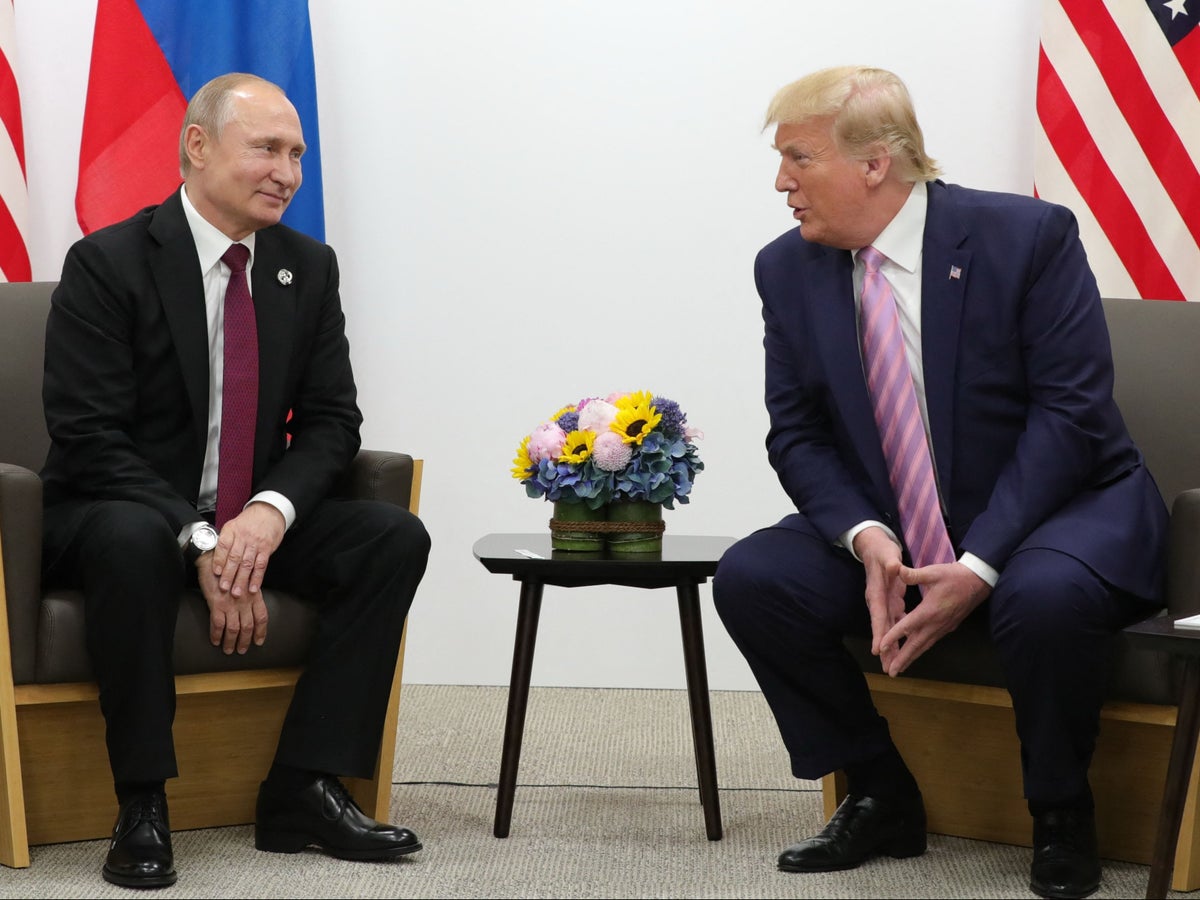 Fox News has been accused of not airing former President Donald Trump saying that he would have brokered a peace deal between Russia and Ukraine in which Ukraine would have ceded land to Russia.
Mr Trump reportedly made the comments on Monday on Sean Hannity's radio show.
"I could have negotiated," Mr Trump said. "At worst, I could've made a deal to take over something, there are certain areas that are Russian-speaking areas, frankly, but you could've worked a deal."
Later in the day, Hannity played portions of the interview on his Fox News programme. But he did not choose to air the portion of the interview in which Mr Trump suggested he would have let Russia take control of areas of Ukraine as part of a peace deal.
Instead, The Daily Beast reported that audio of Mr Trump's answer was cut after he said "I could've negotiated."
Fox News reportedly told Insider that the decision to cut that part of Mr Trump's answer was a standard part of an editing process that cut the 22-minute radio interview into a two-minute television segment. But given that Mr Trump is a candidate for president, his statement about a potential peace deal struck many as particularly newsworthy.
Mr Trump greeted the Russian invasion of Ukraine last year by praising Russian President Vladimir Putin as "smart." He has reportedly long admired the authoritarian Russian leader, drawing scrutiny for his refusal to criticise Russian meddling in US elections and Russian aggression more broadly.
The former president also has a strained history with Ukraine; he was impeached in 2019 for threatening to withhold military aid to the country if it failed to assist him in investigations into the dealings of his political rival President Joe Biden.
Mr Trump's conciliatory approach toward Russia would differ significantly from how the US is currently handling the conflict. Mr Biden, with the support of majorities in both chambers of Congress, has funded the Ukranian war effort with tens of billions in aid since Russia launched its invasion. Mr Biden visited Ukraine two weeks ago.
Ukraine President Volodymyr Zelensky cricitised Mr Trump's perceived refusal to see Mr Putin as a threat in an interview last fall.
"In this position, you need to understand who Putin is, what he's driving at, and what steps he will take to get there," Mr Zelensky said of Mr Trump.
Mr Trump is running to regain the White House in 2024, but has trailed in some polls of early voting states to Gov Ron DeSantis of Florida. Mr DeSantis has yet to declare his candidacy, but is widely expected to run.