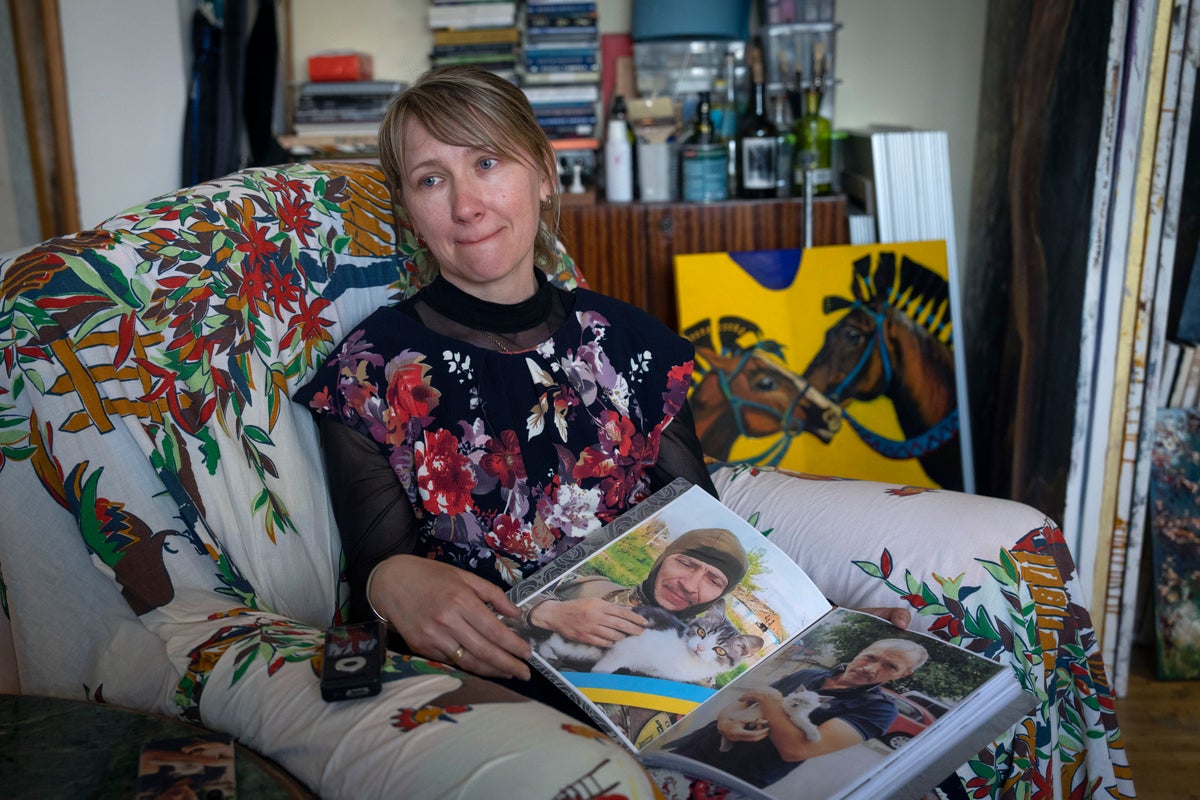 In a sunlit art studio in Kyiv filled with easels and canvases, Iryna Farion puts the finishing touches on an oil painting with a predominantly dark color palette in shades of blue and brown.
The artwork depicts two intertwined trees held together by their roots, as though in embrace, and a radiant yellow sun shining against a moody blue background.
"I feel like it's me and my husband, who was killed in the war," Farion says of the trees. "They are like two souls, like two hearts, like one body."
Farion is among thousands of Ukrainian women who have lost their partners in the war Russia launched against their homeland nearly 17 months ago. Tens of thousands of Ukrainians have been killed on the battlefield – most of them men who once led ordinary lives before dropping everything to join the fight for their country.
Farion's husband, Oleksandr Alimov, died in December after being shot on the Donetsk front line. Overwhelmed with grief, she says she has found some consolation in painting alongside other women who lost their partners on the battlefield.
The women are part of an art therapy project called "Alive. True Stories of Love," which seeks to honor the memory of those who died while helping the women cope with the pain of their loss.
Alimov voluntarily joined the army in the early days of the war after working as an IT specialist for a well-known company. "I don't want us to live in a country where we are not free," Farion says her husband told her before going off to war. The couple had been together for 10 years.
She still wears her wedding ring, while his hangs around her neck on a chain. "I can't take off the ring yet," she says. "It feels better for me this way."
On a recent day, Farion visited the art studio with her friend Olesia Skalska, whose husband was killed in January. The two women initially met at a cemetery, a place where Ukrainian widows commonly find solace in each other's company and form friendships bound by shared grief.
Skalska's husband, Roman Skalskyi, 26, also voluntarily joined the military without prior combat experience.
"Of course, I supported him because he went to defend me and his whole family," she says.
The couple was supposed to celebrate their first wedding anniversary in June. But instead, Skalska works on a painting — the only place where they can be together again.
"A man is carrying a girl across a field of wheat that has been cut, and I imagine that he is carrying her so that she does not prick her legs," says Skalska, 24, describing her artwork.
Her voice occasionally breaks into sobs as she speaks. "To others, I may seem like an ordinary person. But no one knows what's happening inside," she says. "It's impossible to escape."
The art project was launched in January by Olena Sokalska, who lost her husband years ago in a car accident and says she understands the emotional journey of widowhood.
When she spoke to AP reporters in June, approximately 40 widows were participating in the art project.
"It's called 'Alive' because the girls should feel alive since they all feel lifeless right now," she explains. "When you paint, you only think about that. And I thought these women should have some time for themselves."
The project is free to join and local artists volunteer their time to guide the women as they express their sorrows on canvas.
A Facebook community for the project has over 1,000 participants. "And the community keeps growing," says Sokalska, noting the tragedy of what that means to many.
"They find themselves in a complete void. It's like a black hole and nobody truly understands what a woman who has lost her husband feels," she says.
Oksana Kordina and her husband, Andrii Volkov, had been married for almost 10 years when the war began. On the morning of February 24th, 2022, the day Russia invaded Ukraine, Volkov gathered his belongings and got dressed. Oksana prepared a first-aid kit for him. He walked to the military office as Kyiv reeled with shock from the invasion.
He died nine days later defending the capital.
More than a year later, Kordina says she still has not recovered emotionally. "I'm not a creative person, but I realized I needed to try something," she says, explaining her decision to try painting.
"This pain is impossible to explain or convey," she says.
Recently, she rediscovered a lake near Kyiv that her husband had loved dearly. The couple had gone there together before, but she had forgotten the way and struggled to find it for a long time. Now she visits it regularly.
Her painting depicts the lake surrounded by green trees, reflecting the soft light of dawn. A ginger cat painted in the left corner of the canvas appears lonely and contemplative against the backdrop of nature.
"I walk to the lake and dream just like this cat," she says. "And it feels like he's there with me."
___
Efrem Lukatsky contributed to this story.
___
Follow AP's coverage of the war in Ukraine at https://apnews.com/hub/russia-ukraine