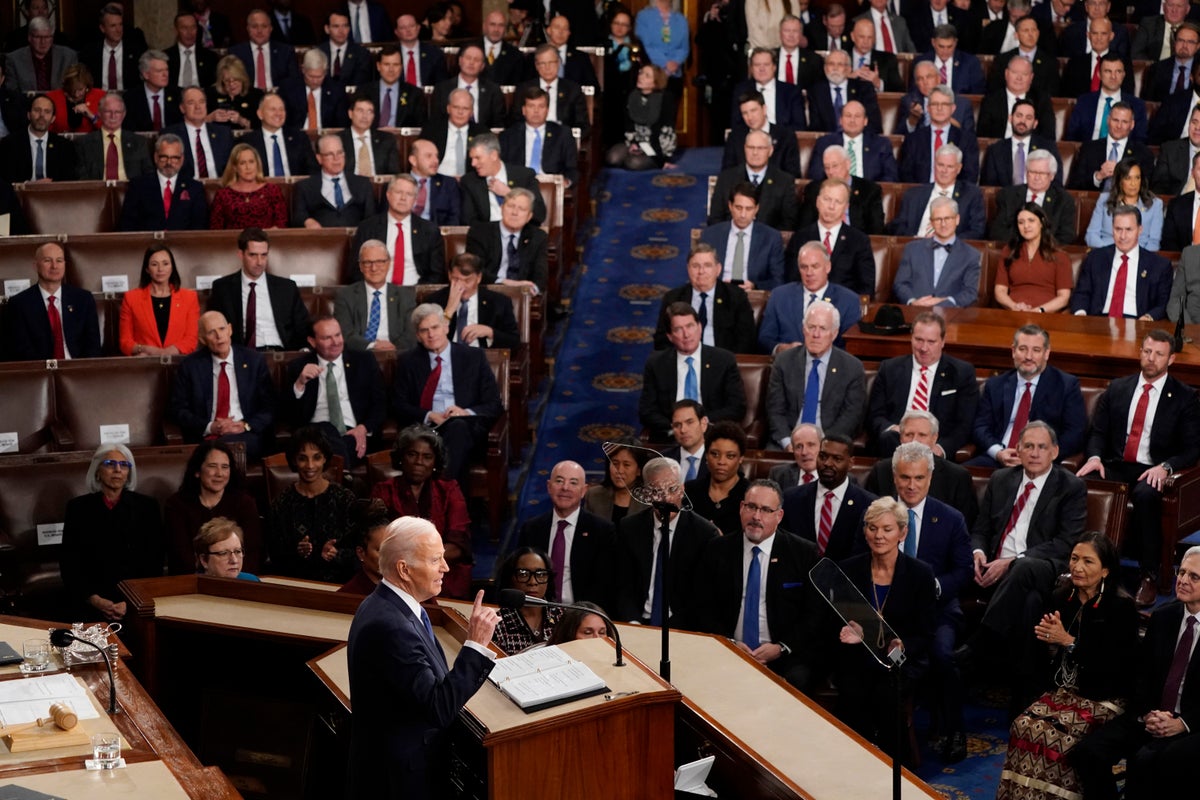 President Joe Biden delivered his latest State of the Union address to a divided Congress, attempting to make the case that they can work together. Mr Biden also tried to show that despite the lingering effects of the Covid-19 pandemic, the US economy is roaring back.
At the same time, Mr Biden drew some lines in the sand and laid out areas where he would not compromise with the GOP. The president touted his record as he tested the waters for a 2024 run for the White House.
Here are five takeaways from President Joe Biden's State of the Union address to Congress.
Biden the bipartisan
The president began his address to Congress by congratulating House Speaker Kevin McCarthy on his becoming the new speaker of the House and his friend Senate Minority Mitch McConnell on becoming the longest-serving Senate leader. Mr Biden did work in a jab at Mr McCarthy, saying that he didn't want to ruin the GOP speaker's reputation by working with him.
With Republicans in control of the House, Mr Biden made the case that he could work together with the opposition party.
"I signed over 300 bipartisan laws since becoming president," Mr Biden said, specifically naming the bipartisan infrastructure law, the Respect for Marriage Act, and reforming the Electoral Count Act.
"To my Republican friends, if we could work together in the last Congress, there is no reason we can't work together in this new Congress," he said. "The people sent us a clear message. Fighting for the sake of fighting, power for the sake of power, conflict for the sake of conflict, gets us nowhere."
Mr Biden also pointed out that laws such as the CHIPS and Science Act and the infrastructure package were helping people in red states as well as blue states. At the same time, he also took a swipe at Republicans who opposed the law.
"And to my Republican friends who voted against it but still ask to fund projects in their districts, don't worry," he said. "I promised to be the president for all Americans."
Inflation is cooling and the economy is roaring back
Many voters supported Republicans in the November midterm elections largely because they felt pinched by the economy. But Mr Biden made the case that the economy is on solid ground, noting how the nation's unemployment rate has dropped to 3.4 per cent.
"So, let's look at the results. Unemployment rate at 3.4 per cent, a 50-year low. Near record low unemployment for Black and Hispanic workers," he said.
He also made the argument that inflation, perhaps the most persistent foe throughout his presidency, was on the downturn.
"Inflation has been a global problem because of the pandemic that disrupted supply chains and Putin's war that disrupted energy and food supplies," he said. But we're better positioned than any country on Earth. We have more to do, but here at home, inflation is coming down."
Mr Biden also touted his Inflation Reduction Act and said that it would lead to reduced prices for consumers across the country.
"If drug prices rise faster than inflation, drug companies will have to pay Medicare back the difference," he said.
Mr Biden also criticised Republicans who want to repeal the Inflation Reduction Act.
Biden picks a fight with Republicans
Despite some of the overtures to the GOP, Mr Biden also spoke out against some Republican policies, specifically mentioning Senator Rick Scott of Florida's plan to allow every law to sunset after every five years, including Social Security and Medicare. In response, that led Representative Marjorie Taylor Greene to jeer "liar." But Mr Biden was undeterred.
"Other Republicans say if we don't cut Social Security and Medicare, they'll let America default on its debt for the first time in our history," he said. Similarly, Mr Biden also mentioned non-compete clauses.
"So a cashier at a burger place can't cross the street to take the same job at another burger place to make a couple bucks more," he said. This again led to some Republicans claiming that was not true.
Similarly, Mr Biden also said he would veto any attempts to pass a national abortion ban. Mr Biden also talked about passing immigration reform, which led some Republicans to shout "secure the border."
Standing firm on China after downing spy balloon
Mr Biden spoke about the need to continue to support and defend Ukraine. But he also addressed the threats from China. Mr Biden also addressed the Chinese spy balloon that surfaced in US airspace, which was shot down off the coast of South Carolina over the weekend after being detected over Montana.
"But make no mistake: as we made clear last week, if China threatens our sovereignty, we will act to protect our country, and we did," he said. "And let's be clear: winning the competition with China should unite all of us. We face serious challenges across the world."
At the same time, some Republicans sought to criticise Mr Biden. When he mentioned people dying from fentanyl overdoses, Ms Greene yelled "it's coming from China." Similarly, another member said "it's your fault," which led to many members shushing.
Calling for police reform after Tyre Nichols' death
Toward the middle of his address, Mr Biden acknowledged the family of Tyre Nichols, the 29-year-old man whose assault by police officers in Memphis led to the young man's death. Mr Biden praised Mr Nichols' family and talked about his mother RowVaughn Wells's strength.
"There are no words to describe the heartbreak and grief of losing a child," Mr Biden said. "But imagine what it's like to lose a child at the hands of the law. Imagine having to worry whether your son or daughter will come home from walking down the street or playing in the park or just driving their car."
Nearly the entire chamber rose to their feet when he praised Ms Wells.
"And when police officers or departments violate the public's trust, we must hold them accountable," Mr Biden said.