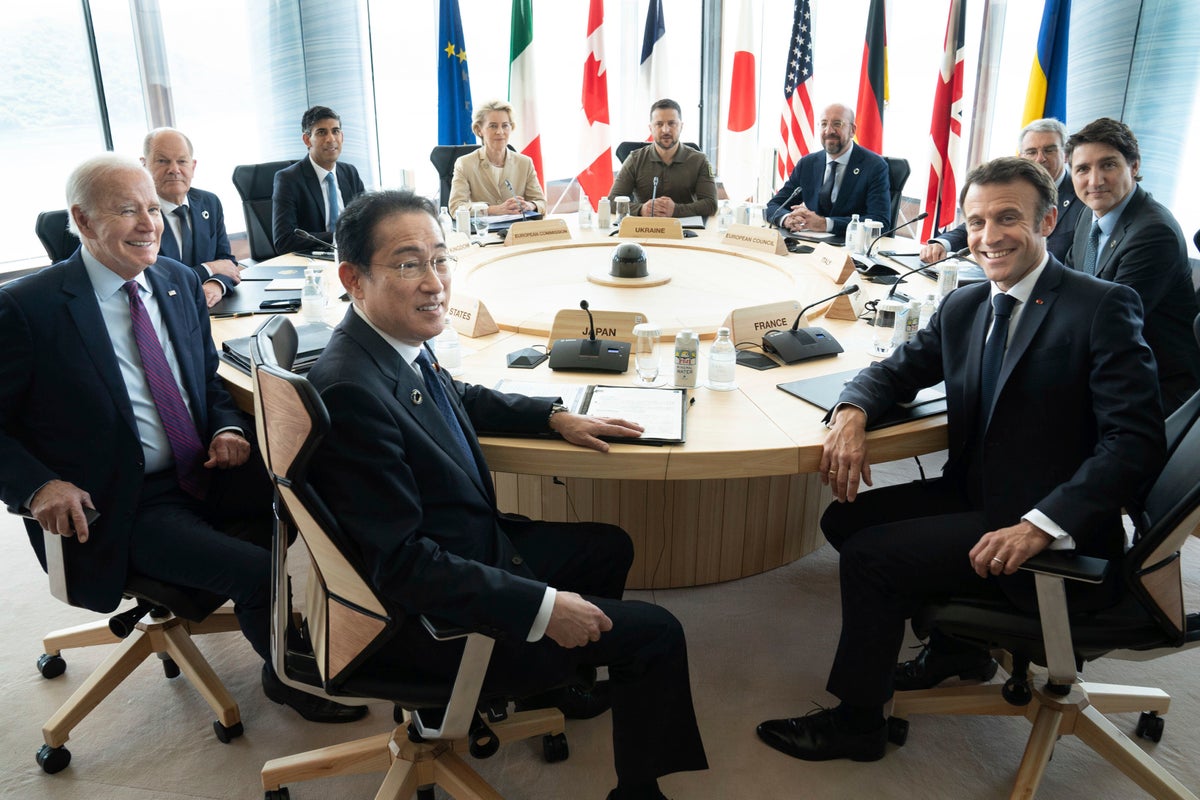 The leaders of the Group of Seven (G7) countries wrapped their three-day summit in Hiroshima, Japan, by further imposing sanctions on Russia, criticising China's aggression, and a surprise visit from Ukrainian president Vlodomyr Zelensky.
The leaders from the US, Canada, Britain, Italy, France and Germany attended the summit in prime minister Fumio Kishida's home constituency in the western city that was devastated by a US atomic bomb in August 1945.
The G7 "reached a consensus on the significance of the 77-year-old record of non-use of nuclear weapons and reaffirmed that there are no winners in a nuclear war", Mr Kishida said, amid growing fears that Russia may use a nuclear weapon in its war in Ukraine.
Mr Zelensky participated in sessions on the closing day of the summit, where heads of the world's most advanced economies discussed ways to curb Vladimir Putin's unprovoked invasion.
The G7 declarations issued on Saturday also singled out China on issues including Taiwan, nuclear arms, economic coercion, and human rights abuses.
This year, the leaders of India, Australia, Brazil, Indonesia, South Korea, and Vietnam were also invited to the summit, reflecting Mr Kishida's efforts in strengthening ties with developing nations.
Here are the top developments from the three-day summit:
Tightened sanctions on Russia
The list of sanctions against Russia grew over the weekend, as the world leaders toughened their approach to hinder the Kremlin's war efforts in Ukraine.
The UK on Friday announced new sanctions targeting Russian seizures of Ukrainian grain, advanced military technology and Moscow's remaining revenue sources. It froze the assets of 86 more individuals and entities including companies connected to Rosatom that support president Putin's war effort.
Britain also published plans to ban imports of Russian diamonds, copper, aluminium, and nickel. Russian sovereign assets will stay frozen until the country "agrees to pay for the damage it has caused to Ukraine", Whitehall said in a statement.
The US State Department announced new sanctions on more than 200 entities, individuals, vessels and aircraft, targeting Russia's energy, military, technology, and metals and mining sectors.
The EU enforced sanctions largely in line with those imposed by the US, Britain and Canada. The EU has imposed 10 rounds of sanctions so far. "We will starve Russia of G7 technology, industrial equipment and services that support its war machine," said Ursula von der Leyen, president of the European Commission.
Canada announced sanctions on 17 individuals and 18 entities linked to Russian companies that provide military technology to the Russian armed forces.
Zelensky meets Modi, skips Lula
The Ukrainian president met Indian prime minister Narendra Modi for the first time since the onset of the war in February 2022.
Mr Modi reportedly assured Mr Zelensky of "whatever is possible" to find a solution to bring an end to the continuing war amid Russia's full-scale invasion.
"Over the past one-and-a-half years, we have spoken on the phone but… after a long time, we have an opportunity to meet. The war in Ukraine is a very big issue for the whole world. It has had many different impacts on the whole world," Mr Modi told the Ukrainian president on Saturday.
"… But I don't see this as a political or economic issue, for me this is an issue of humanity, an issue of human values," Mr Modi added.
The two leaders met even as New Delhi remained an ally of Russia, emerging as the largest buyer of Russian soil from almost negligible imports before the war. India has also abstained at least six times at the UN General Assembly voting held for condemning the Russian invasion.
While Mr Zelensky caught up with other heads of state, he failed to meet Luiz Inacio Lula da Silva, "upsetting" the Brazilian president.
He had sought a one-on-one meeting with Mr Lula, who has faced accusations of taking a soft stance on Russia over its invasion. "I met almost everyone, all the leaders. All of them have their own schedules, that is why we couldn't meet with the Brazilian president," the Ukrainian president told reporters.
Before leaving Japan, Mr Lula told a news conference that he "wasn't disappointed" but "upset, because I'd like to meet him and discuss the matter". But "Zelensky is a grown-up. He knows what he's doing," he added.
Livid China calls out Britain, summons Japan
China slammed Rishi Sunak who called Beijing a "challenge to global security" by labelling Britain a "vassal" of the US and warning of lasting "damage" to its ties with London.
"The relevant remarks by the British side are simply parroting words from others and constitute malicious slanders in disregard of the facts. China firmly opposes and strongly condemns this," said a spokesperson for Zheng Zeguang, the Chinese ambassador to Britain.
Beijing also summoned the Japanese ambassador to lodge a protest over joint declarations and statements to "smear and attack China".
In a communique of the G7 summit, the group criticized China for its use of "economic coercion", the militarisation of the South China Sea, "interference activities" aimed at undermining the safety of diplomats, the integrity of democratic institutions, and economic prosperity.
Japan and South Korea pay joint respect
Japanese prime minister Fumio Kishida and South Korean president Yoon Suk Yeol paid their respects at a memorial for Korean victims of the atomic bombing in Hiroshima, as the two leaders continued efforts to mend ties hurt by disputes stemming from Japan's wartime brutality.
Mr Yoon is the first South Korean leader to visit the memorial, underscoring the thawing in their rocky relations.
The leaders, accompanied by their first ladies, stood in front of the memorial where they laid bouquets and lowered their heads as they paid tribute to tens of thousands of Koreans who died in the attack.
Ties have thawed rapidly between the countries since March, when Mr Yoon made an ice-breaking visit to Tokyo.
"This G7 summit was the most significant ever for Korea," said Leif-Eric Easley, a professor at Ewha University in Seoul.
"Leaders issued a statement on nuclear disarmament that took a unified stance on North Korea's illegal weapons and launches.
"Seoul-Tokyo relations continued to improve as Yoon and Kishida together remembered Korean atomic bomb victims in Hiroshima and met with Biden to provide further momentum for trilateral cooperation with the US"
Spat between Trudeau and Maloni over LGBTQ rights
Canadian prime minister Justin Trudeau and his Italian counterpart Giorgia Meloni spat with each other over LGBT+ rights in an unprecedented display of disagreement.
"Canada is concerned about some of the positioning that Italy is taking in terms of LGBTQ rights, but I look forward to talking with you," Mr Trudeau said in front of cameras ahead of the talks.
The Italian leader looked visibly annoyed by Mr Trudeau's remarks before the media left the room, Bloomberg reported.
A statement issued by Mr Trudeau's office said he also raised the issue during their meeting, while Ms Meloni defended her government's position.
The Italian leader shot back, accusing Mr Trudeau of being "the victim of fake news" and a "bit rash" in his comments.